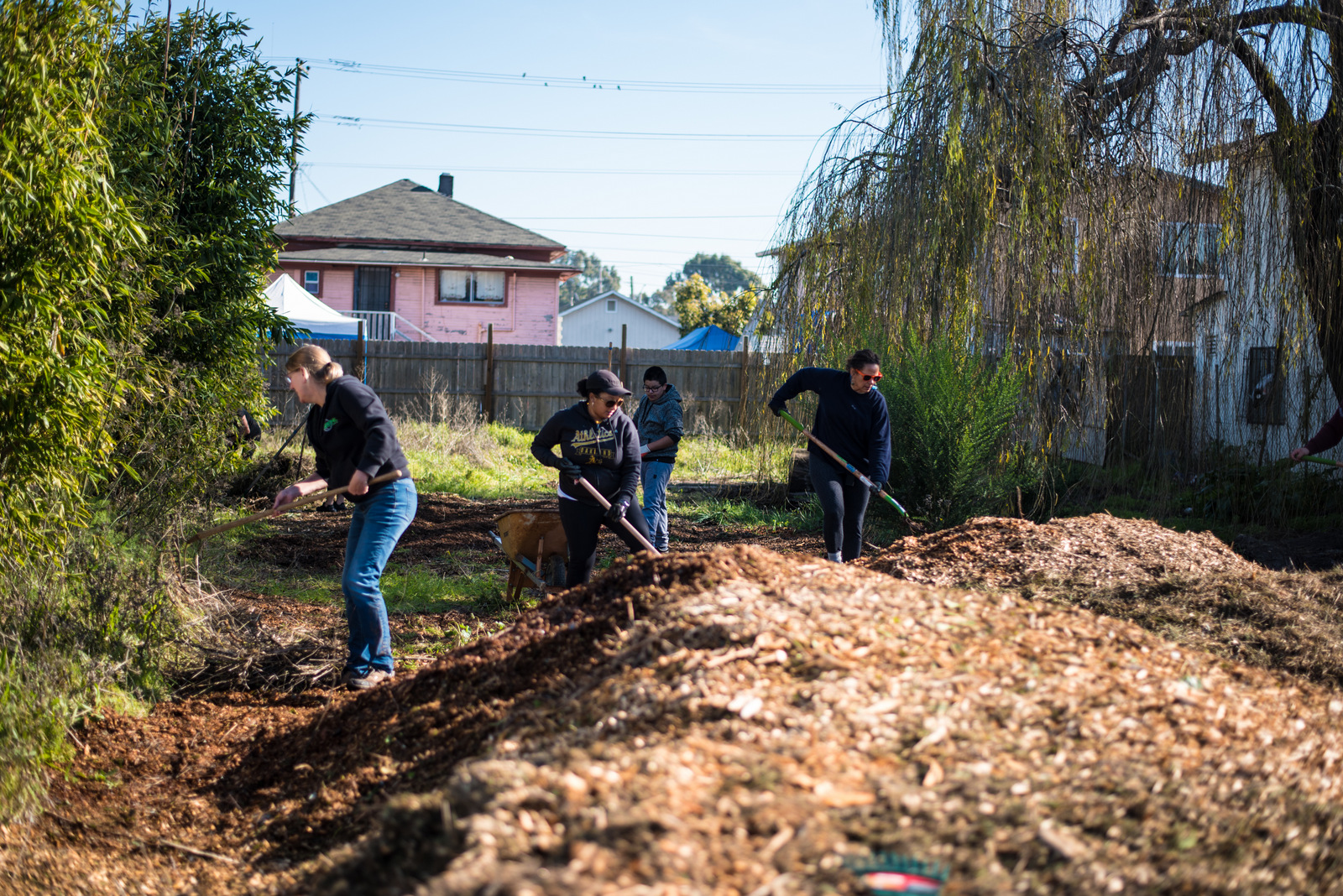 25 Jan

Happy Lot Hosts Clean-Up Party in Iron Triangle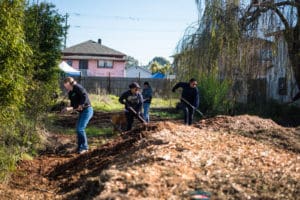 Photo Essay, Isabella Zizi and David Meza
On a gloomy and windy morning, Happy Lot Farm and Garden (HLFG) celebrated its fourth anniversary with a "Block Clean-Up Party" as part of the Martin Luther King, Jr. holiday and day of service.
About 65 people cleaned up, mowed, pruned grapevines and planted plants at 12 different properties near the farm at 1st Street and Chanslor Avenue in the Iron Triangle neighborhood.
Andromeda Brooks, 40, farmer and founder of the 1400 square-foot Happy Lot Farm and Garden, shared the love and dedication she has put into this project from its beginning.
"I wrote the city numerous times asking them to take care of their lot, which my two windows look out to, and hadn't heard a response," she explained. Then, she said, she decided to take action herself. "I took the initiative and wrote them one last time telling them that I will take over the property and turn it to a farm and garden."
This year, HLFG celebrated its fourth anniversary and welcomed three baby turkeys to the lot.
Brooks said the clean-up event was a way to reach out to the surrounding community.
"We have had a lot of new people in the neighborhood over the last two years. I took this as an opportunity to connect with our newer residents," she said. "If you live in the confines of Happy Lot, we may knock on your door and ask you to come out and help out at the farm."
Brooks said they also ask residents if they need help with their own garden or yard.
Bank of America donated box lunches from Togo's Sandwiches and several Bank of America employees came out to volunteer for the day. Local small businesses from Point Richmond to Oakland provided gift certificates or small items for the raffle prizes.
Compost, recycling, and trash bins were placed throughout the garden as volunteers dispersed from the lunch area, making sure participants left the garden cleaner than when they arrived.
Brooks gathered everyone to the gazebo where they announced the raffle prize winners and winners of the car show, which featured cars on display from the Richmond High Car Club and the Pato de Perro Car Club of Vallejo.
"This was a true example of what community building and involvement is about," Angelina Brooks said about the work her younger sister had put into organizing the event. "I am hoping that after today, more community gardeners pop up and continue to stay involved with Happy Lot Farm."
Andromeda Brooks calls Happy Lot Farm and Garden an "open source" farm, meaning that the farm is never locked and everyone is welcome to come to take produce.
"Take all you want but eat all you take," said Brooks, repeating the mantra her father taught her growing up.
Happy Lot has an open house every third Saturday of the month from 9:00 am to noon. Those who volunteer are welcome to take what they helped work on.
[ngg_images source="galleries" container_ids="40″ display_type="photocrati-nextgen_basic_thumbnails" override_thumbnail_settings="0″ thumbnail_width="120″ thumbnail_height="90″ thumbnail_crop="1″ images_per_page="20″ number_of_columns="0″ ajax_pagination="0″ show_all_in_lightbox="0″ use_imagebrowser_effect="0″ show_slideshow_link="1″ slideshow_link_text="[Show slideshow]" order_by="sortorder" order_direction="ASC" returns="included" maximum_entity_count="500″]