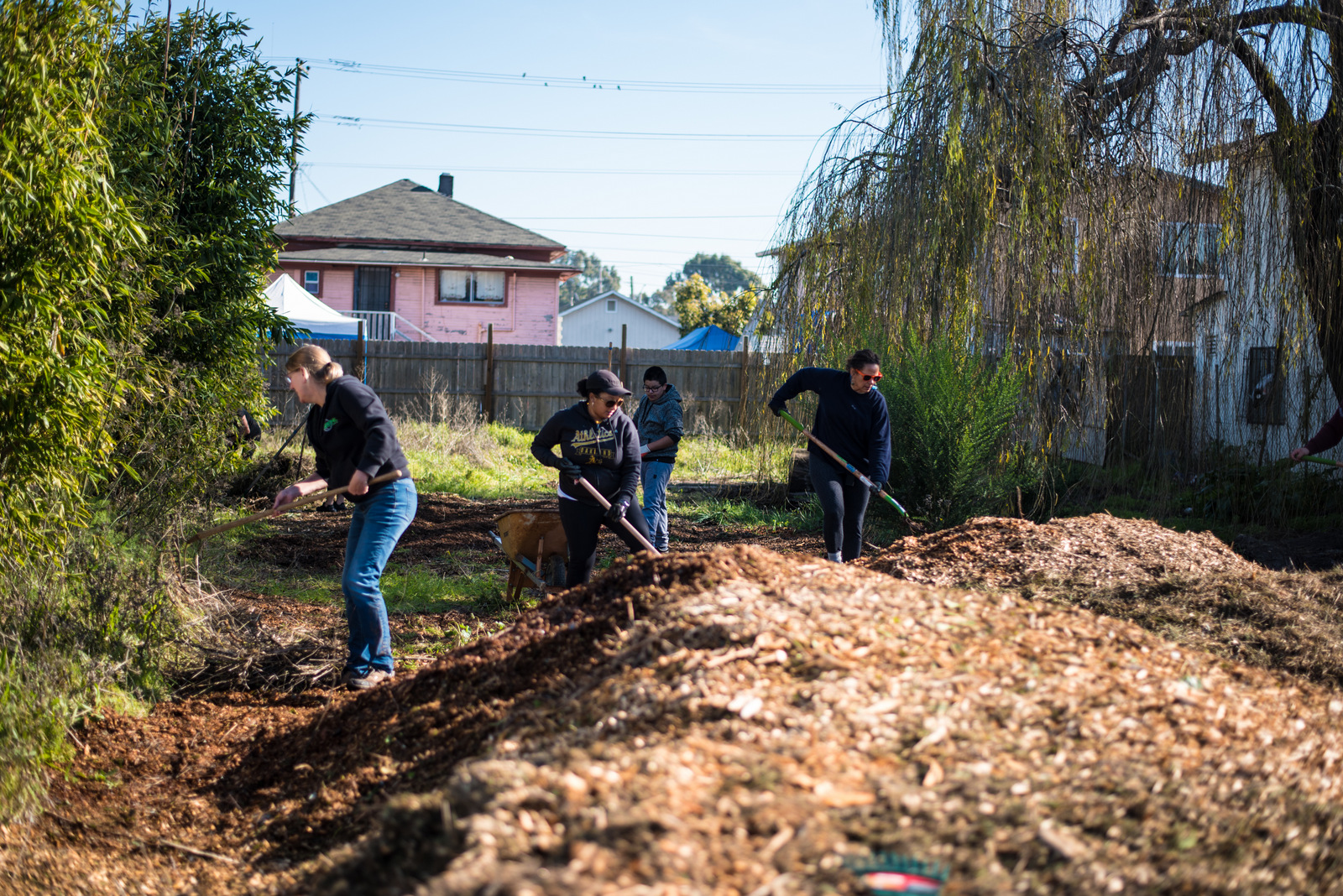 30 Jan

Happy Lot Organiza Fiesta de Limpieza en el Triángulo de Hierro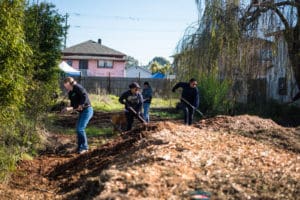 Ensayo Fotográfico • Isabella Zizi y David Meza
En una mañana sombría y ventosa, Happy Lot Farm and Garden (HLFG) celebró su cuarto aniversario con una Fiesta de Limpiar la Cuadra como parte del día festivo de Martin Luther King, Jr. y el día de servicio.
Alrededor de 65 personas limpiaron, cortaron y podaron viñas y sembraron plantas en 12 propiedades diferentes cerca de la granja en la calle 1a y Chanslor Avenue en el barrio del Triángulo de Hierro.
Andromeda Brooks, de 40 años de edad, agricultora y fundadora de la granja y jardín Happy Lot de 1400 pies cuadrados, compartió el amor y la dedicación que ha puesto en este proyecto desde sus inicios.
"Escribí a la ciudad muchas veces pidiéndoles que cuidaran de su lote, que puedo mirar desde mis dos ventanas, y no había escuchado una respuesta", explicó. Luego, dijo, decidió tomar acción ella misma. "Tomé la iniciativa y les escribí una última vez diciéndoles que tomaría la propiedad y la convertiría a una granja y jardín".
Este año, HLFG celebró su cuarto aniversario y dio la bienvenida a tres pavos pequeños al lote.
Brooks dijo que el evento de limpieza era una forma de llegar a la comunidad circundante. "Hemos tenido mucha gente nueva en el vecindario en los últimos dos años. Tomé esto como una oportunidad para conectar con nuestros residentes más nuevos", ella dijo. "Si usted vive en los confines de Happy Lot, podemos tocar a su puerta y pedirle que vaya a ayudar en la granja".
Brooks dijo que también le preguntan a los residentes si necesitan ayuda con su propio jardín o patio.
Bank of America hizo donaciones de almuerzos de Togo's Sandwiches y varios empleados de Bank of America salieron a trabajar como voluntarios durante el día. Las pequeñas empresas locales de Point Richmond a Oakland proporcionaron certificados de regalo o pequeños artículos para los premios de la rifa.
Se colocaron contenedores de compost, reciclaje y de basura en todo el jardín mientras los voluntarios se dispersaban desde el área de almuerzo, asegurándose de que los participantes dejaron el jardín más limpio que cuando llegaron.
Brooks reunió a todo el mundo en la glorieta donde anunciaron los ganadores del premio de la rifa y los ganadores de la feria del automóvil, que contó con coches en exhibición desde el Richmond High Car Club y el Pato de Perro Car Club de Vallejo.
"Este fue un verdadero ejemplo de lo que es crear comunidad y participación", dijo Angelina Brooks sobre el trabajo que había hecho su hermana menor en la organización del evento. "Espero que después de hoy, más jardineros comunitarios aparezcan y continúen involucrados con Happy Lot Farm".
Andromeda Brooks llama a Happy Lot Farm and Garden una granja "de código abierto", lo que significa que la granja nunca está cerrada con llave y todo el mundo es bienvenido a venir a tomar el producto.
"Toma todo lo que quieras, pero come todo lo que tomes", dijo Brooks, repitiendo el mantra que su padre le enseñó al crecer.
Happy Lot tiene una jornada de puertas abiertas cada tercer sábado del mes de 9:00am a mediodía. Aquellos que son voluntarios son bienvenidos a tomar de lo que ayudaron a trabajar. •
[ngg_images source="galleries" container_ids="40″ display_type="photocrati-nextgen_basic_thumbnails" override_thumbnail_settings="0″ thumbnail_width="120″ thumbnail_height="90″ thumbnail_crop="1″ images_per_page="20″ number_of_columns="0″ ajax_pagination="0″ show_all_in_lightbox="0″ use_imagebrowser_effect="0″ show_slideshow_link="1″ slideshow_link_text="[Show slideshow]" order_by="sortorder" order_direction="ASC" returns="included" maximum_entity_count="500″]