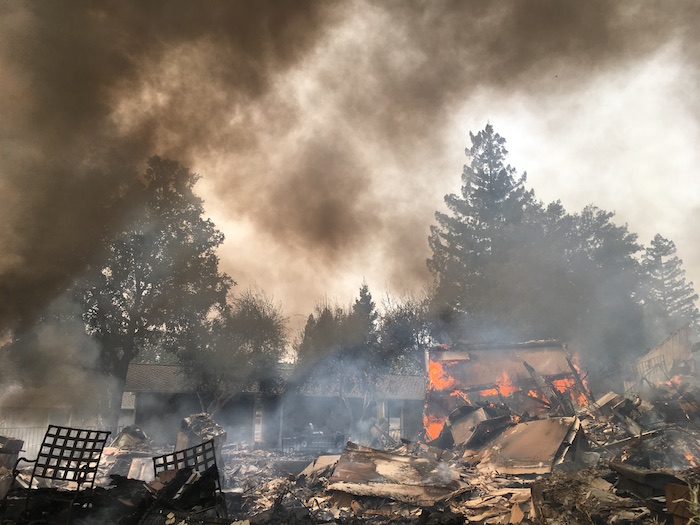 24 Oct

In the Path of the Fires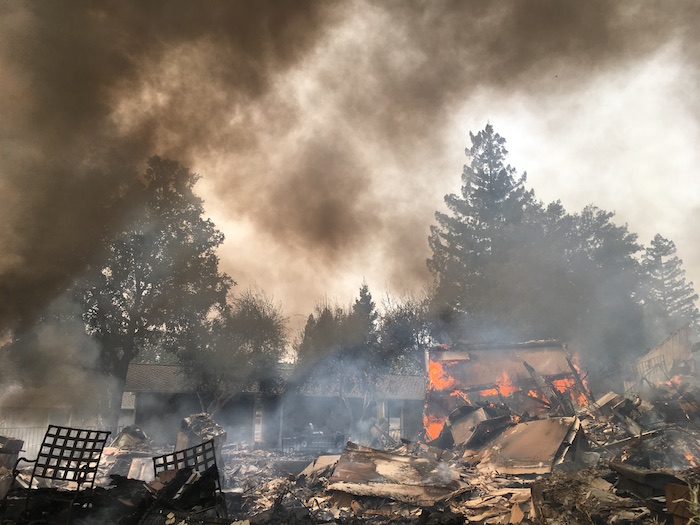 By Imani Lopez | Photo By Sukey Lewis
It's a quiet October night, and you are asleep in your bed when a knock on the door wakes you from your sleep. You listen from your room as your mom speaks to a man, who tells her to grab her family and get out now. Your mother screams out to the family, demanding everyone grab their valuables and run to the car. Frantically, you grab all the valuable belongings you can think of and pile into the car to escape. As you drive through the streets toward safety, you watch as your neighborhood goes up in flames.
It sounds like a scene from a movie, but this is exactly what happened to many Northern California residents who were victims of the worst wildfire in California history. Since Oct. 8, over 380 square miles have been burned, more than 8,400 homes and businesses have been destroyed and 42 people have died.
The smoke from the fires traveled miles, creating a blanket over the Bay Area. Residents were advised to stay indoors, and to wear masks when going outside. The smoke and debris in the air could aggravate pre-existing heart and lung conditions, and many were concerned about carbon monoxide inhalation.
For those who lived in the path of the fires, the past few weeks were terrifying.
My 15-year-old sister Imari described the experience as "extreme terror," realizing how close the flames were to our home in Green Valley, southeast of Napa.
"Everyone was very anxious about the fact that we may not have a home tomorrow," Imari said. "The smoke from the fire was so thick that we had to wear masks if we went outside, and deal with our eyes being irritated."
Our family stayed with our aunt in Fairfield, slightly farther from the flames. "We couldn't even sleep at night because we didn't know if we'd wake up in flames," Imari said with tears in her eyes.
Our aunt Lillian sobbed as she described friends and co-workers who had completely lost their homes, cars, and even loved ones. One friend, just recently recovered from an unrelated basement fire on New Year's of this year, struggled to face the fact that she may again lose her Sonoma home to a fire.
Nearby, in Fairfield, 18-year-old Chris Thomas was advised to evacuate his home. He and his family gathered their valuables and stayed at a relative's house for a few days. His home was fortunately left intact, and they were able to move back in.
"It was stressful, not being able to leave the house because of the smoke, and not knowing what was going to happen," Thomas explained. "I hope we as a community can come and hold each other together during such tragedy."
Rancho Solano resident Gabriella Gonzales sat with her family in their home, waiting for the advisory to turn to an order of evacuation. They packed their bags and gathered their dogs, hoping for the best, but preparing for the worst.
"It was almost impossible to sleep at night," Gonzales said. "We were so afraid of what might happen."
The family was placed on advisory for evacuation, but it was not mandatory.
"At this point, all we can have is optimism, and know that this is simply just a minor setback for a major comeback," Gonzales said. "We will overcome this tragedy."
As a community we will keep pushing forward on the road to recovery. We will heal our wounds, help each other, and fight to be back on our feet again.
The fires are also a reminder that everyone needs an emergency plan. Always know multiple exits to your home, pack an emergency kit containing water, canned food, extra clothes, personal and important documents, and any other important necessities your family may need. Natural disasters are not always preventable, but we can prepare for them by planning ahead.
My family was lucky enough to return to our home untouched by the flames.
"We are just grateful for our family's safety," Imari said, "and we send prayers to those who are unable to say the same."