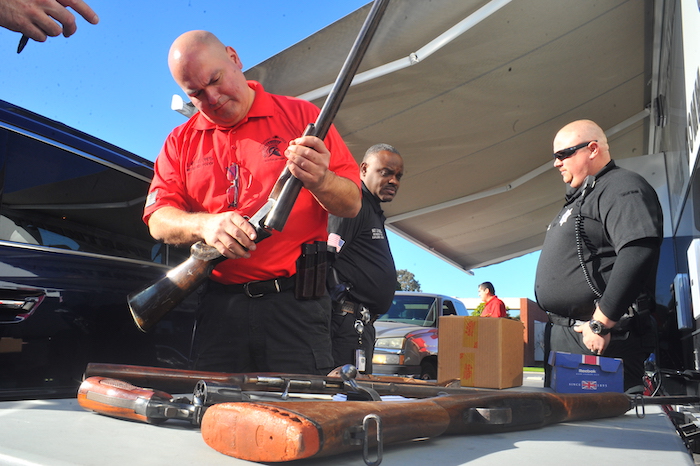 21 Dec

Gun Buyback Program Feeds Anti-Violence Art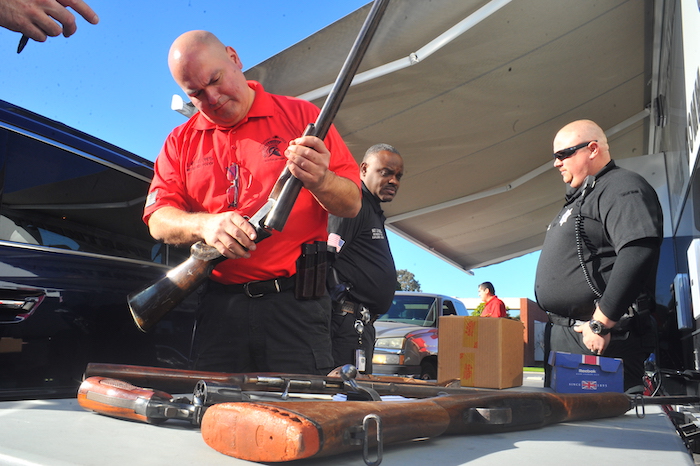 Photo essay, Denis Perez-Bravo
On a seasonably warm Sunday, Richmond resident John Chastain handed over a rifle he kept in his home. He said without proper training his family is not able to use the rifle safely and that makes him nervous.
"I was shot in a home invasion seven times in Richmond. I am not for guns," Chastain said.
Chastain said guns are used all over the planet in a very irresponsible way to commit all kinds of violence, which is one reason why he turned it in during a gun buyback event on Dec. 17. His was one of 48 guns exchanged for gift cards — no questions asked — during the event organized by the Richmond Police Department and the Robby Poblete Foundation, which was founded after the shooting death of 23-year old Robby Poblete in 2014 in Vallejo.
The buyback event is part of the foundation's Art of Peace project — a partnership with local police departments and artists to get guns off the streets. The metal from the firearms will be melted down and repurposed to be used in art about gun violence.
Currently, there are eight artists working on the project. Seven of them are sculptors: Jean Cherie, Vallejo; Karen Lewis, Oakland; John Ton, Petaluma; Keyvan Shovir, Joel Stockdill, Kaytea Petro, all of San Francisco; and Matthew Mosher of Orlando, Fla. The eighth, San Francisco resident Tsungwei Moo, is a wall artist.
During a similar gun buyback in Vallejo in August, police there collected 66 handguns, 111 shotguns and rifles and three assault rifles.
Richmond Police Lt. Felix Tan said the Robby Poblete Foundation reached out to the Richmond Police Department and event co-sponsor 4Richmond to help in their efforts to host a gun buyback in Richmond.
Pati Poblete, Robby's mother and executive director of the foundation bearing his name, said the turnout in Richmond was smaller because of the event was only promoted for 10 days, rather than the months of promotion done for Vallejo event.
Richmond Police Department Property Technician Charles Rigmaiden said most of the guns collected were handguns and rifles, made from aluminum, stainless steel and other metals.
Rigmaiden said a lot of the rifles collected in the Richmond buyback event were old guns handed down through generations. Conditions of the guns ranged from completely unusable to prime condition. Rigmaiden said some of the guns were made prior to WWI and some were most likely used because they were the issued to soldiers.
Still, some people were turned away because their guns had a higher historically and monetary value than the number of gift cards they would receive to melt the gun down.
Chastain said he's glad the metal from his rifle is going to be used in the sculpture.
"The piece of art would make me reexamine and bring to mind all the people like me who are injured or killed by gun violence," he said.