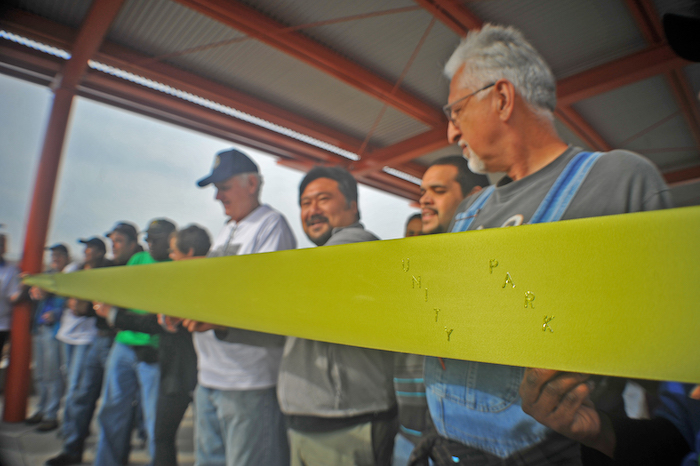 24 Jan

Unity Park Opens On MLK Day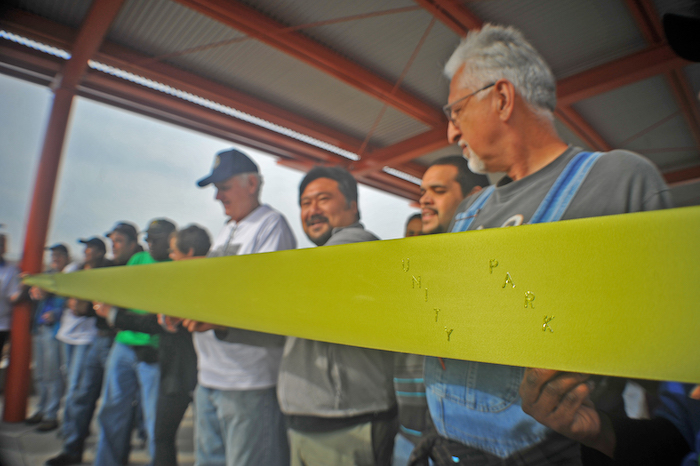 Photo Essay, Denis Perez-Bravo
When Jaccari Meriwether was eight years old he knew not to go near the unused Atchiston Train Railway tracks in Richmond. The area was known for crime, including robberies and muggings.
Now in his 20s, and living in San Francisco, Meriwether decided to spend this year's Martin Luther King Jr. holiday in his childhood neighborhood and visit the tracks he used to avoid.
What once felt like an abandoned part of town, somewhere people intentionally avoided, has become a community gathering place filled with benches, a performance space, a playground, bathrooms, drinking fountains, basketball area, murals and fruits trees.
"It is an eye-opening experience," Meriwether said. "I did not expect for the park to be so well developed."
Meriwether was one of more than 400 community members gathered at the Richmond Greenway trail on January 15 to celebrate the grand opening of Unity Park during the 11th annual Martin Luther King Jr. Day of Service.
Friends of the Richmond Greenway (FORG), a collective of 20 community organizations, put on the event and used Unity Plaza on 16th Street as the festivity center, where participants could sign up for service projects. All morning and afternoon the greenway was filled with volunteers planting trees, picking up garbage, laying mulch, picking weeds and more.
Retired middle school teacher Kathleen Good was one of those volunteers; she said Martin Luther King Jr.'s message was about spreading love, peace, joy and happiness.
"You don't just keep that to yourself. You share it with your neighbor," she said. "At the end of the day this isn't about us, but this is for the people that will come after us."
According to the city's website, the vision for the greenway is to be a "regional transportation trail and open resource for people who would like to walk, bike, exercise, socialize, learn about their community, bird watch, and experience the outdoors with their families and friends."
The effort to create the greenway dates back roughly 20 years when the late Lily Mae Jones, a former leader of the Community Youth Council for Leadership and Education (CYCLE), started to garden and restore the land along what is now known as the Richmond Greenway. Since then, FORG, formed in 2006, has obtained a $5 million grant from the California State Department of Parks and Recreation to create Unity Park.
Back when Good was teaching, she worried about her students' safety as they walked to and from school, often across what would become the park. She knew it as a place where people were mugged. Now, she is grateful for the effort to create a safe space to walk.
"This means the neighborhood is safer," Good said, "and that is good for the community because it is an example. Like a torch that can light a fire, that the community can learn from."
Besides noticing all of the new amenities in the greenway, Meriwether also noticed a diverse group of people, from skin color to beliefs, working for one cause in a place he was always told to avoid.
"This is part of MLK's message," he said, looking around. "Great things can be done together."