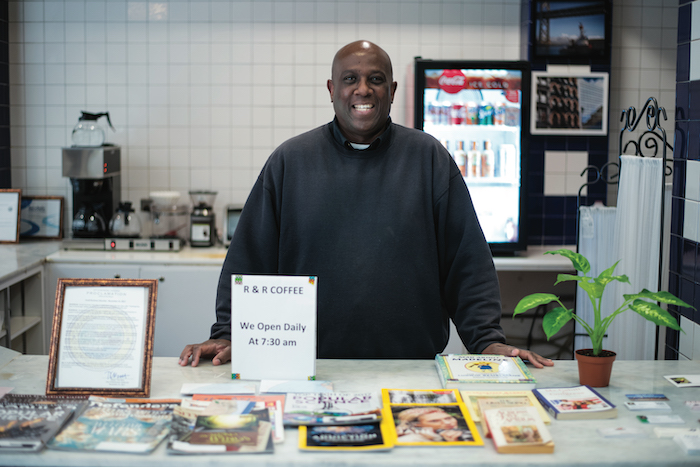 22 Mar

More Than Just Coffee: R&R Serving Up Community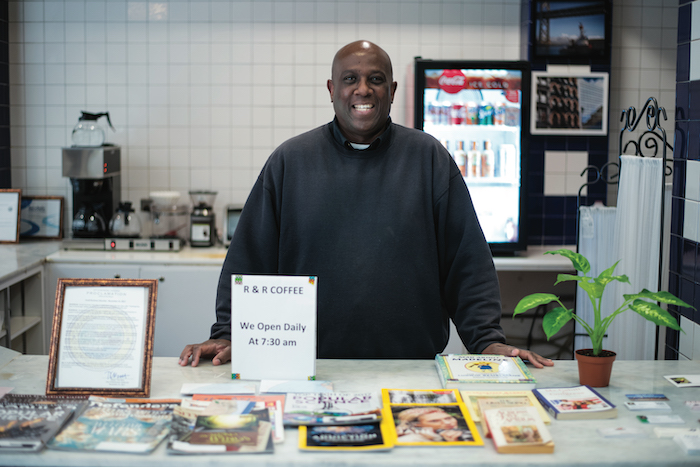 By Abené Clayton
The small workspace that Phillip Mitchell has carved out at The Shops at Hilltop mall's only coffee shop is empty, but it's there if any student needs a place to study. The bookshelf beside the unoccupied shiny brown desk and chairs is filled with colorful covers of children's books that are a part of Mitchell's "take it, bring it back" system.
R&R Coffee opened for business in November. Its owner Mitchell — a Flint, Mich., transplant — hopes that the coffee shop will become a fixture as the mall undergoes a facelift.
"I feel like we're gonna be here as one of the first vendors from the city of Richmond, who live in the city," he said.
R&R is short for Richmond born, Richmond grown. Mitchell says that "growing organically" is the ultimate goal. He says he understands the dismay that comes with the degeneration of a local landmark that has served families for decades. He hopes to resurrect the feeling of community that made Hilltop Mall special and plans to provide mall-goers with more than just locally sourced coffee and pastries.
"It's important for me to support the local community, because I have been blessed with my platform, the coffee shop, to bring people together," Mitchell said. "It is my time in life to start giving back, to make a difference in the community through action, not just words. I need to do my part to help the younger generation move forward."
This Saturday, R&R Coffee will hold an "Art and Soul" function, featuring a local artist, vendors and live music. Mitchell says he wants to use the event and others like it to help promote other local businesses.
Robin Wilson and Tamara Shiloh from the Multicultural Children's Bookstore on the second floor of the mall donate reading materials to fill the bookshelves and counters at R&R.
"Even if they don't bring it back, it's okay," Mitchell said. "We just want to put books in children's hands."
Wilson, Shiloh and Mitchell also partnered on a family literacy event in early March, complete with "make a book" arts and craft sessions and book giveaways for kids.
But Mitchell's plans to engage with the local community don't stop there. He also intends to host registration drives to get more locals signed up to vote in this year's midterm election.
"As Richmond grows, there is a lot going on," Mitchell said. "We want to do our part to educate folks to vote."
By holding community events, and buying his coffee beans from the Richmond-based Catahoula Coffee Company, Mitchell hopes to create a storefront that is supported by, and beneficial to, Richmond's residents.
"We want people to come out and feel like a part of the growth, the rebranding of the mall," Mitchell said. "The significance of folks coming out here to study is [that they] come out to the mall not just for what an anchor store can offer but what local Richmond can offer."
IF YOU GO: R&R Coffee, located in The Shops at Hilltop Mall at 2200 Hilltop Mall Road in Richmond, is open Monday through Saturday, 7am to 4pm.