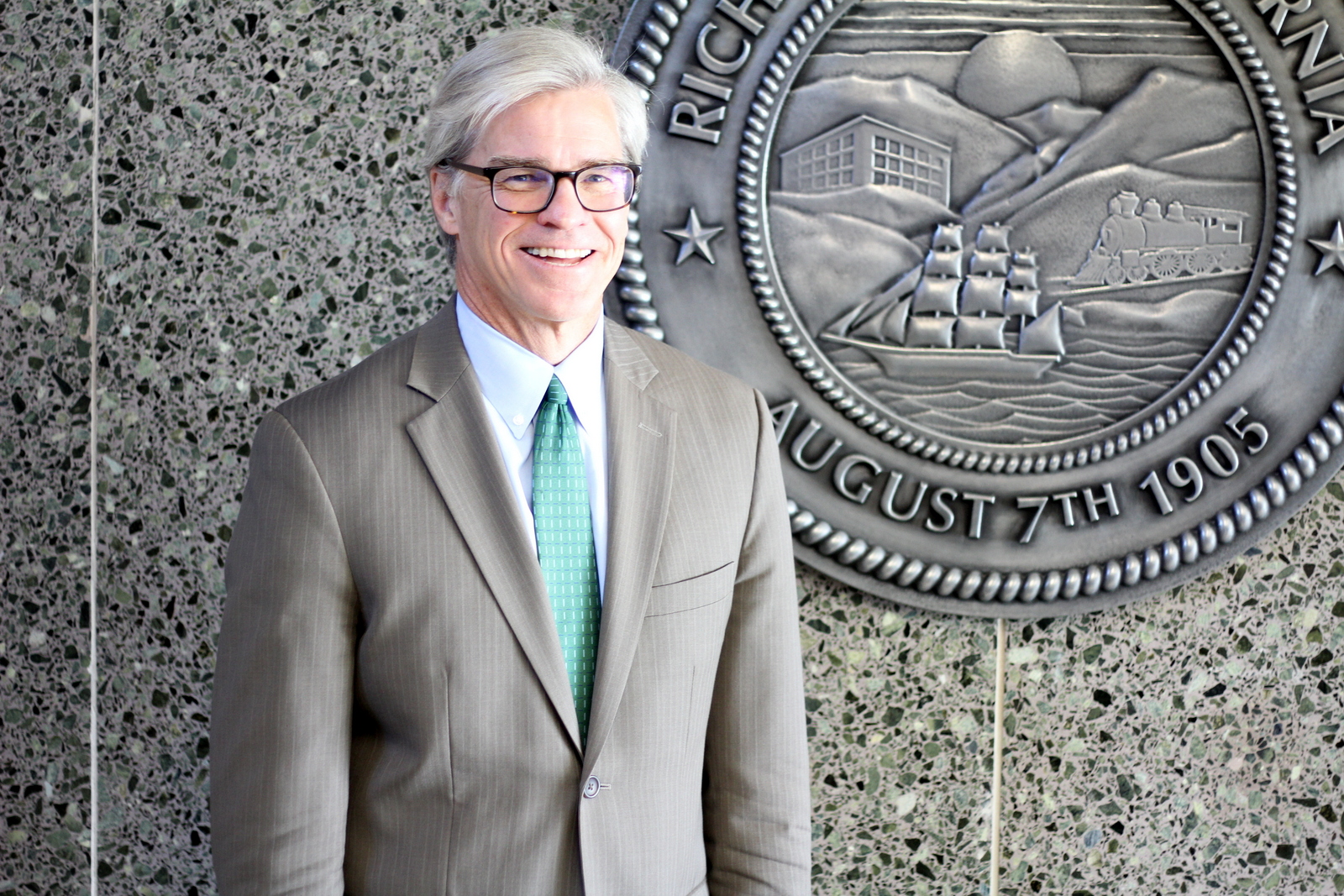 14 May

Q&A: Bill Lindsay on 13 Years in Richmond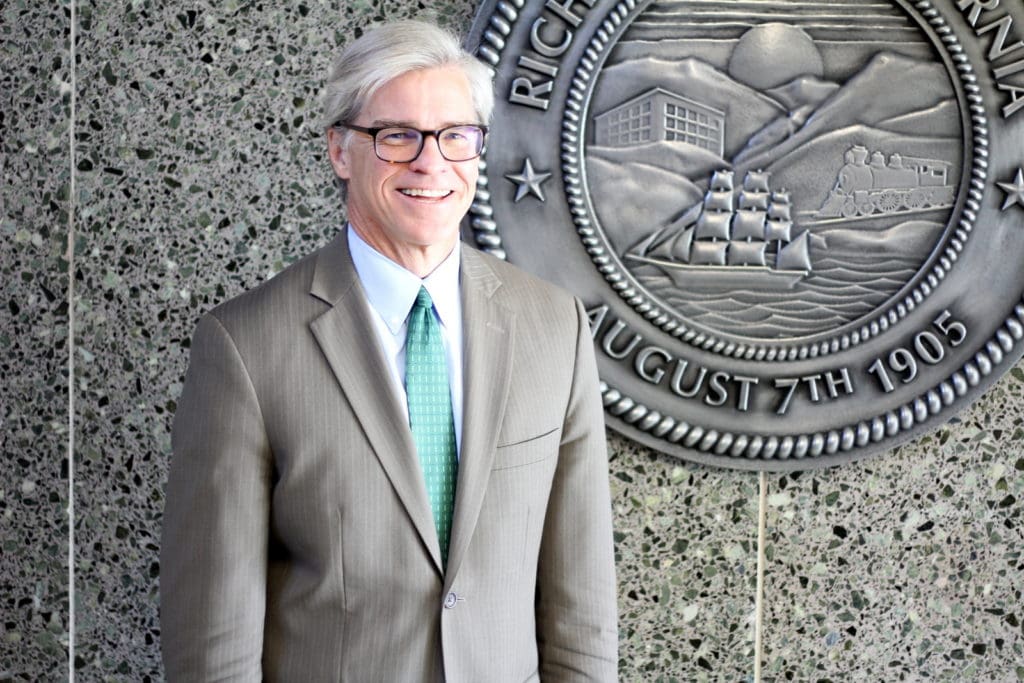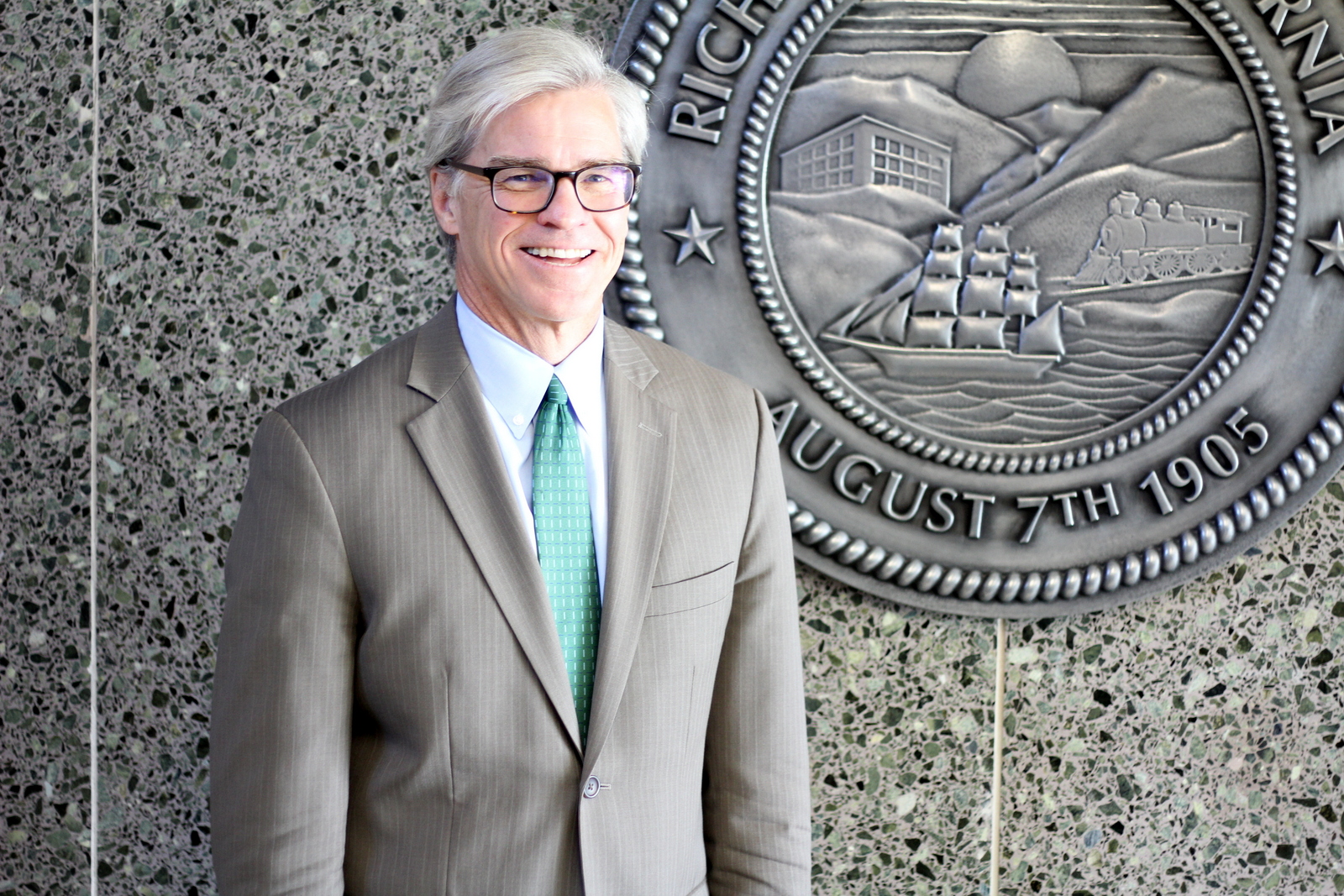 Interview, Richmond Pulse
Editor's Note: Vernon Whitmore, former publisher of the Globe Newspaper joined Malcolm Marshall, publisher of the Richmond Pulse, in a conversation with Richmond City Manager Bill Lindsay.
Lindsay, 62, recently announced he is leaving his position at the end of July, after 13 years. He came to Richmond from Orinda in 2005 and inherited a $35 million budget deficit. Many credit Lindsay for steering the city from the brink of bankruptcy to a renaissance.
Here, he reflects on the challenges he's faced and the future he hopes for in Richmond.
Vernon Whitmore: I can remember when I was in former Mayor Irma Anderson's office. Crime was high and councilmembers were calling for a state of emergency in the city. The deficit was maybe 30 million plus and we were sitting around when Phil Batchelor (former Contra Costa County administrator and interim city manager of Richmond at the time) said, "I think I know the right person to come in and be city manager and clean things up." With all that was happening in Richmond at the time, what did you think when you got the call?
Bill Lindsay: Well I knew just from reading press reports, not from any real first hand information, that Richmond was struggling. I know it sounds really cliché but I mean it sincerely, I really was looking for a challenge. Phil Batchelor felt confident that I could do the job. I wasn't sure if I could. I was willing to do the best I could and I knew it was going to be hard to do but that's why I took the job.
So when he asked the question, "Would I be interested?" I found myself saying yes for all of those reasons.
Malcolm Marshall: How did you make the decision to retire now? 
BL: It sort of feels like the right time that I should go on to whatever my next stage of life is.
City managers are sometimes hired because they can think outside the box and then after about 10 years, without knowing it, you've built your own little box and you're thinking inside of it.
So, I think it will be good for the organization to have somebody else come in with fresh ideas, take a fresh look and fix my mistakes.
The other part is, with the next stage of my life – spending some time doing other things with my wife and being able to travel a little bit more, giving up night meetings.
There's never a good time to leave. I wish I could stay around for Point Molate, which is getting re-launched again. The Richmond Field Station development is going to get re-launched again very soon, I think, and I feel like the downtown redevelopment is just on the cusp of really taking off, and Hilltop and some of the shoreline development. I mean it really feels like we're entering into a real great period and I wish I could stay around for all of that, but the work is never going to be finished.
MM: How do you prepare a city for your retirement?
BL: I sort of was kidding around about having a Richmond bucket list and one of them was to try to get things with Point Molate wrapped up and the Chevron fire lawsuit.
I want to get the budget done and get that balanced before the end of June and I think we'll be able to do that. I want to try to set the stage for the next phases of all these different projects I just talked about. After we get the budget balanced in June, July will really be the transition month when I'm going to work with staff to make sure that everything I'm working on has a new point of contact and somebody has background in some things so that a new manager coming in will have the organization in place that they can rely on to get information and to continue to move things forward.
 VW: Speaking of the budget, I think you were hired at first because you were such a hard-nosed fiscal steward. What have been some of the other major challenges over the years?
BL: When I started, Phil Batchelor and others, I think even before him, had done some of the real heavy lifting in terms of just keeping the ship from sinking. That's really hard to do, and I give them a lot of credit for that. When I came on board it wasn't really sinking anymore, it was kind of listing and so it was a matter of developing organizational capability and a philosophy that says we can do things.
The idea back then that you may not have all the resources you need, but by God, you had $120 million budget, so let's do things the right way and get some things done. And motivating the organization, which I think was in a real depressed sort of state and getting it moving again. Just getting the fear out and allowing employees to make decisions and empowering employees.
One of the interesting things I remember early on, I received a call from somebody talking about Nicholl Park. The grass was half mowed and then our crews went away. It was like, "How would you do that? Why would you leave it half mowed?" I said, "I don't have an explanation why. Did the mower break? Are they coming right back or what's going on?" And the answer I got was, "Well we know there's a strict no overtime policy. When it was quitting time, we just packed up and left." It was like, whose policy is that? It's not mine. Would you do that with your own lawn? Don't do it with the public's lawn. You make a decision that says I'm going to complete this and I'll make a good common sense decision about use of the public's resources, and those are the kinds of things operationally that needed to be repaired.
VW: Coming from Orinda, how was it working with a city with 37 neighborhood councils and an aggressive business community?
BL: A lot of people they say, 'well you came from Orinda, it must have been a real hard transition in terms of the types of the management,' but really the hardest part for me was the fact that it was just so much bigger in scale than I was used to dealing with and as a manager I had to really change.
In a small city, you're very hands on, you're chief cook and bottle washer, doing a little bit of everything. You're photocopying the agenda packets yourself on a Friday night, and here it's much, much bigger.
Also, the volume of things to get done, and the volume of the community connections you need to make. The many demands on your time, all of which seemed, especially early on, to involve a meeting at night or a weekend. I never added up the hours, but probably it wasn't unusual to have 80-hour weeks. It was either working or sleeping. It's a little better than that now.
So that was the hard transition for me: Small city management to large city management. The fact that I didn't have any background in managing a port or managing an employment-in-training department, workforce development, the fact that we didn't have a housing authority in Orinda didn't have a redevelopment agency, those things are all learnable in terms of the technical issues, but the management issues, those were the transition for me.
MM: I remember seeing a video years ago, I think from Healthy Richmond, where you talked ABOUT an unhealthy competition between non-profits in the city. How have you seen that evolve or shift in your time as city manager?
BL: I think that's so much better now than it used to be. I think that Healthy Richmond has a lot to do with that in terms of the strategic planning. It brought a lot of people together, brought a lot of people to the table.
The best example I can think of now, with just the community groups working together, is the whole stretch of the greenway. I could take out Unity Park, but I'll take the whole stretch of the greenway that goes down to the Harbor 8, Pogo Park area and then Unity Park. That was a project that was pulled together by a number of different nonprofits all working together with the same ideas and without any back biting or politics or anything else. They were just a real good cooperative relationship. That really is a great model. I mean the numbers of people that they were able to mobilize; very diverse groups, very diverse objectives in many ways, but united around some of these projects that they were able to get done.
Again, not an individual accomplishment, but the fact that we do have this health approach to our services, that we do look at our municipal services through that health lens to me is a real critical part of our strategic function going forward. And I think that's good, and I think it's a really very good turnaround. 
MM: Also, can you talk about progress that you've seen when it comes to the city partnering with the community?
BL: When it comes to the City and working with community groups, I don't really compare to other cities. I don't really know what they do, but I think our, let's call it our systems approach to doing community outreach, is better than it used to be.
I think that part of that is getting beyond the fear that we talked about. Instead of "what if the community finds out about this," now it's "we've got to tell the community about this and get their input." Virtually everything we do has a strong community engagement process.
The rent control program, for example, after the ordinance was passed we couldn't change the ordinance but we got some good ideas about how to administer it effectively. The notion that we ask and get good community input is really engrained in us now. It may have been that way for a long time, but certainly now I see that. It's just common in the way we do things, and I think that is a real good way to approach these issues.
MM: Looking ahead, what are some of the biggest challenges in Richmond's future?
BL: I'll start with financial challenges. We have a balanced budget right now, or we did for 2017/2018. It looks like we're going to have a small operating surplus for 17/18; so, we're stable right now.
But, in the future, we're going to have growing retirement costs, contributions that we are going to need to make. We are going to have some revenue growth, but maintaining that stability over the long-term I think is kind of the financial challenge, and I think we're in good shape to be able to take care of our balance sheet. We have a good diverse revenue base, which I'd like to see grow, but just the service demands are large.
You know, I'd like to do better on just basic street maintenance and park maintenance and litter abatement and nuts and bolts kind of stuff, and those are things that are financial challenges. We don't have enough of the resources to get things done that I think this community would want. The financial challenge into the future is managing that.
The other part of it I guess is from the community development side of things. I really do think that the real key for Richmond's growth and development is kind of going back to that vibrant downtown that Richmond once had.
 MM: As you look back over your time in Richmond are there things you would have liked to have done differently?
BL: Yeah, there are a lot. When you walked in here today we were having a meeting on the Housing Authority, which is really in a ragged shape right now and that's something that I wish I was more attentive to all the way along. There were a lot of things that just were not working very well that I didn't know about and that to me is a disappointment that I think I'm going to be turning it over to my successor as not something that is fixed.
I think that we were able to weather the recession pretty well, but one of the things that we were always doing and maybe I can be critical in hindsight is we were always cutting behind the recession. It was always ahead of us. It was always a little bit worse than we anticipated and so it eroded our financial reserves more than I would ever have wanted it to.
Operationally, day in and day out there's all kinds of things that go on that I would do differently, but big picture I talk about Housing Authority operationally and our financial management.
VW: What accomplishments are you most proud of during your tenure?
BL: I don't take individual credit for anything. And I don't like to use the word proud. I look back and I say, 'I'm happy because I was right to take the job.' It was a challenge and it was rewarding in that sense. I did the best I could. I don't look back and say that I should have worked harder. I made plenty of mistakes, but who wouldn't?
I think if you never make a mistake you haven't really pushed the envelope.
So, I would just say I feel like the city is at a better place than when I got here, and I hope that I've made a contribution to that – and that's enough for me.