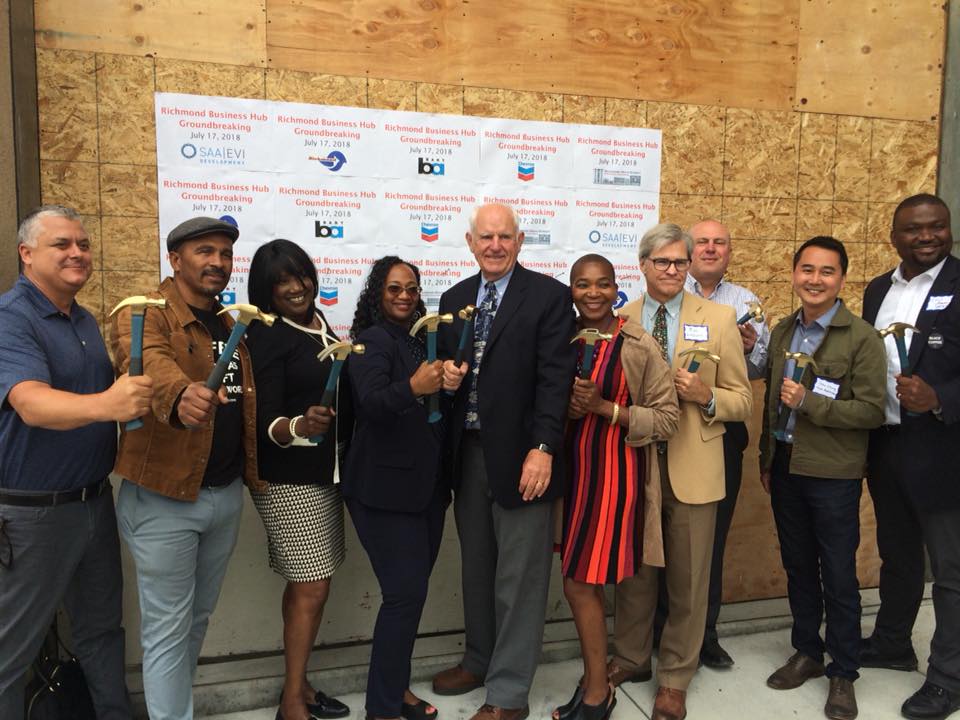 19 Jul

Business Hub Aims to Bring New Life to Downtown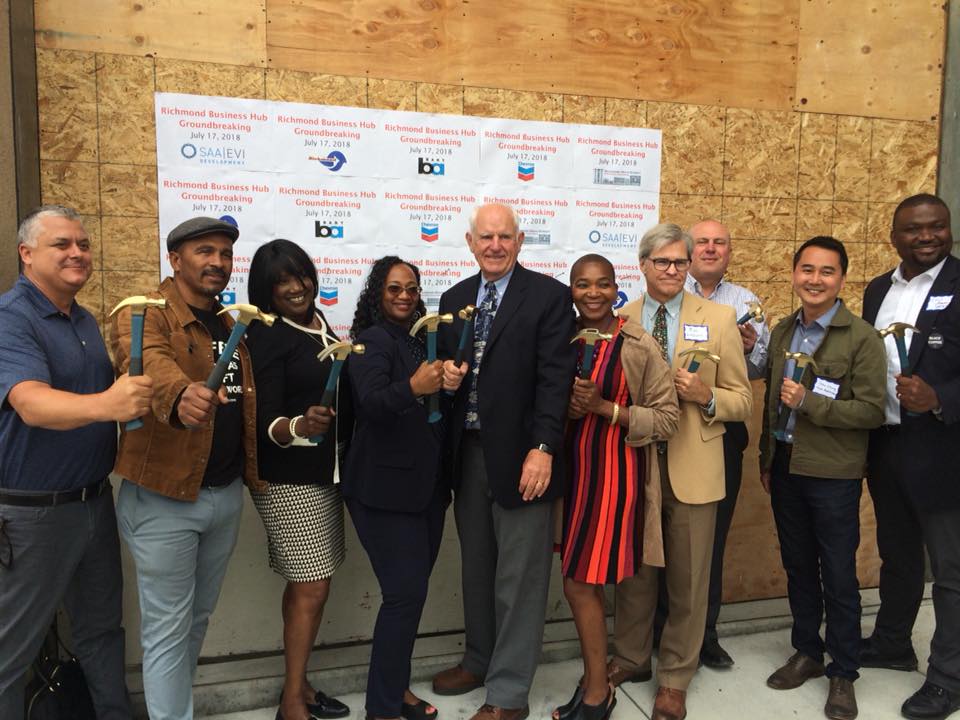 Staff Report, Richmond Pulse
New food and dining options are coming to downtown Richmond as part of the new Richmond Business Hub.
Located on the bottom floor of the BART parking garage at 16th Street and Macdonald Avenue, the nearly 10,000-square-foot retail space will be home to a food hall-style setup with a variety of food related business.
The space will also house the new CoBiz Richmond business incubator, a project of Chevron's eQuip Revitalization Initiative. It includes a partnership with Richmond Main Street, Renaissance Entrepreneurship Center and the Richmond Chamber of Commerce.
On July 17, about 80 people attended a groundbreaking ceremony for the Richmond Business Hub featuring representatives of the project's partners: the City of Richmond, BART, Richmond Main Street, and SAA/EVI Development, the developer of the project.
"This has huge potential for that corner transforming into a vibrant community used space," Alicia Gallo, outreach coordinator with Richmond Main Street, said. "It will provide products and services that people in this community have been asking for a long time. It also will bring jobs and opportunities for local entrepreneurs to grow in their community."
In his remarks, Richmond Mayor Tom Butt spoke of a time in Richmond's history when life on Macdonald Avenue was "24-7."
"About 75 years ago, this street right here, Macdonald, was among one of the hottest streets in the entire Bay Area," Butt said. "It's been a long road back. I think we've finally turned the corner. The tipping point is here and this is part of it."
Janet Johnson, the city's economic development director and a resident for 40 years, said the groundbreaking was a great day for Richmond, specifically downtown.
"All downtowns and commercial districts need to thrive and provide goods and services for all of its residents, workers, and businesses," she said.
Along with mentioning that the Richmond BART station averages 8,000 commuters daily, Johnson noted the potential impact of having many of the city's largest employers in such close proximity to the business hub.
"Thousands of workers look for places to eat, drink coffee, have lunch everyday. They have to drive every day from this district," Johnson said. "So that won't happen with this development here today. As well as for the residents in the neighborhoods that surround this area, people won't have to get in their cars and drive to leave Richmond. They can walk to these goods and services"
Locol — the self-described "revolutionary fast food" restaurant — and the African-American-owned Red Bay Coffee have already signed lease agreements for the food hall.
Ernst Valery is managing partner owner at Baltimore based SAA/EVI, a private, minority-owned real estate investment firm who's mission is to " develop real estate and invest in ventures that benefit urban communities." He said he spent two years getting to know people in Richmond before he decided he wanted to do a project here. SAA/EVI, the master tenant, will be building out the space and subleasing to CoBiz and the food hall tenants.
"It was similar to Baltimore where people were saying a lot of negative things about the city," Valery said. "We have to know what our properties are worth. I felt like Richmond was the perfect place to be after meeting and being around people here."
Valery says he's interested in transit-oriented development, as well as creating a new paradigm for development without displacing people and "making sure that minority communities are part of the rebirth of cities."
"Sure, it's hard to do a business incubator and a food hall first," he said, "but that's what Richmond needs."
Najari Smith, who opened Rich City Rides bike shop at 15th Street and Macdonald Avenue three years ago, said he's exited to see something happen with the space.
"I'm also disappointed that it took eight years to do anything at all in that space," he said. "When I think of how the neighborhood is going to change, I do think of displacement and gentrification. That's what I see on the horizon."
While he does have concerns, Smith says the business hub is definitely going to transform the neighborhood. He says bringing more foot traffic to the area will bring more safety. Overall, he sees the hub as "great thing."
"I love good food, and I applaud any new options. I'm so glad it's not another fast food spot," Smith said. "As far as CoBiz, I'm hoping that this will create the opportunities for some local entrepreneurs."