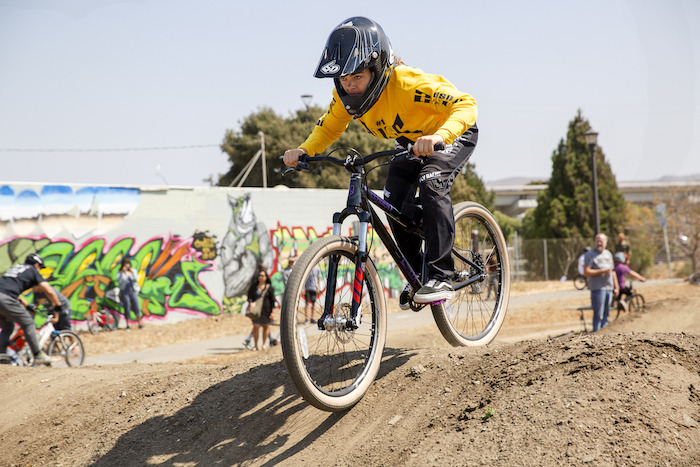 14 Sep

Richmond's First BMX Bike Park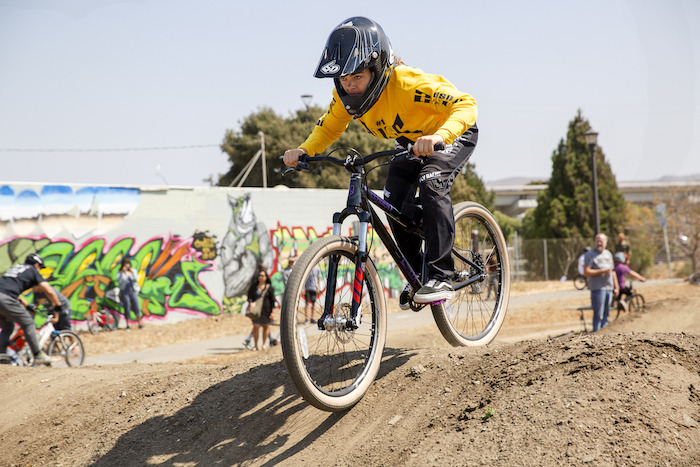 Above: Amya Raven, 15, from Vallejo, runs the jump garden track during the grand opening of phase one at the Dirt World bike park in Richmond, CA on Saturday September 1, 2018.
"This is amazing. I came out here not jumping at all and now I'm jumping these."
Photo Essay, Brittany Hosea-Small
Hundreds of people filled Dirt World — Richmond's new bike skills park — for its
grand opening Saturday, Sept. 1.
Bikers lined up, six deep, on top of dirt mounds to ride the three practice tracks. Kids and adults alike took turns flying around corners and jumping off 10-foot dirt ramps.
The Dirt World bike park, which started as only an idea in 2015, now features a pump track, a BMX practice track and a jump garden. Open from sun-up to sun-down all year, Dirt World is the East Bay's only BMX dirt park.
Since its soft open in July, the park has been a huge hit for locals and has also begun bringing BMXers from as far as Napa and Petaluma.
Co-founders Jasmin Malabed and Dennis "D2" Hoskins poured their heart into taking an abandoned trash lot and turning it into a BMX haven.
"People would dump trash, mattresses, you know just a bunch of garbage and filth," Malabed said. "For the first year and a half, we just spent our time coming out here cleaning up the weeds. It's been a long, long road."
And that road is not yet complete.
Malabed and Hoskins plan to add a retrofitted storage container as a classroom for afterschool and summer programs, as well as drinking fountains, picnic tables and shade structures — all sometimes rare amenities at even city-build skate parks.
Both hope to add these to Dirt World soon, but, as with most projects, funding is the hardest part. The park is in need of a further $20,000 in order to complete the second phase of the space.
Already, Dirt World has become a home for BMX and mountain biking enthusiasts, right in the heart of Richmond.
"Richmond Dirt World has seamlessly brought together the freestyle elements of BMX with high flying acrobatics and then wide-open racing," Dan Harvest, a 30-year veteran of the bike world, said.
Harvest recalls having to drive for miles in the back of a pick up truck in order to find BMX tracks when he was younger. "I rode my bike here today," he said.
Chris Kontos, a volunteer at Dirt World, echoed Harvest's sentiment. Having being involved in the BMX scene since the 1980s, Kontos remembers how far practice tracks were from the Bay Area. Considering the lack of available transportation, it was nearly impossible for kids to experience BMX easily.
Now, Kontos is excited to bring the sport to a new generation. Watching kids who have never biked before take on the BMX track is magic to him.
"We have kids who are out here flying now that have literally been riding a bike for 30 days," Kontos said.
One of those kids is Davyn Lewis. Already an energetic and athletic 8-year-old, training in football and track, Lewis first came to Dirt World the day after he learned how to ride a bike. A month later, and he's already placing on the podium in BMX races.
"He sees the lines. He sees the track in that way," Kontos said. "He's going to bring something to the sport."
But Dirt World isn't just about racing and competition. Richmond's new bike skills park is about bringing families together around a healthy activity.
Jacqueline Bonds, Lewis' mother, loves the fact that he's out at the park nearly every day with his father, and he's not the only parent there.
"It's a great opportunity for the youth here in Richmond and also the adults. You see them out here having a ball," Bonds said.
Richmond resident Lola Hernandez has been bringing her children, Vivian and Vincent, to the park since it opened in July. Her husband has even purchased a bike so he can ride with their kids.
It's this family experience that Howard Cato, Dirt World volunteer and founder of Richmond's Flood-The-Street-With-Bikes program, wants to foster at Dirt World. Having been in the BMX industry since 1983, Cato recalls weekends at crowded bike parks filled with kids and their parents. Communities came together to share food, talk and enjoy each other's company.
"It becomes a family environment on the weekend, so I think this is going to do good out here," Cato said. "Richmond really needs it."
Twelve-year-old Malachi Bozorg is a testament to that. With no experience in BMX or mountain biking, Bozorg joined in on the fun during Saturday's celebration. With Kontos' help, he was soon zipping down the dirt hills and through the practice tracks.
When asked what he thought was the most important thing for people to know about Dirt World, Bozorg's response was simple.
"We're just one big happy family. You can come here any time, and you're always welcome."
[ngg_images source="galleries" container_ids="63″ display_type="photocrati-nextgen_basic_thumbnails" override_thumbnail_settings="0″ thumbnail_width="120″ thumbnail_height="90″ thumbnail_crop="1″ images_per_page="20″ number_of_columns="0″ ajax_pagination="0″ show_all_in_lightbox="0″ use_imagebrowser_effect="0″ show_slideshow_link="1″ slideshow_link_text="[Show slideshow]" order_by="sortorder" order_direction="ASC" returns="included" maximum_entity_count="500″]