29 Nov

Shields-Reid Recibe Oportunidad para Nueva Vida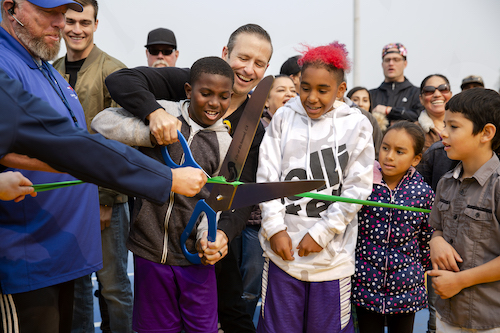 Por Brittany Hosea-Small
La cancha deportiva está llena de brillante azul y oro, una paleta que no solo combina con los Golden State Warriors, sino que también rinde homenaje a la pintura original de la cancha.
En su apogeo, las canchas en el parque Shields-Reid fueron el campo de entrenamiento para los posibles grandes jugadores de baloncesto, incluido el ex jugador y entrenador de la NBA Paul Silas y la leyenda de Richmond Clyde Hardeman.
A lo largo de los años, la desinversión y la falta de fondos de la ciudad hicieron que el parque sufriera un terrible deterioro. Las canchas de básquetbol rápidamente empezaron a parecerse a carreteras con hoyos.
Hace casi cinco años, guardias armados vigilaban el parque debido al alto nivel de delincuencia que ocurría dentro y alrededor del parque.
"Estaba en mal estado y sucedieron cosas malas", dijo Troy Porter, supervisor de recreación y gerente del centro Shields-Reid.
Eso fue hasta que se seleccionó entre muchos otros proyectos para recibir un mantenimiento tan esperado. Después de haber cerrado las canchas deportivas para que se realizaran las reparaciones, las canchas finalmente se volvieron a abrir el mes pasado para que los niños de la localidad las probaran.
Porter observó cómo los niños salían corriendo a las canchas, permitiendo que la próxima generación de atletas de Richmond tengan un lugar que llamar hogar.
"Me trajo alegría a mi corazón", dijo.
Gracias al apoyo de Mark Mahoney, un miembro retirado del sindicato Plumbers and Steamfitters Local 342, las canchas de baloncesto que alguna vez se celebraron volvieron a tener una nueva vida.
Mahoney y el actual liderazgo del Local 342 se acercaron a la oficina del Supervisor del Condado de Contra Costa, John Gioia, en busca de un proyecto de servicio comunitario local para emprender. Después de revisar una larga lista de posibilidades, Mahoney decidió, en función de los fondos y el tiempo disponibles, que Shields-Reid era el proyecto exacto que el Local 342 estaba buscando. Después de elegir el proyecto, el siguiente paso de Mahoney fue lograr que el resto de los sindicatos locales se comprometieran.
"Fue muy fácil", dijo. "Cuando fui a la industria de la construcción, todos estaban muy felices de ayudar. No fue un problema en absoluto".
Con cerca de 30 miembros del sindicato ofreciendo su tiempo como voluntarios, el proyecto se completó en solo dos semanas. Junto con el tiempo y la mano de obra donados por los trabajadores del sindicato, Fregosi & Co. Paints Inc. donó $6.000 en pintura. El costo total del proyecto, incluyendo mano de obra y materiales donados, fue de más de $13.000.
En una ceremonia de corte de cinta el 10 de noviembre, James Boster con la Unión Internacional de Pintores y el Allied Trades District Council 16 dijo que los sindicatos son conocidos por retribuir a sus vecindarios.
"Aliento a otros sindicatos a hacer esto", dijo. "Es para los niños".
Básicamente, estaba predicando al coro cuando casi 150 residentes del Norte de Richmond, contratistas sindicales y funcionarios de la ciudad se reunieron para celebrar la reapertura oficial de la recién renovada área de juegos al aire libre del Centro Comunitario Shields-Reid.
Miembros de los sindicatos de trabajadores del Condado West Plumbers and Steamfitters Local 342, Plumbers & Steamfitters UA Local 159, Insulators & Allied Workers Local 16, Electricians IBEW Local 302, Sprinkler Fitters UA Local 483 y DC16 habían donado su mano de obra, tiempo y dinero para arreglar el parque.
Durante la ceremonia, el Dr. Henry Clark recordó su tiempo en las canchas cuando era joven y en las ligas de baloncesto crepusculares que tuvieron lugar allí en el verano. Las ligas ayudaron a los jóvenes atletas a tener una idea de qué esperar durante la próxima temporada de baloncesto de la high school.
Robert Rogers, coordinador de distrito de la oficina de Gioia, dijo que los niños que juegan en esas canchas son "resistentes".
"Son hermosos. Son animados", dijo. "No van a ser detenidos, pero estaban jugando en un patio de recreo bastante difícil".
Y los jóvenes del vecindario que rodean el Centro Comunitario Shields-Reid están enamorados de su nueva cancha deportiva, que ahora incluye cuatro cuadras, rayuela y una pequeña área de fútbol.
Durante la celebración, varios niños salieron de inmediato a las canchas de básquetbol para jugar. Uno de ellos era Christian Lee, de 12 años, que vive en el vecindario cerca del parque.
"Creo que es genial", dijo.
Lee espera venir al parque durante toda la semana para practicar en los aros más bajitos. También dice que le gustan los nuevos tableros, canastas y el nuevo trabajo de pintura.
"Le da un poco más de color a la comunidad", dijo.