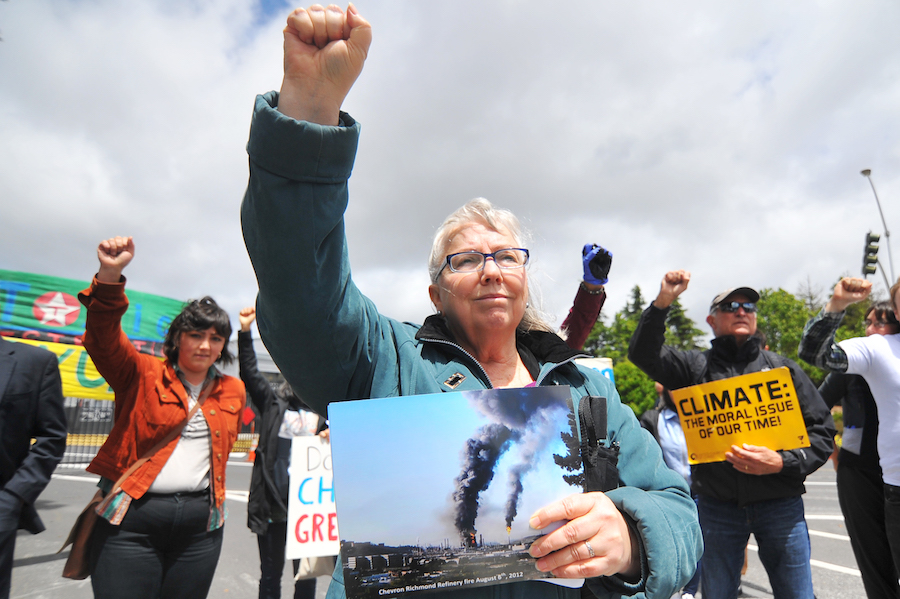 01 Jun

International Day of Protest Centers on Chevron's Environmental Impact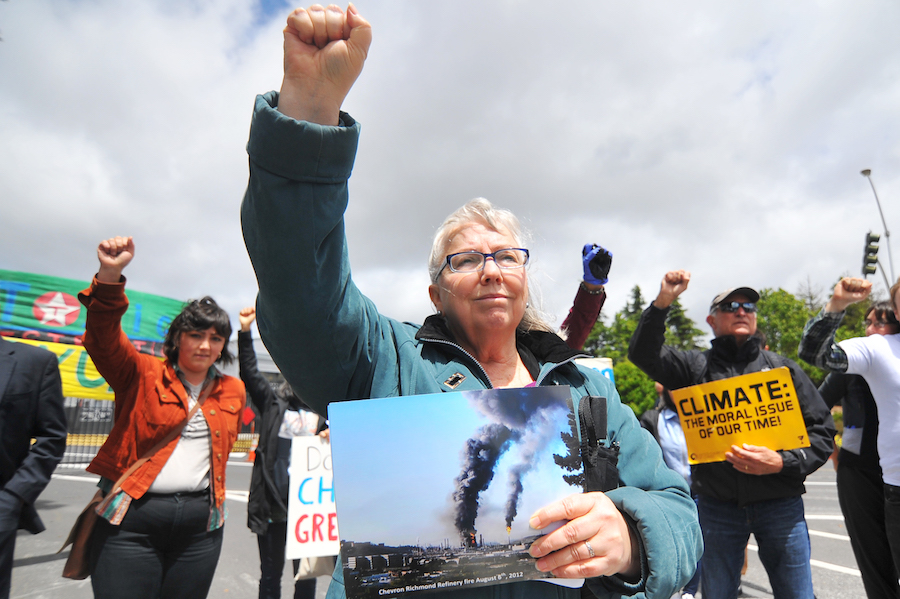 Above: Former Richmond Mayor Gayle McLaughlin raises her fist in the air during the Global Anti-Chevron Day protest in Richmond on May 21.
By Denis Perez-Bravo
Like thousands of others, Richmond resident Elizabeth Dante remembers that day in 2012 when a crude unit ignited into flames at the Chevron refinery, spewing a storm of smoke across the East Bay.
She was in her bedroom with the window open when she first saw the fire. The smoke just kept getting closer. "In an hour, there was a thick black smoke everywhere," she said.
Dante's biggest fear was not knowing what was in the smoke or how it would affect her and the rest of the city. She didn't immediately feel anything wrong with her, though, so she wasn't one of the estimated 15,000 residents who sought medical attention. The day after the fire, she recalled, Chevron officials even told the public that the smoke wasn't toxic.
When she finally did go to a doctor, Dante said she was told her asthma had worsened, most likely aggravated by toxic smoke. Before that visit, she did not even know she had asthma.
For Dante, and many like her, Chevron's Richmond refinery has had a lifelong negative impact that can't be reversed, no matter what kinds of amends the global corporation tries to make.
In 2014, Chevron and the City of Richmond agreed that the oil company would fund community projects through the Environmental and Community Investment Agreement, as part of Chevron's Refinery Modernization Project. The agreement will also provide the city with $90 million, to support community organizations and environmental efforts, according to the city.
Programs like this, Dante said, can't repair the past. Richmond residents are still exposed to pollution, as Chevron's facilities continue to flare, emitting toxins into the air.
To protest what they see as the Chevron Corporation's history of injustice in Richmond and around the world, activists gathered May 21 at the Castro Street entrance of the Richmond refinery, as part of International Anti-Chevron Day.
The crowd formed a circle around people who spoke of their experiences and opinions about their relationship with Chevron, as others held up banners, signs and pictures of the 2012 fire. The demonstration was one of hundreds across the globe in communities affected by the corporation and its practices.
Kevin Koenig, a researcher with Amazon Watch, alleges that Chevron has contaminated water supplies in countries such as Ecuador, Nigeria and Brazil, which has led to respiratory sickness among locals. The organization works to protect the rainforest while advocating for the rights of indigenous peoples in the Amazon Basin.
Koenig also alleges that Chevron has violated the human rights of indigenous people and hasn't been held accountable for it. In Ecuador, where he recently visited, Koenig said the people live off that water and there is not an "ounce of justice" given to them.
"I saw over 1,000 waste pits that seep toxic chemicals into the groundwater," he said.
But when lawsuits and other actions meant to penalize the company are lobbied against Chevron, it fights back like it's the victim, Koenig said.
In turn, "Chevron decides to attack the victims of their contamination," he said.
Such is evident in one lawsuit that began in Ecuador and was blocked here in the United States.
In 2011, a court in the Ecuadoran Amazon ordered Chevron to pay the people there more than $9 billion, The New York Times described it as "one of the largest environmental awards ever." The case had already been playing out in courtrooms in Ecuador and the United States for nearly two decades, but Chevron's fight against the ruling went on for six more years.
Chevron's lawyers argued the judgment was invalid because, they alleged, it was obtained through bribes and racketeering. They cited the Racketeer Influenced and Corrupt Organizations Act. Known as RICO, it was originally passed in 1970 to combat the mafia and other organized crime.
In 2017, a U.S. court ruled in Chevron's favor.
These kinds of legal practices, those that cast Chevron's opponents in a bad light, are  a large part of why climate activists such as Andres Soto call for the Chevron plants in Richmond to be shut down. He says Chevron has enough money to legally fight off protesters, which has allowed Richmond to be, as he put it, "environmentally and politically polluted" since the 1950s.
"There are jobs in Chevron, but we need to start employing people in the clean sector," Soto said.
During the May 21 protest in front of the refinery, activists put on gloves, dipped their hands in black paint and pressed them onto a white canvas placed over the Chevron refinery sign on Castro Street to symbolize the dirty hands Chevron has in playing in dirty politics.
Local Native American activist Isabella Zizi led the roughly 70 people in attendance through a set of chants and songs.
The crowd, a mix of local activists and community members, energetically followed along.
Zizi called the land they stood on — once inhabited by one of the Ohlone tribes — as mother because, when respected and cared for, it can produce an abundance of food, medicines and beauty.
"Mother, I feel you under my feet," Zizi sang as others joined in. "Mother, I hear your heartbeat."
Soto, a lifelong Richmond resident who once lived up the road from where the refinery stands, chanted along with Zizi. For him, the land he stands on is alive and it is his home, but he believes the non-polluting way of life is lost.
That's why, Soto says, activists must continue to fight against polluters to maintain a clean Earth.
"Chevron thinks they can place projects where people will not fight back, but people will always fight back," he said.