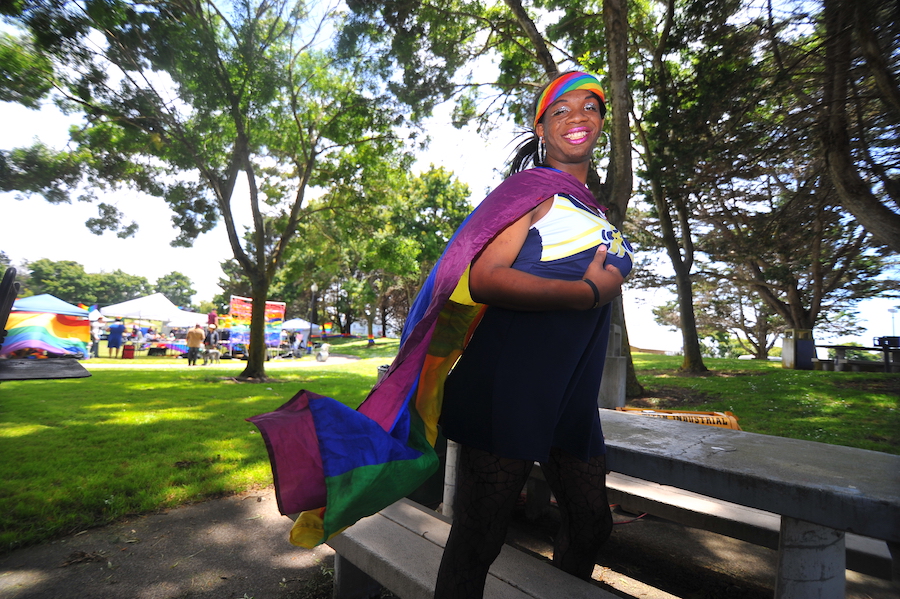 10 Jun

At Richmond Pride, Community and Acceptance Grow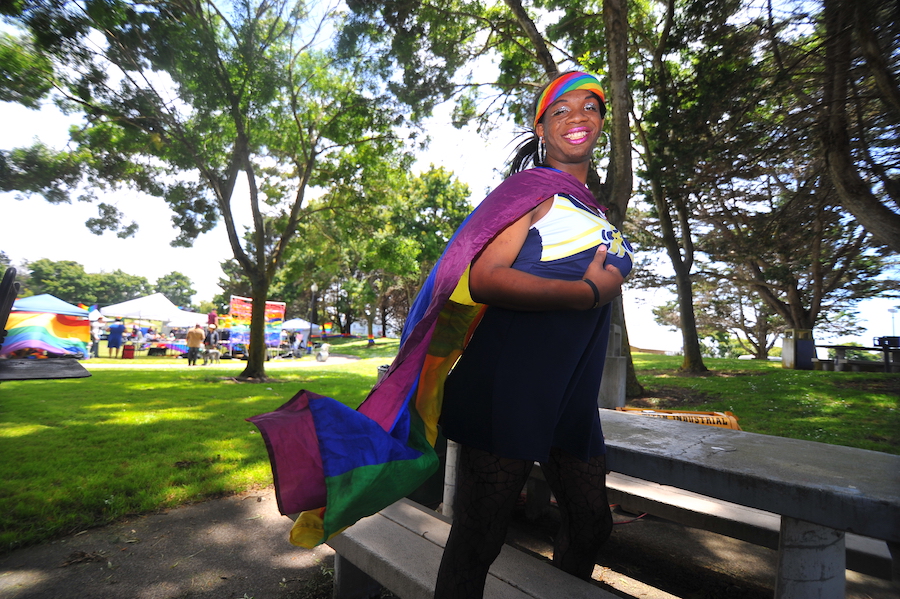 Photo Essay, Denis Perez-Bravo
Richmond's LGBTQ community celebrated acceptance alongside a community of allies during the 5th Pride event at Marina Bay Park on June 2.
The theme of this year's Pride, organized by Richmond Rainbow Pride (the city's first known LGBTQ organization), was Remembering History, Making History.
"Attending and celebrating is a call to action, to see how we can spread this event's message," Richmond resident Natalie Tovani said. She attended the pride event with her partner, Sara Sandhu, also of Richmond. Tolvani said this event is historic because the struggles her community faces are won by unity in the community.
For both of them, it was the first time they attended the event.
Tovani, 47, has lived in Richmond her whole life. She said that growing up, she would see how the LGBTQ community was demonized and lied about, but over the last decade, she has seen a shift in how people like her are treated.
"People tend to follow leaders," Tovani said. That is why actions such as flying the pride flag outside of city halls allow acceptance to sprout. Sandhu said actions inside classrooms such as teaching children about contributions LGBTQ people have made are ways to promote acceptance early on in a person's life.
"It is nice to live in a city that accepts you, who you love and how you love," Tovani said. Just being able to walk and hold hands with her partner is something she said she wouldn't be able to do so freely in other parts of the country; even farther, she would not be safe to do so in some other countries.
During the pride event, large LGBTQ flags waved throughout the park creating a festive environment. Vendors and community organizations had booths set up to show their support and offer resources. There was a main stage for LGBTQ performers and speakers.
People wore bright colors, including yellow, blue and orange, while they sat on the grass, danced or walked around. Attendees also participated in an art project where they colored a small wooden hand. The project symbolizes the many handprints the LGBTQ community has had in Richmond in the past and now.
Princess Monet Sparkles, a drag queen whose real name is Moses Green, performed at the event. Green said this event was more than coming together one time. "There are strains in my family that make me feel alone, but the community here is family," Green said. Monet Sparkles is not accepted by most of Green's relatives because of their religious beliefs. But since starting drag three years ago, Green has found a community and a family.
The coming together of the LGBTQ community in Richmond and the cities around it allow for hope to shine bright. "This is a fight for the next generation," Green said, adding that being able to spread acceptance is part of victory.
Richmond City Councilmember Eduardo Martinez recognizes the struggles the LGBTQ community has in Richmond. "In the past, LGBTQ youth have come to the council meetings and said they didn't feel comfortable," Martinez said.
He also recalls attending church services in Richmond where the ministry preached that homosexuality was an "abomination to God" and stressed the need for the community to work past that religious frame of mind.
"We need to be around other people who do not share our beliefs to be able to interact with them," he said. The councilman believes that those who have anti-LGBTQ beliefs need to first interact with them to be able to understand them.
Then, he said, they would see that the LGBTQ community is as human as they are. And then, hopefully, they would become allies, he said.
"The more people support, the stronger the minority's voice, and the stronger the voice, the easier it is to integrate LGBTQ communities into every part of Richmond," Martinez said.
Cesar Zepeda, a co-founder of Richmond Rainbow Pride, said this year's Pride was the biggest yet with between 300 and 400 people attending through the day.
"The organization is growing, and more and more people are finding out about our organization and our event," Zepeda said. "We had lots of great performers. Next year, we will get even more and reach out to more people."
Though there are bigger Pride events nearby, particularly that in San Francisco, he said the Richmond Pride event has special significance.
"Ours is still very grassroots, similar to the first Pride events held," he said. "You have the opportunity to meet every person there, if you wanted to.
"With ours, it's about celebrating and building our community. Being visible. Showing our youth that it's OK to be who you are in Richmond."