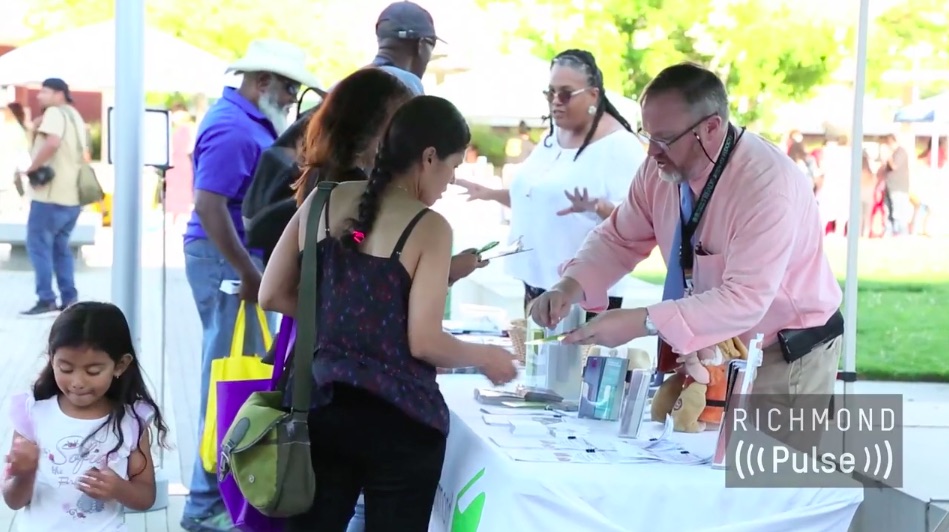 21 Aug

Block Party Brings Services to the People
Leer en Español
By Joel Umanzor, Jr. | Video by Ann Bassette
As the summer sun set over the Richmond sky, Jenna Galvan-Speers gave U.S. military veterans information about benefits available to them.
"This is actually huge because a lot of people don't know about the different services and I had quite a few people who stopped by my booth and were like 'I didn't know there was a Veterans office in San Pablo,'" Galvan-Speers, a veterans service representative for Contra Costa County, said. "Something like this is vitally important for the community."
Galvan-Speers and others representing public service offices participated in a summer block party Aug. 15 at Richmond Civic Center Plaza.  Now in its third year, the intent of the event continues to be making city and county services available and easy-to-use for residents, from voter registration, library card signups, animal licenses, employment opportunities, as well as applications for Medi-Cal, a free food bank and more.
Paul Burgarino, who's in charge of civic engagement for Contra Costa County's Clerk-Recorder-Elections department, said they coordinated with the City of Richmond to use the venue to ensure the different county and city departments were able to give their services directly to the people who could use them. That's not always easy considering the majority of county offices are located in Martinez, so people in West County may not be aware of the public services that would benefit them.
"This is like one stop shopping, sort of like a grocery store with all the items in one location," he said.
Tish Gallegos, media relations director with the county's Employment and Human Services Department, said an estimated 800 people attended the event.
Upon arrival, attendees found a plaza filled with booths staffed with representatives from both county and city organizations like the county's Small Business Development Center and Adult Education Consortium, along with Project Second Chance and the Richmond Public Library.
"We gave out quite a few [library] cards today, as well as a lot of promotional literature," Christopher Larson, a librarian with the Richmond Public Library, said.
Contra Costa Animal Services was on hand offering discounted microchips for pets. They're normally $27, but that day they were only $5.
"Microchips is something that we've been doing a lot of lately to make sure that if any animal becomes lost that it's able to be reunited with its owner," said Steve Burdo from Contra Costa Animal Services. "Today we've seen dogs. We've seen cats and kittens. We've had a great turnout."
Contra Costa County Board of Supervisors Chair John Gioia said the whole point of the event is to make services more accessible to people who could use them.
"A few people told me they appreciated it was convenient finding services in their community, as well as it being after business hours," he said.
So many people at the "party" took advantage of the informational booths that the event organizers see potential for similar events in the future.
"We want to have this grow," Gioia said.
He said holding one on a Tuesday night before a city council meeting could be possible.
"It's about finding the right location," Gioia said, "and we also want to look at doing it at another location, like maybe in San Pablo next time, so we could rotate it around different communities in West County."