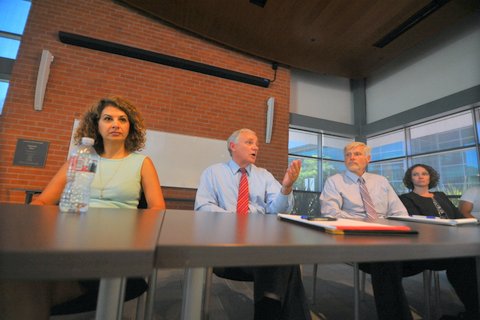 24 Aug

CCC President Resigns Following Investigation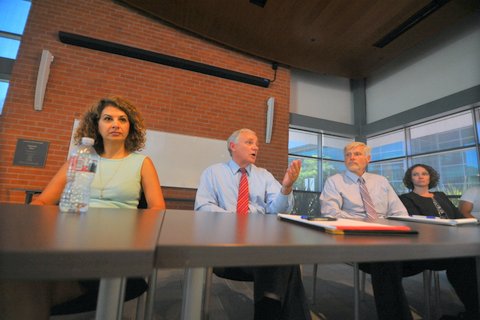 By Denis Perez-Bravo
Former Contra Costa College (CCC) president Katrina VanderWoude has resigned amidst a foggy investigation into complaints from staff, but left with a six-figure settlement.
The Contra Costa Community College District announced the decision during a special meeting on Aug. 14 when CCCCD president Vicky Gordon said VanderWoude would receive a payment of $238,212, a year's salary, and $19,216 in benefits and unused vacation days.
Shortly after, there were further leadership changes at the embattled college, sending it into another semester without a permanent president.
Director of Business Services Mariles Magalong acted as interim president of CCC during the summer, but could no longer hold the position due to family matters. On Aug. 16, CCCCD Associate Vice Chancellor of Educational Services Mojdeh Mehdizadeh took over as interim president until a new one could be found.
The process of finding a permanent interim could take from two to three months, and finding a permanent president would take six to 18 months, Mehdizadeh said.
Since 2014, CCC has had multiple presidential searches, bringing multiple interims to lead the college.
The day after VanderWoude's resignation, CCCD Chancellor Fred Wood and other CCCCD members visited the college to answer questions about the former president and what the college would do moving forward.
Wood, Chief Human Resources Officer Dio Shipp, Executive Vice Chancellor of Administrative Services Gene Huff and Mehdizadeh sat with CCC staff on Aug. 15 during a public forum at Fireside Hall.
"How do we address when people say our president was fired because she was being racist?," Disabled Student Services and Programs instructional assistant Richard Stollings asked.
The chancellor didn't answer.
"We can't discuss it because it is a personnel matter," Wood said.
VanderWoude's resignation follows investigations into complaints from college employees.
United Faculty Vice President Jeffrey Michels told The Advocate, CCC's student news organization, that during the investigation he was questioned whether VanderWoude "was prejudiced against older white women.
"I can't imagine anyone asking that question if she had been a white man," he said.
The investigation was scheduled to conclude on July 1, according to a statement CCCCD spokesperson Tim Leong gave to the East Bay Times. But the investigation continued past its deadline without updates from the district and no action taken against VanderWoude.
Because of the lack of information given about the investigation's status, CCC members voiced support for VanderWoude during a governing board meeting last month. Professors called for the board to reinstate her and questioned the CCCCD's choices, as Richmond Pulse has previously reported.
Shipp denied any allegations of racism against VanderWoude and prompted to move on from talking about the investigation during the Aug. 15 Fireside Hall meeting.
Instead of talking about what led to VanderWoude's resignation, Wood reinforced the idea of moving on saying that the college needs to "heal."
"If I am hurting, you can't tell me it is time to heal. It doesn't happen that way," Sandra Moore, co-chair of the Early Childhood Education department, responded.
Shipp said discussing what made VanderWoude resign couldn't occur in an open space and the college should focus on its lack of leadership.
"We can't have a conversation about that unless there is a lawyer," Shipp said. "It is your choice to move forward or not."