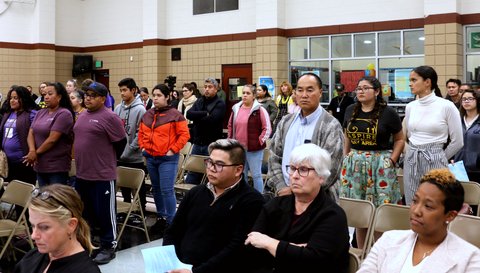 11 Nov

WCCUSD Renews Cal Prep Charter Amid Budget Woes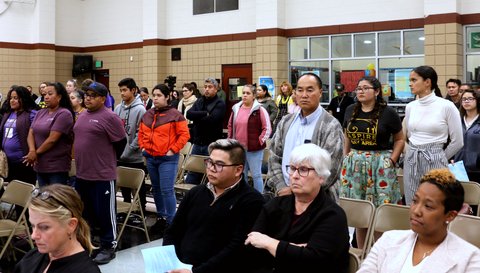 By Edward Booth
The charter for Aspire Richmond Charter Academy (also known as Cal Prep) was renewed Wednesday, Nov. 6 by the West Contra Costa Unified School District Board of Education.
The charter school serves grades 6-12 and has operated in the Hilltop region since 2005.
The board approved the renewal 4-1, with board member Consuelo Lara and nonvoting student representative Luke Shalz in opposition. Board members also grappled with how much renewing the school's charter for five years would impact the school district's projected $48 million budget deficit.
In a low-intensity repeat of a public hearing over the renewal two weeks ago, Cal Prep students, teachers and parents filled the DeJean Middle School auditorium and spoke during the public comment period in support of the renewal. Several commenters said school choice was vital and that they or their children had bad experiences in district-run schools.
Several said Cal Prep had opened doors to college, achievement or personal inspiration they'd previously considered impossible.
Greg Schultz, father of a sixth-grade student, said he found the Aspire system outstanding in terms of organization and how it prepared students for college and beyond. He argued for school choice and said he'd been lucky Aspire existed in Richmond given what he believed to be a lack of adequate options.
"If you take away this choice, if this school board denies the charter, you will hurt the population of students in this district," Schultz said. "School choice is important. I know some of you have feelings that funding can be better spent in other school district schools, but the money follows where parents put their children."
Charter schools shift school district funds from regular school primarily by lessening regular schools' average daily attendance numbers. Those numbers are used to calculate the state funding for school districts. Charter schools must seek reapproval every five years.
As a result of efforts to clamp down on the impacts of charter schools, a number of state charter school legislative measures will come into play Jan. 1. They include more flexibility for district decision-making during the renewal process according to Linda Delgado, the district's charter oversight director. Delgado said the district currently has two choices. It can approve the renewal for five years or choose to deny it.
Delgado also said four more charter school renewals will be on the agendas of upcoming school board meetings: Richmond College Prep, John Henry High School, Aspire Richmond Technology Academy and Manzanita Middle School.
District superintendent Matthew Duffy said the schools are lining up for renewal now because they want to give their students and staff ample time should their charter renewals be denied. The schools also likely want time to appeal a denial of their charters to the Contra Costa County Board of Education.
Boardmember Mister Phillips said the district's budget situation wasn't Cal Prep's problem. But he said he had concerns with approving a five-year renewal when the district's financial situation could worsen with a recession. He argued charter renewals shouldn't be brought to the board for the remainder of the year.
"We don't, in my opinion, have the ability to be approving charters for five years," Phillips said. "Because we don't know where we're going to be five years from now."
Cuevas said the real challenge in approving the renewal was the financial impact the district could face.
"I think that's where it's incumbent upon charter advocates and charter parents to understand that that fire is real. It's not personal," Cuevas said. "The pain that you might worry about, that your school community might be broken up, is the same pain that traditional neighborhood kids and parents feel when there's not enough to pay for them to have a quality education."
Lara, the sole dissenting board vote, took aim at the charter school industry.
She said she didn't want to close any schools, but said she believes 14 charter schools in the district is too many. Lara cited a May study by the Oakland-based research group In The Public Interest that says WCCUSD charter schools cost the district $27.9 million, about $978 per student each year.
Lara told the audience to hold onto the passion and fear they felt about the possibility their school could be closed.
"This is what we are facing, and will continue to face, because this district has been saturated by the charter school industry," Lara said. "They don't care about any of us, they care about making money."
Board president Tom Panas said Cal Prep met the standard for approval under the law — their academic performance being comparable – and sometimes better – than district schools.
Bond and parcel tax survey results
The board also received survey results from Bryan Godbe, president of Godbe Research on the likelihood that a new parcel tax or bond measure would pass. Godbe Research conducted the poll.
Godbe said the poll was conducted in a split sample. People who received questions about support of a bond measure would not receive questions about a parcel tax – and vice versa. The firm surveyed 972 likely November 2020 voters and 769 likely March 2020 voters.
Godbe said roughly 58 percent of those sampled supported a bond measure in March 2020, while about 60 percent supported a measure in November 2020. The results were less favorable for a parcel tax, which requires a two-thirds majority while a bond measure requires a 55 percent majority. About 56 percent supported a parcel tax in March 2020, while roughly 57 percent supported a tax in November 2020.
Money from bonds is spent on construction and infrastructure projects while parcel taxes are used to fund school programs.
The board will decide whether or not to prepare a bond or parcel tax measure for the March 2020 ballot at the next board meeting, scheduled for November 20.