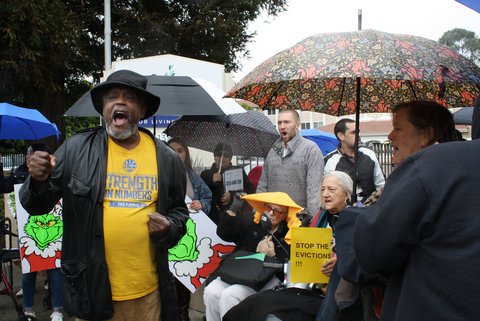 10 Jan

Brookdale Residents Protest Pending Evictions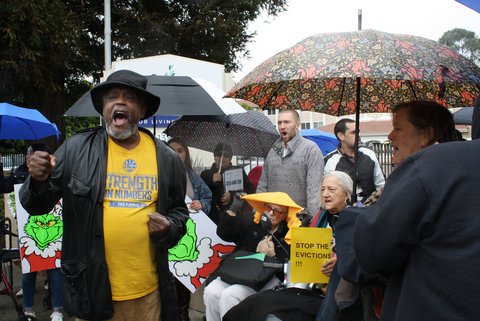 By Edward Booth | Video, Denis Perez-Bravo
About 80 senior citizens living in the Brookdale San Pablo assisted living facility may be forced to move at the end of January, when the facility is expected to close.
In early 2019, Brookdale — a large corporation that operates senior living facilities across the U.S. — told the owners of the current San Pablo facility that it wouldn't be renewing its lease in 2020.
The property owners told the San Francisco Chronicle that they tried to negotiate with Brookdale and attempted to find another operator.
But these efforts were to no avail: Two days before Thanksgiving, Brookdale residents, including many who are disabled, were given a 60-day eviction notice, leaving them until the end of January to find a new place to live.
A week before Christmas, about a dozen Brookdale seniors protested on the facility's front steps, bearing the wind and cold, drizzly rain which only got worse during the roughly 45-minute event. Most wore rain jackets or sat under an increasing number of umbrellas. Some held yellow paper signs that read "Stop the evictions" and "Hell no, we won't go!!!"
Vincent Dunn was the first Brookdale resident to address the crowd, saying many seniors lived there because of its relative affordability. With the eviction, many would be forced to leave the Bay Area or worse because there wasn't any property in the region they could afford.
"We live here. We love it here. And we don't understand why they want to close it down," Dunn said. "Many of us will be homeless if we have to go."
Dunn roused the protesters with several chants, including one proclaiming "We will not be moved," another saying "Brookdale says we have to go, we say hell no," and "Two, four, six, eight, we don't want to vacate."
Though San Pablo doesn't have just-cause regulations that protect tenants from evictions, the Brookdale residents aren't considered tenants and wouldn't be covered by them anyway, the Chronicle reported. This includes AB 1482, a new state law which requires evictions to be legally justified.
Several other residents also addressed the crowd. Carley Angell said she had fully expected to live out the remainder of her life at Brookdale. Now, she said, she would probably have to leave to go to a more expensive facility.
Angell said she was unhappy because she'd spent about a decade in her career as a nurse in Richmond and San Pablo, and felt a connection to the area.
"I've looked at many, many places and so has my son," Angell said. "We didn't find any place that is as good as Brookdale in its care or in its facilities or activities or anything."
Resident Jack Ahrens said many residents — some who are WWII, Vietnam and Korean War veterans — had expected to stay at the San Pablo facility until they pass away.
"What they did is they destroyed all these people's lives," he said.
Berkeley city councilmember Kate Harrison was among the attendees. Her mother, Toni Gardner, a WWII veteran herself and a Brookdale resident, also protested.
Harrison criticized Brookdale management's offer to financially assist residents with moving to another Brookdale facility. She said residents would have to give up a substantial amount for that.
"It's not adequate for the management here to say, well you can move to another Brookdale community that's 80, 90,100 miles away," she said. "They'll be denied their community, denied their families, denied their healthcare givers. Asking a senior to give up their doctor and go to a different physician at this age is just inhumane."
Harrison said she was also concerned where some residents may end up, as half of the people experiencing homelessness in Berkeley are over the age of 50 and many are there because they were displaced.
Harrison also said she'd like to see relocation benefits for people who are evicted in San Pablo, similar to the ordinances found in cities down the I-80 corridor like Richmond, Berkeley and Oakland. She called San Pablo "the last in a long line of cities suffering displacement."
Harrison is one of many local officials who've spoken out against the closure.
On Dec 11, Contra Costa County Supervisor John Gioia sent a letter to the property owners urging them to recognize the difficulties the seniors are facing and provide sufficient time for them to move. State Sen. Nancy Skinner, Assemblymember Buffy Wicks, and all five San Pablo city councilmembers signed the letter.
"There is a shortage of senior housing in the Bay Area, including a shortage of quality assisted living homes such as Brookdale San Pablo," Gioia wrote. "It will take time for residents and their families to find comparable accommodation, most likely longer than 60 days."