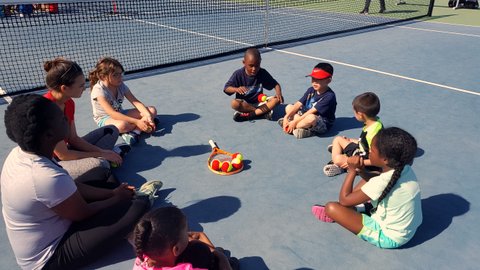 09 Feb

Richmond Tennis Association Expanding Student Lessons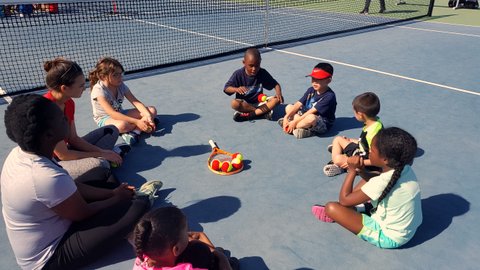 By Denis Perez-Bravo | Photos courtesy of RTA
The Richmond Tennis Association (RTA) is soon expected to begin offering tennis lessons to students at two Richmond schools.
The RTA is working with Tetteh Kisseh, Richmond's recreation program coordinator, on the necessary paperwork so they RTA can start teaching classes at DeJean Middle and Washington Elementary schools.
"There is a vacuum being filled," Kisseh said, adding there are nice tennis facilities spread throughout Richmond that aren't being used enough.
He says more people should be interested in tennis, and getting kids involved at a young age only works to grow its popularity in Richmond.
"RTA's presence in Richmond has been helpful to promote tennis in the community," Kisseh said.
The RTA already teaches tennis to students from Caliber Beta Academy at Kennedy High's campus, College Preparatory School by Martin Luther King Park, and West County Mandarin School in the East Richmond Heights.
The idea of the association teaching kids tennis began after Gary and Maryn Hurlbut founded the RTA in 2014, soon forming adult tennis teams. The following year, Maryn Hurlbut began a free "Tots Tennis" program for 3- to 8-year-olds.
That program led to a bigger conversation with Kesseh. The city already offered tennis lessons during summer camp, but Kesseh and others thought it would be better to bring tennis to the kids instead of waiting for the kids to come to tennis.
The RTA first began teaching students at Caliber on Kennedy's old tennis courts in 2016.
"There were courts that had no nets," Gary Hurlbut said.
So the RTA set up temporary nets when Hurltbut, RTA volunteers and Caliber Academy staff taught lessons. Hurltbut says around 200 kids participated, making it a complete success.
But College Preparatory didn't have any tennis courts nearby, so they used temporary nets and chalk to draw out a tennis court. It, too, was a success.
East Bay Mandarin students were driven out in vans to Nicholl Park's courts for lessons, Hurlbut said.
RTA member John Saelee was one of the teachers waiting for the kids at Nicholl Park.
"We are breaking barriers," he said. "All the kids have to do is show up and grab a racket."
Saelee said that while tennis is often seen as a privileged sport played in wealthy areas, it's actually for everyone. He's worked with students from all three schools from kindergarten through 8th grade, and they often start without knowing how to hold a racket correctly.
At College Preparatory last summer, Saelee says the kids who had never played before were shy and disinterested. So, after they warmed up, he began teaching them the rules. He soon played them in two-on- two matches.
"I told the kids, 'Just hit the ball over before it bounces two times,'" Saelee said.
They did so and started racking up points against Saelee, saying they knew they had scored because the ball bounced twice on his side of the net.
This, Saelee said, sparked their joy for the game because they knew how to play and even win.
"Seeing their faces light up was the reward," he said.