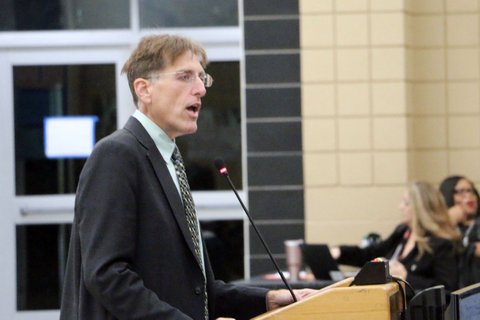 13 Feb

WCCUSD Board Cuts $8 Million, Renames School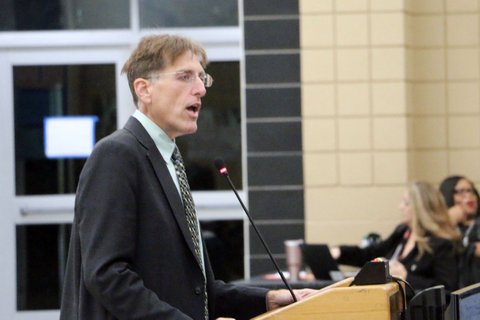 Above: Tony Wold, associate superintendent of business services for WCCUSD.
By Edward Booth
The West Contra Costa Board of Education voted Wednesday to cut $8 million from next year's budget in an ongoing effort to eliminate a $47.8 million deficit, while also renaming an elementary school after former First Lady Michelle Obama.
The cuts are split between roughly $6 million in non-salary reductions and about $2 million in school site funds. Another $22 million in reductions is still being negotiated between the district and collective bargaining groups to meet a required $32 million in cuts for for the upcoming 2020-21 school year.
"These are deep cuts," Tony Wold, the district superintendent for business services, said. "There are some items on there that are very tough to swallow. They do bring a change in how we do business."
The non-salary cuts are scattered throughout district departments. They include removals of contracts, widespread reductions in supplies and services, and an increased student contribution for college board tests — coming in one form as a reduced amount of advanced placement tests students can take for free, superintendent Matthew Duffy said.
These cuts come in the wake of the district's attempts to grapple with a $47.8 million budget deficit, first revealed in October last year. In a Jan. 30 budget update, Duffy revealed that layoffs will likely need to be a part of the solution. If the district doesn't come to an agreement with the collective bargaining groups, these layoffs will include about 250 teachers, according to United Teachers of Richmond (UTR) President Demetrio Gonzalez-Hoy.
On Feb. 11, the district released a joint statement on the negotiations with UTR and Teamsters 856, who represent non-teaching employees. Discussions have so far been focused on reducing the damage of reductions to high-need schools and building transparency and better business practices so a deficit like this one doesn't occur again, the statement says.
The statement goes on to say the primary goal of the bargaining is to avoid layoffs and direct cuts to the classroom.
"We're still going to have to cut positions, but our hope is we can avoid as much as possible," Gonzalez-Hoy said.
People at the meeting spoke about concerns they still had with how the budget reductions were laid out.
Helen Kang, a kindergarten teacher in the district, criticized the district for cutting items like custodial supplies that could affect students while maintaining food and conference budgets for district offices.
"It's not a huge percent of the budget, but it seems especially tone deaf at this time," Kang said.
Gabrielle Micheletti, a teacher at Verde Elementary School, also criticized the spending on food. She said this was illustrative of an ongoing usage of funds toward the central office.
"Please show us that you're serious about keeping the cuts away from classrooms," Micheletti said.
Board member Tom Panas said district staff should look into the food, conference, and field trip budgets — which he estimated to hit a total of roughly $190,000 — to see if there were possible cuts to be made in those areas.
Board member Mister Phillips advocated for increasing revenues. One way the district could do this, he said, was by selling unused district property. He said the district needed to think of solutions, as well as cuts, to give people in the community some hope.
"You have to give them hope," said Phillips, quoting Harvey Milk. "Hope for a better world, hope for a better tomorrow, hope for a better place to come."
Board member Valerie Cuevas said the community does need hope, but they also need competence and urgency. She said people were still making the choice not to fund schools, and hope would not help solve that.
"I'm trying my best," Cuevas said. "We're trying our best. We want to give it all. But we want to give things we don't have."
The board also voted unanimously to rename Wilson Elementary School after Michelle Obama.
The board considered renaming the 430-student school following a request from the Wilson Parent Teacher Association. An ad hoc committee held two public meetings to gather input before the item was brought to the board.
The K-6 elementary school, located on 42nd street and Roosevelt Avenue in Richmond, is being rebuilt and is currently temporarily housed in El Cerrito.
"We wanted to choose someone on a global level," Wilson PTA President Maisha Cole said in a press release. "With a new school and new learning environment, we want our children to think beyond Richmond, to think beyond California, and remind them that they can make a difference locally and globally."