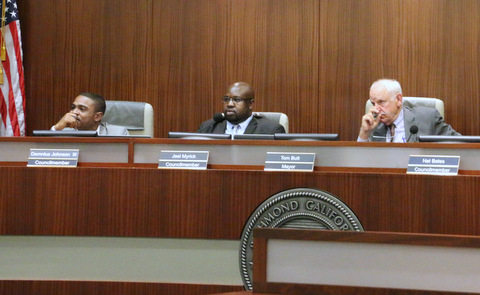 05 Mar

Richmond Council Begins Process that Could Give Police Commission More Power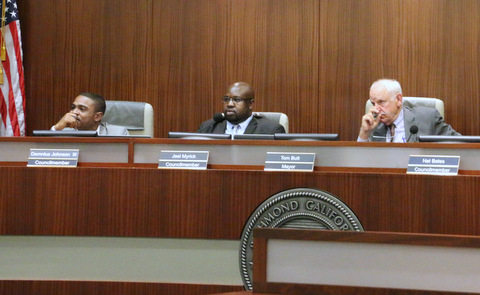 By Edward Booth
The Richmond City Council on Tuesday directed staff to begin a process that would allow the Community Police Review Commission (CPRC) to investigate police-related allegations of discrimination, sexual harassment, sexual assault, and all incidents involving the discharge of a firearm at a person.
The council voted 4-3 — with Mayor Tom Butt and Councilmembers Ben Choi and Nat Bates voting against — to move forward on the issue with a meet-and-confer process between the city and the Richmond Police Officers Association (RPOA). This means the two sides will attempt to resolve issues with the amendment before it comes to the council for approval.
The CPRC voted to add the new investigative powers at its Feb. 5 meeting. The commission currently can only investigate alleged uses of unreasonable force and instances of racial discrimination.
Richmond resident Rick Perez — whose son Richard "Pedie" Perez was killed by a Richmond officer in 2014 — spoke about the necessity of giving the commission these additional powers. He offered the Celeste Guap scandal — where multiple Oakland officers and at least one Richmond officer sexually exploited a teen girl — as an example.
"We just want transparency in this city," Perez said. "We just want to know what these police are doing."
Ben Therriault, president of the RPOA, said the police union didn't support the amendment because its officers don't have the problems covered by the amendment, which includes non race-based discrimination, sexual harassment, sexual assault, and incidents where a firearm is discharged at a person. He said the language of the amendment was ambiguous, especially in regard to discrimination, and it would be detrimental to the morale of the police department.
"[Discrimination] literally could be anything," Therriault said. "What is the need and where do we cut it off? The thing is we probably can't."
Therriault also said he supported giving the CPRC more money for training.
Butt said he thought the item might be premature, calling it "a solution looking for a problem." He said the council didn't have credible evidence that the categories covered by the amendment were happening frequently and not being adequately covered.
"These all may be legitimate things that we need to address, but I don't think that case has been made yet," Butt said.
Councilmember Jael Myrick said he thought the meet-and-confer process was more collaborative and the RPOA's legitimate concerns could be addressed before they arrive for a council vote.
Bruce Soublet, an assistant city attorney who advises the CPRC, said the council could do it either way. He said a meet-and-confer process is required because the commission's decisions would affect the working conditions of police officers.
"The RPOA, as you know, is aware of the changes and they have concerns over the changes." Soublet said. "We've got to meet and confer at some point over what's going to happen."