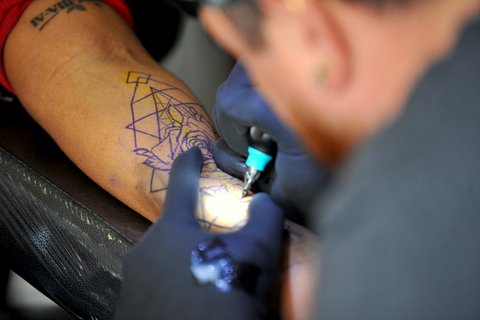 15 Mar

The Plug Helps Richmond Find Its Uniqueness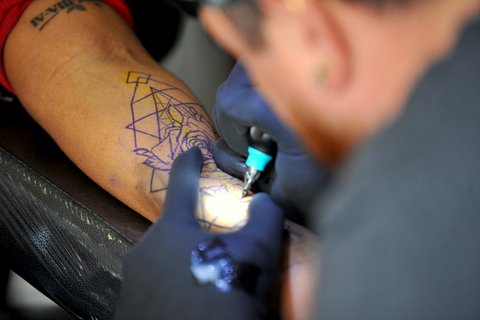 By Joel Umanzor Jr. | Photos by Denis Perez-Bravo
Tattoos, piercings and body modifications are as popular as ever in the United States.
About 35% of Americans say they have at least one tattoo, according to a 2019 report published by Statista.com.
For Richmond residents, one spot synonymous with cultivating local creativity in this subculture is The Plug Tattoo and Piercing, located on the corner of San Pablo and Solano avenues since 2008.
Local resident Daniel Martinez said he woke up on a recent Friday morning feeling like he needed some fresh ink. So he went into The Plug to meet with one of the artists about adding more artwork to his left arm.
"I got a daughter, so I might tat her name up real quick or her initials," Martinez said. "I'm also here to see if I can finish my sleeve here because I'm tired of going from place to place. I want to work with just one artist."
Jonny Rocket, who's made his name tattooing anime inspired characters and old school video games on his clients, said the shop focuses on collaboration between the artists to find the perfect match for their clients.
"We have 15 artists total. We aren't starters, and we all bring something to the table," Rocket said.
He added that personal and cultural understanding is essential for artists to properly assess whether they know enough about the artwork the clients want.
"We (artists) don't just take everything. There is a lot of stuff that I don't do and I'm not going to do it," he said. "I have professional Latino artists that know the culture, the background, and they grew up with it."
Rocket, who is Polynesian, said he tries to show the same level of understanding to other cultures that he would want other artists to show his own.
"It's the same thing like when a lot of the guys do Polynesian, I can say, 'Hey, don't do this, don't do that. You'll end up offending a lot of people with just those patterns,' " Rocket said. "It's not something they teach you in high school."
He said The Plug's atmosphere and vibe allows it to house artists of every type of style and has grown to see it develop since he came to the shop after finishing his apprenticeship.
"A lot of tattoo shops have that weird quiet vibe or they have that elevated music playing or maybe rock 'n' roll," Rocket said. "Every day, we change the music; everybody gets to pick their own genre. We just try to function on the same path, and what it comes down to is family."
Being in the industry for just shy of a decade, Rocket said realism in tattoos has become more popular over the last few years but stressed that tattooing is a lifestyle, not a trend.
"It always comes down to realism and how far you can take the detail of the tattoo. Detail is what's in the pudding," Rocket said. "As far as trends, I really hate calling anything in the tattoo industry a trend. This is by far a lifestyle because the second you get a tattoo in certain places people look at you and treat you differently and that is a lifestyle choice that people make."
Martinez, a returning customer who is a fan of The Plug's artwork, said that the shop's creative space keeps him coming back.
"I follow these guys on Instagram, and I like the artwork that I've seen in their books. It's hella cool," Martinez said.
He also added that he is fairly open with the types of styles in his tattoos because of his affinity for art in general.
"I have a lot of thoughts and I love art, so I'm not picky with it," Martinez said. "If I like it and it has a deep meaning to it or a cool meaning to me, then I'll get it."
Meaningful tattoos are far from The Plug's only body art offerings. In fact, ink isn't even its biggest draw.
Piercings, said manager Rachel "Chop" Stoyanovsky, are a shop staple.
"We're probably the most affordable piercing shop in the area and that is by far our most popular service that we offer here and where most of our daily business comes from," she said.
The shop is also one of the last storefronts in the Bay Area, along wih one in Oakland and one in San Francisco, that offer custom mouthpeice grillz . At The Plug, they are made by artist Kevin B. (IG: @grillzbykevin) who has been making grillz in the Bay Area for 20 years.
Kevin, who did not want his last name used, prices various gold and silver fittings per tooth and handcrafts the jewelry to the exact specifications of the customer.
Rocket said The Plug celebrates that individuality and adds to the creativity that its artists glean from the community of Richmond.
"When it comes down to it, everybody who wants to get a tattoo comes from different places with different backgrounds at different times," Rocket said. "Everyone is not getting the same thing and at a shop like this, a full custom shop. We don't want you to be another copycat. We want you to be unique."
The Plug Tattoo and Piercing is located at 12592 San Pablo Ave. and is open from 11 a.m. to 8 p.m. Monday through Saturday and 11 a.m. to 6 p.m. Sunday.