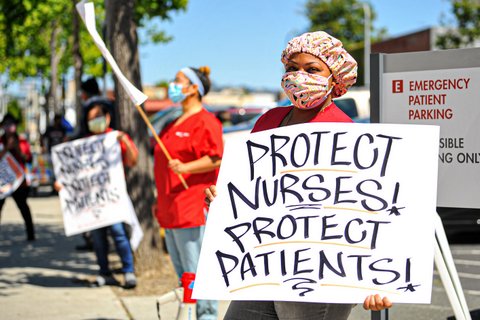 07 May

Kaiser Employees Hold Demonstration Over Reusing N95 Masks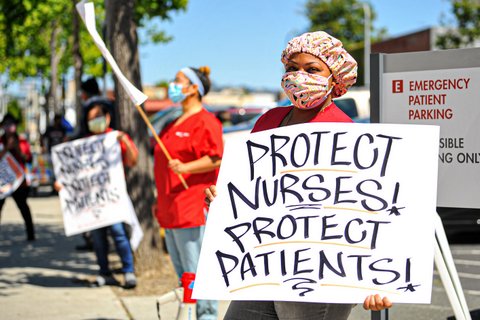 By Denis Perez-Bravo
About 30 nurses from the California Nurses Union rallied in front of Richmond's Kaiser Permanente Medical Center Tuesday afternoon to direct the public's attention to their concerns over staff and their safety.
"We are lacking staff. People are coming in more than ever, and management is trying to send nurses home saying we are not busy," Kaiser emergency room nurse Andrea Walker said.
While this shortage of staff extends to all departments in the hospital, Walker said she also feels unsafe, due to inadequate distribution of personal protective equipment, or PPE.
Their latest PPE worries were confirmed that morning, when Richmond's Kaiser management informed staff that they were going to start reusing single-use N95 masks after they are sterilized.
Kaiser workers say they're already being told to reuse otherwise disposable pieces for personal respirators known as CAPRs and PAPRs.
Because an N95 mask doesn't fit Walker correctly, she depends on CAPRs and PAPRs. And instead of being issued new PAPR head tops, she must clean and disinfect her gear and then place it in a plastic bag for reuse.
"It is disgusting," she said.
That is why she stood outside of Kaiser, calling out the company to "step up" and distribute unused PPE.
A Kaiser spokesperson responded via email, stating many incoming shipments of new supplies and equipment are now being delayed or cancelled due to the manufacturers' supply chain challenges and the surge of demand across the globe.
"We continue to secure additional supplies through traditional as well as innovative means, such as working with industry to make face shields and other PPE for Kaiser Permanente, and we are carefully managing supply access in each of our facilities," the email read.
The email also stated Kaiser has not cut staff, but has expanded benefits to help their workers deal with difficult changes in their family life.
Walker does not fully trust Kaiser's transparency. She acknowledges the hospital is trying to do right by their workers and patients, but stresses there is more Kaiser can do with their available resources.
That's why Walker and other demonstrators waved signs that read phrases like "PPE is disposable, humans are not" and "protect nurses, protect patients" while asking drivers to honk their horns as they passed by.
The action was held at 3 p.m. at the hospital's shift change to encourage workers who were done with work to join them.
One of them was Lorenzo Vila, a surgical nurse.
Every morning, Vila "huddles" with his coworkers and management to discuss updated procedures and policies. Hearing that he will have to start reusing N95 masks did not sit well with him.
"I don't want to do that," Vila said, adding many of his coworkers share that stance, but they will have no choice but to do so. "(Kaiser) doesn't care about us."
Kaiser, a major hospital chain, has billions in revenue and should be able to allocate funds to provide all workers with new N95 masks, Vila said.
Kaiser says its distribution policy mandates N95 masks, CAPRs and PAPRs be reserved for staff who are scheduled to come into contact with confirmed or possible coronavirus symptom holders. All other staff that are not expected to come into contact with confirmed or possible coronavirus carriers are given surgical masks to wear.
"We are prudently managing our resources to ensure this equipment is available for our health care workforce for the duration of this pandemic," Kaiser's email read.
In April, the Federal Drug and Food Association (FDA) issued an Emergency Use Authorization of sterilization machines like STERRAD, which uses vaporized hydrogen peroxide. Masks are to be sterilized a maximum of two times, according to FDA regulations.
The FDA acknowledges that the STERRAD decontamination process has not been fully tested against the coronavirus and there are risks of using this technique, including failing to filter properly, make it harder to breathe, ineffective fit, and that not being effectively decontaminated.
Despite these risks, the FDA has authorized the use of STERRAD if there are no other viable options to preserve PPE.
"It is reasonable to believe that the known and potential benefits of…STERRAD…outweigh the known and potential risks of such products," FDA Chief Scientist Denise M. Hinton wrote in a letter.
Walker, 38, has worked at Kaiser for 15 years, and she is happy to have been doing it. But ultimately, she cannot help people if she becomes infected.
And she said reusing sterilized N95 masks and other PPE leaves room for the coronavirus to spread.
"I want people to be aware of what Kaiser is doing," Walker said.