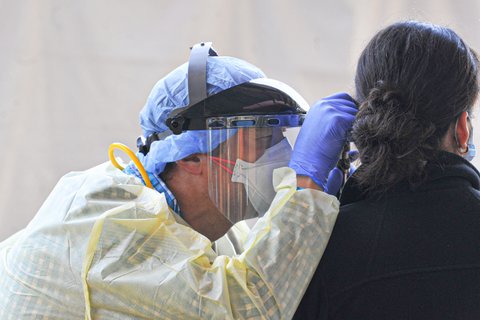 13 May

Free Coronavirus Testing Now Available For All County Residents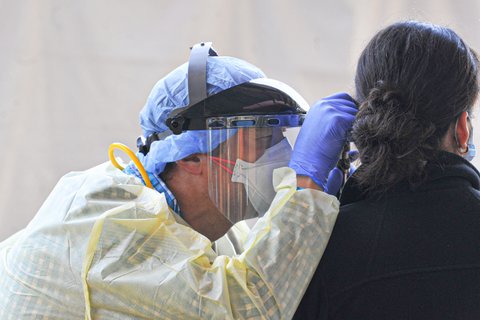 By Denis Perez-Bravo 
Contra Costa Health Services is now offering free coronavirus testing for all county residents, regardless of whether they have insurance or are showing symptoms. 
"More testing means that more people know if they have the virus … so they can get the care that they need and isolate themselves from others," county health officer Dr. Chris Farnitano said during a news conference May 7 in Concord. 
The decision to open up testing to all residents comes after the CCHS relaxed outdoor retail and activities restrictions and allowed more construction projects to resume on April 29. 
"Widespread testing is critical to reopening our community," Farnitano said. 
Until more testing is done, the county will not fully reopen. Farnitano said there is simply not enough information available about the virus to determine when it will be safe to fully relax all stay-at-home restrictions. 
"Contra Costa County does not fully support opening up today, because if we fully open today, we know we would have increased spread," he said. "We would have more sickness, more outbreaks and more deaths."
CCHS is testing 500 people a day, but the goal is to be able to test 2,200 people every day.
"We need to test at least 200 residents for every 100,000 population every day to meet that standard," Farnitano said. 
To get tested, residents can make an appointment to visit one of the eight sites throughout the county. Six offer drive-through testing, and the other two are state sites that provide walk-up testing. To make an appointment, residents can call 844-421-0804 from 8 a.m. to 3:30 p.m. any day of the week. 
The county drive-through sites are located in San Pablo, Concord, Martinez, Pittsburg, Antioch and San Ramon. Test results are usually given in five days, but county health care workers and first responders can get their results in 24 hours. 
Franitano recommends that essential workers who are employed in high-risk areas, such as nursing homes, get tested once a month.
As of Monday, the county has tested 18,669 people and found 1,048 positive cases. There are 20 residents hospitalized and 32 deaths throughout the county. In Richmond, 159 people have tested positive, and San Pablo has 63 confirmed cases. 
"Whenever someone tests positive, those results are sent to our public health department tracing team," Franitano said. "They will reach out to that individual and review the requirements to isolate themselves and also identify their close contacts."
To be able to keep up with more testing and possible positive cases, Franitano said the health department is in the process of hiring many new contact tracers who will help the CCHS quickly identify people who have been exposed. 
"We really are seeing cases throughout the county," he said. "We really want to get everyone throughout the county tested."