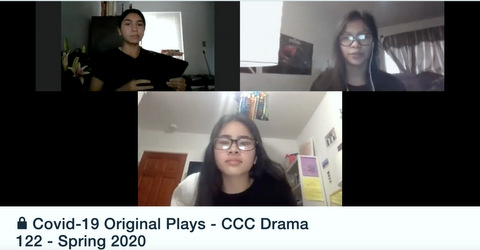 29 May

The Drama of Distance Learning in a Pandemic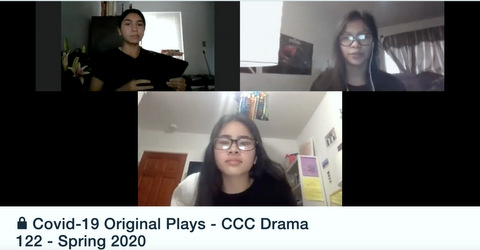 By Joel Umanzor Jr.
Linda Jackson-Whitmore, who teaches Acting 1, thought this semester would be business as usual at Contra Costa College where she has been a part-time professor in the drama department since 2013.
As the 2019-20 school year comes to a close, many teachers (like Jackson-Whitmore), educational institutions and families are wondering what lies ahead for stay-at-home schooling and its ultimate impact on students.
Simon Burgess, a professor of economics at the University of Bristol in England, predicted in an scholarly article published in April that suspending in-person classes would have a stronger effect on the grades of students from "more disadvantaged backgrounds" because of technological disparities and access.
The most recent West Contra Costa Unified School District statistics show that the total enrollment at Middle College High School is 288 with 168 of those students being classified as "socioeconomically disadvantaged."
For Jackson-Whitmore's drama class at Contra Costa College's Middle College High School program, there was an added complexity for their remote learning: how to engage and learn about drama without the ability to interact within the same physical space.
"When this shelter-in-place hit and we couldn't meet with them face-to-face, we were in the middle of doing monologues and I thought to myself , 'Oh, my goodness, how are we going to do this?' " Jackson-Whitmore said.
Contra Costa College first announced a transition to temporary remote instruction on March 15, with classes being moved to Zoom video conferencing. That directly affected Jackson-Whitmore's drama class, which would normally meet twice a week.
CCC liberal arts department Dean Jason Berner said that the transition went well despite the last minute dynamics of the shelter-in-place order and the need to adjust to the circumstances for students and instructors.
"Overall, I think we did a pretty good job, considering the fact that we kind of had to throw everything together in a rather quick period of time," Berner said. "There were certainly challenges, some students weren't able to do it as well as face-to-face classes, but I think on the whole a lot of students made it through."
Jackson-Whitmore saw firsthand the impact of the COVID-19 pandemic on her class size directly following the shelter-in-place order.
"A lot of the students that ended up dropping were the general college students because they were able to get emergency withdrawals to repeat the class in the fall because a lot of them were working and it (school) wasn't their main thing," she said. "I ended up with 12 of my Middle College students who were in my class. High school students don't really have a choice, they can't just drop when they want to."
The transition to Zoom wasn't just new for Jackson-Whitmore, who has been in education for more than three decades, but also for students such as 15-year-old Evalyn Soungpanya, a freshman at Middle College.
"At first, it was kind of weird because we didn't know whether or not we could learn drama by only being online," Evalyn said, "but it was pretty easy because we were able to screen share and Mrs. Jackson was able to see our faces and give us instruction too."
Evalyn said she noticed some uncertainty initially with the transition to online learning.
"I think our district isn't as familiar with technology because our style is more traditional," she said.
Evalyn said that she felt she and her classmates are more proficient in technology and social media tools because they were immersed in it at a young age. This has made online learning easier for them to navigate.
"We look at it as just another screen," she said.
But distance learning comes with its own challenges, such as not being able to have in-person support to make Wi-Fi and technological services accessible to all students and faculty, Jackson-Whitmore said.
"I am a novice to Zoom and, really, technology. I do the basics," she said. "I do enough to get me by, so this is new to me. They've made me comfortable doing this to the point where I was enjoying my Zoom class."
Jackson-Whitmore said that Contra Costa College made sure that every student had access to webcams and laptops, as well as supporting instructors with online workshops to improve their classes on Zoom and better navigate the software.
That includes using a feature that allows hosts to break up participants into groups, allowing for smaller, more focused exercises.
Jackson-Whitmore said that she learned to use the breakout rooms to enhance the group drama projects, allowing students to practice their scenes as intimately as it could possibly be online.
She added that the students found other ways to use technology such as Facetime and over-the-phone conferencing to work together.
"They found ways outside of class without meeting in person but actually still being able to get together."
During a normal semester, students would have their various scenes filmed to aid their learning and use the footage to critique their techniques, but because of remote learning, there needed to be an adjustment this semester.
Alex Zajicek, a videographer who has helped Jackson-Whitmore film her classes for the last five years, said that the normal live recording and editing processes for the drama class had to be adapted to the realities of moving it online.
That includes dealing with the inherent glitches of Zoom calls.
"When it came to making the video, we definitely had to start from scratch in some ways. We had to figure out that we wouldn't have to work before," Zajicek said.
But, according to Jackson-Whitmore, going into remote instruction redirected her focus as a drama instructor to adapt to the circumstance.
"After the monologues I said, 'What am I going to do?' because I don't want to just show them movies all class, I want to actually help them with what they signed up for which is acting techniques. I could work with them on their facial expressions and all their enunciation and all that. It worked out very well."
She had the idea that she could use the current world situation as a way to keep students engaged with the difficulties of learning drama online.
In an attempt to figure out what would best suit the class, Jackson-Whitmore brainstormed with her students, using the pandemic as inspiration for various skits to express their perceptions on the current reality.
Discussing the realities of the pandemic through the art of drama was "powerful" to hear through the lens of her students, Jackson-Whitmore said, many of whom are freshmen like Evalyn.
"They are young kids, but they are also thinking about what is happening in the world," she said. "They are thinking about what is this doing to me and I thought that was very powerful that this coronavirus reflection showed what it meant for them."
As the summer begins, educational institutions are still learning from this move to remote learning, hoping to apply knowledge to help students for the foreseeable future in what is now a new reality for education.
Berner said that CCC is using its experience this semester to continue to improve its transition to Zoom.
"I think we've learned a lot so that moving forward, as we still have to be largely remote for at least the next semester, I think we are in better shape," Berner said.