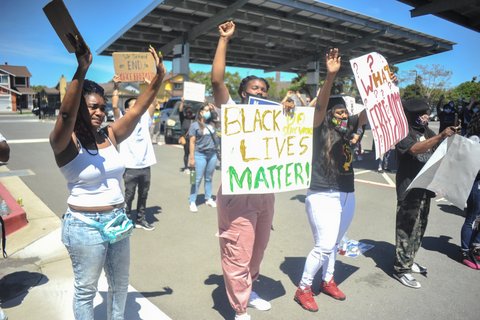 12 Jun

Protest Caravan "Mobilizes People" from San Pablo to Richmond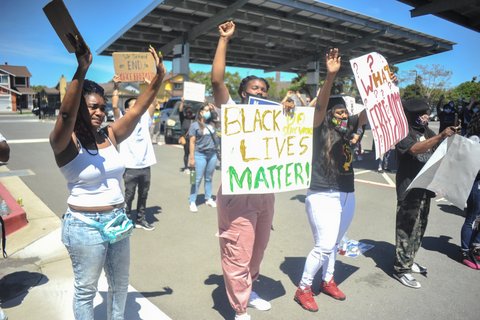 By Joel Umanzor Jr.
As demonstrations continued across the East Bay in response to the police killing of George Floyd, Contra Costa College stood in solidarity with the Black Lives Matter movement by organizing a caravan Tuesday from San Pablo to South Richmond.
The caravan of about 150 vehicles ended up at Kennedy High School, where CCC students, faculty, and others from around the East Bay spoke about police brutality and systemic injustice.
Manu Ampim — the chair of CCC's history, anthropology and geography department —said planning began Thursday night, with many faculty wanting to take action, specifically a caravan for racial justice. After meeting Friday, "it's been a beehive of activity ever since," he said.
Students stood up front, chanting the names of many who have suffered from police brutality, as well as talking about issues people have to deal with regularly in Richmond and San Pablo.
Sydnie Alex, a 2019 CCC graduate and a member of the campus' Black Student Union, said it is important for West County residents to see organized demonstrations in their area.
"I think the first thing is that it mobilizes people, and that if something happens, they have support," Alex said. "But I think the most important thing is to attach this issue to other issues that are going on in our community. For example, police violence happens a lot in impoverished communities, and if we notice these things are happening, it makes it so we are more politically engaged."
The prevalence of media, Alex added, helps start and advance difficult conversations about racism with those who have not experienced it.
"I think one thing that we are really lucky about right now is that we live in an age of so much media," Alex said. "It's not that things are getting worse, it's that they are being filmed so the fact that there are so many videos now of police brutality and even at protests.
"I feel like one way to get people involved is to make them actually see it — and I think it's really unfortunate that we have to get to a place where people to actually have to see violence in order for them to recognize it as real," Alex said.
Adewale Ige, one of Ampim's students, stressed the importance of collaboration between the youth and elders in the community and the movement.
"It is important, as a community, to come together and have one voice, but it is responsible to have elders there because us, as the youth, have the fire and energy they do not have, but they have the direction and leadership," Ige said. "It's important for Richmond and other neighboring cities, who are known — with all due respect — to be quiet cities in reference to things like this to come together and make a loud voice. The squeaky wheel gets the attention, not the one that's already working."
Ampim said the generational gap between younger and older people has affected organizing throughout the area.
"With all the activity that has happened in this area and around the country, there is now, for the first time in the African American community, a split between the young people and the elders," Ampim said.
The youth "don't think they can learn anything, they don't talk to [their elders] and they make the same critical errors that a lot of people made generations ago," he continued. "So it's foolish for them not to understand that we don't have to agree on every single thing. You should look at something differently, but you also have to have wisdom."
Ampim cited Saturday's demonstration and march that started in front of Richmond's Civic Center and ended in front of police headquarters on Regatta Boulevard as one that could have garnered more media attention, if the youth and elders had collaborated better.
"Six or seven thousand people and you didn't see any television news," he said. "Yet, we sent out a press release yesterday, and Channel 2 was here today and Channel 5. So it was a critical chance missed to be able to get a larger audience in the Bay Area."
Ronnique Currie, who spoke about her experiences with police brutality in her own family, said that Tuesday's demonstration was one that started the process of discourse between those who are informed about issues within the Black and Latino communities and those who are ignorant to those issues. But, she said, it is not those respective communities' responsibility to educate them.
Currie said it's important to engage with the people "who you feel are ignorant" and ask them how they feel about this and get engaged and understand what they know. Let them know you are here to educate them with numerous resources and people who are sharing their experiences about what racism does.
"It is not necessarily your responsibility to teach white people about racism and how to respond to it, but it is important that you are willing and open to sharing your experiences," she said.