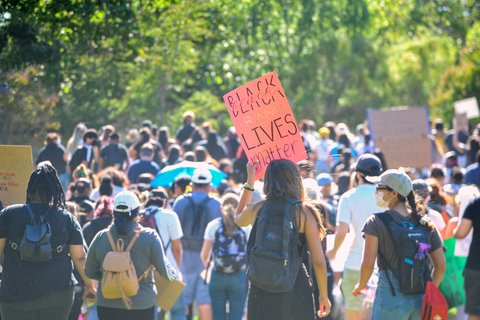 08 Jun

Youth Lead Pinole Protest Against Injustice, Police Brutality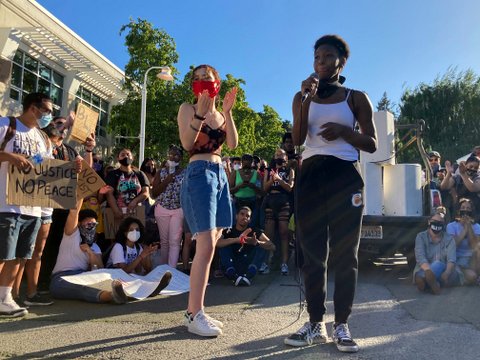 By Joel Umanzor Jr. | Photos by Denis Perez-Bravo
As demonstrations were held around the country in response to the killing of George Floyd on May 29, a protest organized by two West County teens was held Thursday at Fernandez Park in Pinole.
A crowd of about 1,000 people gathered at 4 p.m. at the park, where students and community residents spoke about police brutality and systemic injustice before they marched to Pinole City Hall.
One of the organizers was 17-year-old Kimyatta Newby of Richmond. She recently graduated from Middle College High School in San Pablo. Newby said she was approached by her friend Anastasia Wilkinson of Pinole about organizing the demonstration just days prior.
"I'm already a political person, so I want to help all of my communities in general. Pinole is not necessarily mine, but I am in the neighboring cities, San Pablo and Richmond. Ana is one of my close friends and I was like 'Yeah, I'll help you with this,' " Newby said. "I get motivation when I get support and a lot of my peers said, 'Do it. We support you.' "
For Wilkinson, racial tension in Pinole has always been a silent fact of life for nonwhite residents in the West County town.
"The thing about Pinole is that up until 20 years ago, it was mostly white. But at this point it is mostly people of color and that has created a lot of tension in this city," Wilkinson said. "The white part of Pinole doesn't want to believe that there are people of color in this city."
The year 2000, indeed, marked a notable shift in Pinole's population. According to U.S. census data, 48.4% of Pinole's residents were white and not Hispanic/Latino that year. In 2010, that figure dropped to 37.1%. Before 2000, census reports dating back to 1950 all indicated a large white majority among the city's population. Comparatively, Pinole's population in 2010 was 21.8% Hispanic/Latino (all races) and 13% Black and 22.6% Asian among non-Hispanic/Latino people, all the highest figures since those demographics have been reported.
When demonstrators marched the two blocks from the park to the steps of City Hall on Thursday, they wanted to showcase the young people of the Black Lives Matter movement by having them speak and denounce systemic injustices.
Protestor Valentino Cooper reminded the crowd of the beauty of their voice but also spoke to those choosing to remain quiet.
"Your silence is a luxury and a privilege," Cooper said. "As a Black individual, that same silence has been forced down my throat by a blade or a gun. Our people have hurt for too long."
Newby said she and Wilkinson had been attending protests around the Bay Area, including a demonstration in Oakland on Monday. That was organized by Oakland Technical High School students and drew an estimated 15,000 people. It gave Newby and Wilkinson ideas for how they wanted to approach their protest.
"You didn't see many police there," Newby said about the Oakland protest.
So she contacted Pinole police "like a normal, responsible person."
"But I told them that this protest is literally against what the police stand for, so I would like you to protect us from threats but not be involved with us. They said that was fine," she said.
Newby said the Oakland protest had many people speak and she wanted people to do poetry for their demonstration. Staff at the RYSE Youth Center in Richmond gave her and Wilkinson encouragement and guidance to organize, although the center was not affiliated with the demonstration.
"At first I was like, 'I'm scared of organizing this. What if I become a target?' But then they were like, 'Here are the precautions. It's going to happen regardless. I believe in you,' " she said. "I was like, 'Thank you. I needed that.'"
Some people in Pinole were not happy with the idea.
Wilkinson said that before the event many people were positive on Instagram and Twitter. But some said on the Facebook invitation page that residents needed to "defend" the city.
"There were a lot of people saying, 'We need to protect our town from these people.' And some people were saying they were going to light cars on fire so that people would think we were being violent," Wilkinson said.
Although there were concerns — with some businesses closed and boarded up along San Pablo Avenue — there wasn't any violence during the protest. Wilkinson cited the youth-led focus as the reason for the peaceful event.
"I think the youth are the movement. We are the ones who have been pushing," Wilkinson said. "We just started our lives and we are already tired of everything going on. It's just so important to have us out caring about what's going on and caring about our futures."