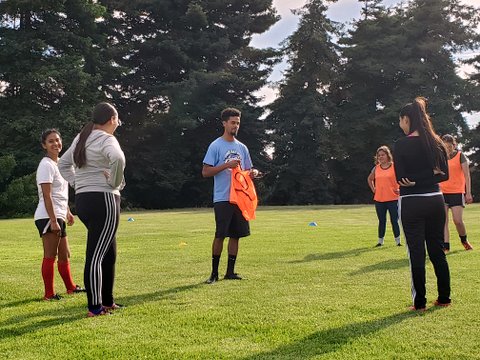 14 Jun

CCC Women's Soccer Recruitment Rebounds Despite the Coronavirus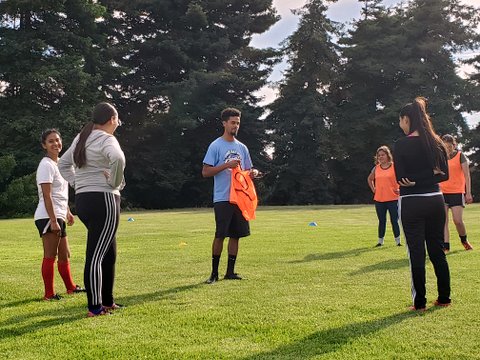 Coach Ted Steen leads a soccer practice at Contra Costa College in July of last year.
By Denis Perez-Bravo | Photo by Joel Umanzor Jr.
Two years ago, the Contra Costa College women's soccer team did not have enough players. Now, even among shutdowns and shelter-in-place, its enrollment numbers are back up.
Ted Steen was hired as head coach last June, tasked with a rebuilding a program that had to forgo the 2018 season because it lacked even the 11 players needed to field a regulation team let alone any reserves.
Since accepting the position, Steen has worked to nurture more than just his players' athletic abilities.
"Impacting [each player's] life and mental health is a key component of the program," he said.
The immediate future of college sports still hangs in the balance, however, because of the COVID-19 pandemic.
The California Community College Athletic Association shut down all sports programs it oversees in mid-March. On June 5, it unanimously approved three possible schedules to resume play during the 2020-21 school year. Which it will ultimately approve depends on health and financial considerations, among other factors.
Despite not knowing when the next season might begin, Steen and assistant coach Joanna Polido are focused on recruiting for the fall.
"We need to find the team's identity," Steen said.
That begins with finding women for the team and getting them to work together.
Last summer, two people enrolled in the training class that is meant to help players learn and develop the skills needed to compete in intercollegiate sports. This year, 12 players are now enrolled in the class, to be held via Zoom videoconferencing for the time being.
"I am trying to keep people focused so that no one takes their foot off the gas," Steen said.
As of May 20, the women's program had announced that nine women had signed letters of intent to play starting in the summer. Among them, he said, six have enrolled. They join six returning players: forward Raquel Alvarez; midfielder Noemi Gomez; midfielder Monica Magana; defender Abigail Plascencia; defender Sicaly Sorrell; and midfielder Odalis Davalos.
"Recruiting is a numbers game," Steen said.
Under the shelter-in-place order, face-to-face meetings have been restricted, so Steen and Paulido have gotten in contact with many players through social platforms instead.
"Going through social media has been a good recruiting tool," Steen said.
The team has garnered attention from graduating seniors from El Cerrito, De Anza, Pinole Valley, Kennedy and John Swett high schools.
With at least the summer break to go before any games are played, he knows that there's still time to recruit more. But recruiting is about more than just finding people to put on the field. Steen also needs time to foster quality players.
During the summer, the team will continue meeting through Zoom until in-person training is allowed again, he said.
The video calls, which have been used for conditioning training, will also be used to analyze plays and team tactics, among other things.
Alvarez, who was voted best offensive player by the team last year, knows having the right mentality is key right now. The returning players need to stay positive and encourage incoming players and each other.
Seeing all the talent the new players bring to the program makes it easy to get excited, she said.
The forward already has her eye on one future teammate in particular.
"She has speed and a good offense," Alvarez said of John Swett graduate Sophia Islas' pace and aggressiveness in games. "Her style and mine are the same and can understand each other."
Alvarez and Islas will have the chance to learn just how well their playing styles complement each other once they and their fellow athletes are allowed to take the field again. The California Community College Athletic Association will vote July 17 on when its teams can restart practicing and playing.