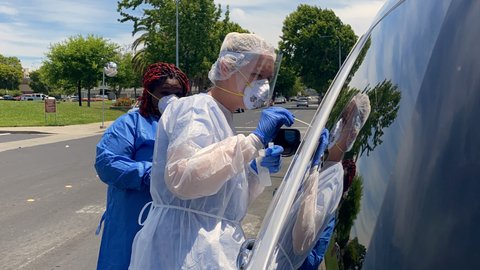 17 Jun

Health Officials Stress COVID-19 Testing as County Reopens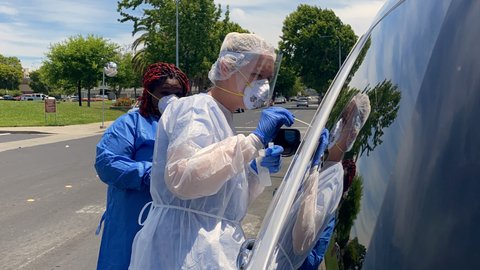 LifeLong Medical Center doctors conduct coronavirus testing at Bissell Avenue and 11th Street in Richmond by appointment only. (Credit: Denis Perez-Bravo)
By Denis Perez-Bravo
LifeLong Medical Care's staff urges Richmond residents to get tested for the coronavirus ahead of Contra Costa County's loosening of its shelter-in-place restrictions.
The LifeLong William Jenkins Health Center on Harbor Way and Bissell Avenue has been offering free coronavirus testing for patients through drive-up or walk-up appointments since March.
Patients don't need insurance, but they do need to call to make an appointment. The testing tent site is located at the corner of Bissell Avenue and 11th Street in Richmond.
Dr. Nathan Stern, a family practice physician at LifeLong, says everyone should be tested for the safety of the community. "Opening up means people are going to get sick," he said.
Stern participates in weekly calls with county officials and has seen the progress the county has made since the start of the shelter-in-place. Despite this, he says it might still be a little too early for the county to reopen because there isn't enough testing being done.
Currently, LifeLong is the only place in Richmond where people who are on Medi-Cal or uninsured can get tested for the coronavirus, Stern said.
Gustavo — a Richmond resident whose last name isn't being use to protect his privacy — didn't have any COVID-19 symptoms but wanted to be sure that he didn't have the coronavirus to protect his family while working at a pallet warehouse. He said he called to make an appointment and got tested the next day.
"This testing site was the closest to any other," Gustavo said.
As Gustavo and his family drove away in his SUV, they knew that depending on the test, he could continue working or have to seek medical help. In the end, Gustavo said, they would be assured they made the right choice.
Thousands in West County have stopped working and their revenue loss has played into when the county should reopen, Stern said.
The county will allow hair salons and barber shops to reopen Wednesday, and indoor dining, fitness centers, hotels, bars and some indoor entertainment venues on July 1, according to the Contra Costa Health Office.
Meanwhile, as hundreds of thousands of people have gathered to protest the deaths of George Floyd and others, LifeLong has seen an increase in patients seeking tests.
Stern said the week of June 10, which hasn't been officially recorded, has been the busiest week yet at the William Jenkins Center.
LifeLong had tested 439 people from March 16 to June 5 and 55 of them have tested positive, or about 12.5%, Stern said.
"This is way, way higher than the 3-5% national average and much higher than the 4.1% positive rate for our other LifeLong sites," Stern said.
Medical assistant Jerry A. Martin has been testing patients in its drive-up facility since March 16. "They have been nervous about the test," she said.
Martin says from March to June, fewer people went in to get tested and LifeLong soon began cutting the hours of full-time workers on the frontline of its testing site.
Testing is now available Monday-Friday for three hours per day (12:30-3:30 p.m), down from six hours a day previously.
To schedule a COVID-19 test appointment, call LifeLong Medical Patient Services at (510) 981-4199.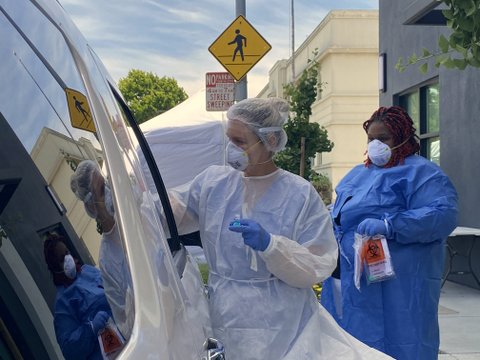 Coronavirus testing is available at LifeLong to people without insurance or on Medi-Cal. (Credit: Denis Perez-Bravo)