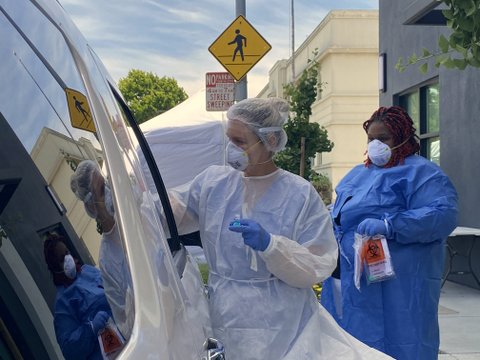 13 Jul

Contra Costa Stiffens Rules as COVID-19 Numbers Rise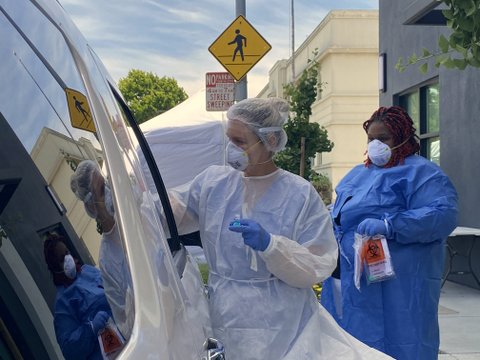 Medical staff conducting coronavirus testing in Richmond last month. More than 8% of tests administered in a recent seven-day period were positive, county health officials say. (Denis Perez-Bravo / Richmond Pulse)
By Michael J. Fitzgerald
Contra Costa County amended its health order Friday to temporarily tighten up rules on face-coverings and prohibit indoor gatherings as officials say there is "elevated risk of spreading the virus."
"Local data show that 8.04% of COVID-19 tests administered over the past seven days were positive, a sign that the virus is spreading rapidly in the county," county health officials said in a press release Saturday. "The community must take immediate steps to prevent our healthcare system from becoming overwhelmed."
Those steps include suspending indoor worship services. Outdoor worship services and social protests of any size are still allowed, as long as state health guidelines — including physical distancing and face coverings — are followed.
The new order also stipulates that with outdoor dining, staff and customers must follow face-covering requirements at all times — except when putting food or drink in their mouths.
And members of extended family "social bubbles" now must wear face coverings when together, with the exception of eating and drinking.
County officials described the increase in cases as a "sharp rise."
As of Sunday, Contra Costa County had 4,661 confirmed COVID-19 cases with 90 deaths and 83 people in the hospital.
"The seven-day average number of new cases identified in the county rose from 38 on June 8 to 146 on July 8, while the seven-day average number of hospitalized COVID-19 patients rose from 17 to 54 during the same period," the county reported.
Officials indicated the new restrictions would be reviewed daily to see when it may be possible to ease or rescind them.
"Contra Costa County hopes to ease these enhanced, extraordinary safety measures as soon as possible and urges everyone to continue taking simple steps to protect themselves from COVID-19," they said.
The county encourages everyone to follow the social-distancing order, which includes basics such as wearing a face covering when you go out or are near other people, washing your hands thoroughly and frequently, and staying home if you're not feeling well.
The new health order, as well as information about Contra Costa's response to the COVID-19 pandemic, is available at cchealth.org/coronavirus.org.