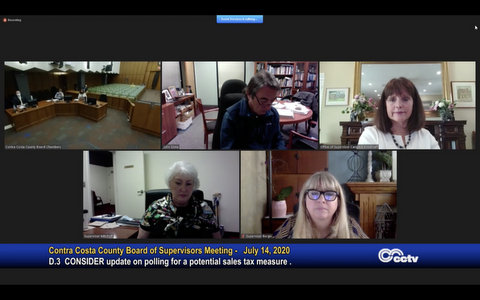 16 Jul

Supervisors Extend Eviction Ban, Move Sales Tax Forward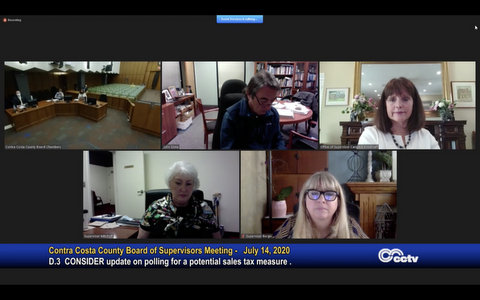 By Edward Booth
The Contra Costa County Board of Supervisors has extended a temporary ban on evictions for nonpayment of rent during the coronavirus outbreak, and extended a moratorium on residential rent increases over the same period, among several related items.
Additionally on Tuesday, the board directed staff to begin drafting a measure for a half-cent sales tax increase for the November ballot. An estimated $81 million in revenue created by the measure would go to the county's regional hospital, fire and emergency response, safety-net and early childhood services, protecting vulnerable populations, and other essential county services.
The board originally passed the rental protections in April and extended them in May. On July 9, Gov. Gavin Newsom issued an executive order extending local government authority to halt evictions for renters impacted by the pandemic until Sept. 30.
Supervisor John Gioia moved to extend the county's ban on evictions to Sept. 30 and extend the grace period for payment of unpaid rent because of the coronavirus to Jan. 30, 2021, which the board unanimously approved.
"Clearly, we need to extend it," Gioia said.
Supervisor Karen Mitchoff seconded the motion but said the board needed to keep evaluating the ban because, as time went on, they also needed to take into account landlords with few properties. She said it's not true that most landlords have a pile of money and can weather the crisis.
Supervisor Diane Burgis said there were many unknowns going forward, including action from the federal government and the lasting impact of the current surge of the coronavirus. She said the county clearly needed state and federal action to help, especially in the future.
"It was just one week ago that we were made aware of the surge," Burgis said. "Everything is changing at this point."
The board voted to move forward with drafting the sales tax ballot measure on a 4-1 vote, with Supervisor Candace Anderson opposing. The measure will be up for approval at the board's July 28 meeting.
But before voting for the drafting of the measure, the board heard a presentation from FM3 Research, a polling firm that, from June 22 to 30, surveyed 666 county residents likely to cast a ballot in November on their attitudes about the potential sales tax.
FM3 researcher Lucia Del Puppo said the majority of those polled support the measure, and there's more support for a 20-year version than a 35-year version, according to the presentation.
Half of the supporters said the presence of other measures won't make a difference in their vote, but about a quarter of supporters say it could make them less likely to vote yes.
Puppo said support for the measure appeared to be strong but recommended ongoing public education and engagement about the measure, as the poll represents only a snapshot in time during an unstable moment in history.
"This measure is as well-positioned as it could be in the context of a rapidly changing environment, given our ongoing global pandemic and the economic crisis associated with that," Puppo said. "I can't promise that voter attitudes won't change, but at this point in time, the measure does appear to be well-positioned and viable for November."
If the voters pass it, the tax will go into effect April 1 next year. It does depend, however, on the passage of Senate Bill 1349, which eases restrictions on combined tax rate limits in Contra Costa County — specifically in regard to taxes passed by the transportation authority or BART — allowing the county to impose the tax if voters approve it.
Gioia said Contra Costa was the only major urban Bay Area county without a local sales tax measure for county services. He said the COVID-19 pandemic had revealed the stark need for preventative services, but these needs were obvious even before the pandemic arrived.
Gioia said the polling results landed much better than a half-cent sales tax measure for transportation, which fell in March with only 51.7% voting to approve. It needed a two-thirds majority to pass, while the health-related tax measure only needs a majority vote. Gioia moved to direct county staff to draft the legislation for a 20-year sales tax measure, with the drafting based on language tested by FM3.
"If we were all prepared to look at a half-cent sales tax for streets and roads and highways, frankly we should support a half-cent sales tax for health and first responders and vital county services," Gioia said.
Supervisor Karen Mitchoff said she had concerns, but she'd support the measure if it includes language to be automatically removed from the ballot if the legislature or governor takes no action on SB 1349 by Aug. 23 — one day before the deadline to remove ballot items — before they go to printing. The county needs to submit the ballot item by Aug. 7.
Supervisor Federal Glover said he was willing to roll the dice on the measure because he thinks it's going to happen. He said he thought the tax was necessary, especially in the current moment. He said he was encouraged by the poll results.
Supervisor Candace Anderson said she had serious concerns about imposing a sales tax during a pandemic when family incomes had been significantly depleted. She said she'd supported sales taxes in the past, but the latest one's timing is unfortunate.
"Hopefully we'll have a vaccine by early next year. Hopefully we'll get businesses reopening, but, right now, families are in crisis," Anderson said.
Gioia said Los Angeles County did an analysis determining that a half-cent sales tax would cost residents about $25 to $55 a year. He said he didn't think a similar cost, even if it ended up being slightly more, would be an undue burden on county residents.
"I understand every dollar counts," Gioia said, "but even if it's up to around $60 a year, that's five dollars a month."