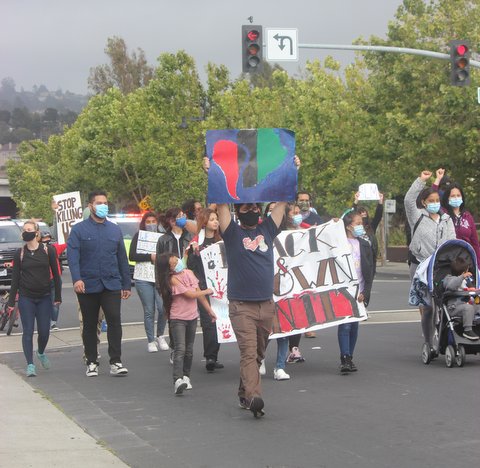 27 Jul

Richmond Unity March Tries to Maintain Social Justice Momentum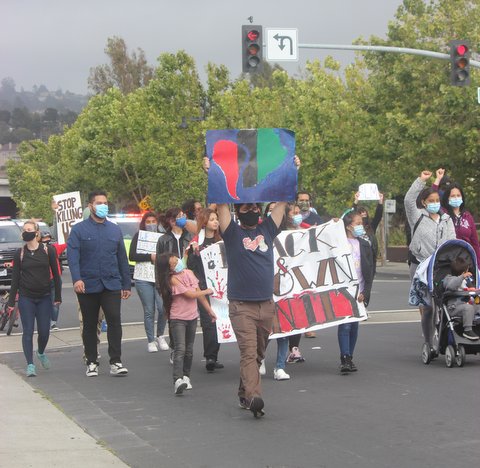 Protesters walk down Macdonald Avenue during an Afro-Latino march July 24 as part of the ongoing Civic Center occupation protest in Richmond. (Yeymi Perez)
By Joel Umanzor Jr.
A Black and Brown unity march to bring awareness to social injustice was held in Richmond on Friday night, ending at Civic Center Plaza.
The event, organized by SoRichmond and East Bay Moviemento, began with nine minutes of silence while kneeling in the intersection of Macdonald and San Pablo avenues.
The demonstration led to the steps of Richmond City Hall with various speakers from the community standing to address strengthening Black and Brown relations and a call for continued action to those in attendance.
Mayra Dayann, one of the organizers, said Friday's event was birthed out of the Black Lives Matter movement in response to various injustices around the country.
"The movement from George Floyd to Vanessa Guillen has been going on for weeks now, and I like to think we are keeping that momentum going," Dayann said.
Dayann added that although at first she did not know when would be the right time for this type of event, the current social and political climate moved her to action.
"This is the right time," she said. "After those two movements came about, it was only right that now is the time to come together as one."
According to the organizers, social media was crucial in spreading the word of the event.
Ezequiel Torres of Richmond heard about the event through a friend and felt compelled to join a protest for the first time.
"I live close, so I came by," Torres said. "It was dope to see all these people come to support the movement. I didn't know so many people could come together for a cause here."
Torres added that he never could have pictured demonstrations happening the way they have been in Richmond recently.
"It's crazy it's so close to home," he said. "I live probably about four blocks from city hall. I didn't know all this could happen over here."
One of the speakers, Anselmo Ramirez of Moving Forward 510, urged continuing action, focus and Black and Brown unity.
"When we leave here, this doesn't end. We don't go home, and that's the end of it," Ramirez said the crowd of about 50 people. "We cannot let go of the mission because it won't get done by itself. We can't rely on the next man to take charge and do something. It's up to us."
Dayann said that more unity marches are being planned and that she hopes to keep up the momentum for social justice in Richmond.
"Definitely, down the road, we like to say less and do more, so right now, it's always an action thing," Dayann said. "We have to get to work and stay working."