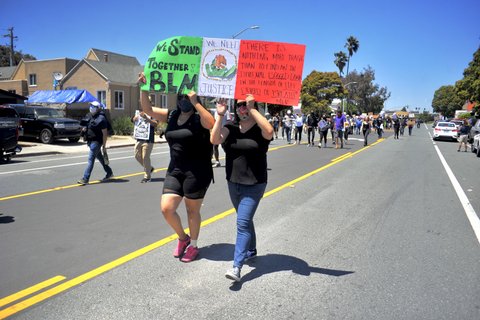 03 Jul

Black Liberation Is Latinx Liberation Too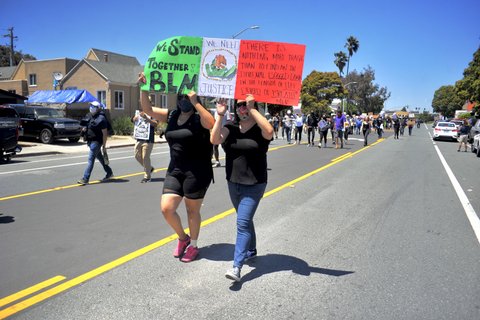 (Photos By Denis Perez-Bravo / Richmond Pulse)
Commentary, Maria Bernal
The recent Black Lives Matter protests have left some Latino people, who say this isn't their fight, feeling left out. As a Dreamer and a non-Black Latinx, it is disappointing for me to see how some people in our community have criticized the Black Lives Matter movement.
I saw a lot of bigoted comments on social media from Latinx-identified people in the weeks after George Floyd's death. Among the recent avalanche of social media posts about the protests were such messages as "What about us?" "But this isn't our battle" and "Blue Lives Matter."
Richmond resident and local activist Tania Pulido says she has noticed that a lot of Latinx people have mentioned children in cages, detained by immigration authorities, asking, "Don't these kids' lives matter too?"
Pulido has also seen a lot of videos circulating online, posted by Latinx people, of Black people assaulting and robbing Latinx street vendors. "Unfortunately," Pulido says, "these videos are used as a way to say, 'Hey, look! They're attacking our hard-working people. Why should we support them?' "
I do not take Black on Brown crimes lightly. This unfortunate phenomenon has caused the Latinx community to feel victimized by the Black community. However, it is easier to direct anger towards a whole group of people than it is to change the environment that created the motivation for these crimes. Black liberation is liberation for Latinx people too.
Anti-Black messaging, no matter who it comes from, is a tool of oppression. Identity has been historically used to divide us and the racism that drives us apart must be dismantled on all levels to help uplift both the Black community and our Latinx community.
Tension between Black and Brown people is nothing new. In 1991, a Los Angeles Times headline asked, "The Tensions Between Blacks and Latinos: How Volatile?" The article answered the question by getting straight to the source of that tension: "The legacy of redlining and discrimination has meant that blacks and Latinos always lived near each other; now that physical closeness is combining with economic and political competition to breed resentment, which too often explodes into violent episodes."
Richmond activist Andrés Soto believes that to relieve the tension between Black people and non-Black Latinos, the Latinx community needs to change the way it thinks about police. This is particularly challenging, according to Soto, because support for a strong police presence is deeply embedded in the patriarchal Latinx culture, tracing its roots all the way back to colonialism.
"They're carrying the burden of that legacy with them when they come to the United States, which has a separate colonial legacy of slave suppression," said Soto. He says it can be difficult to get "Latinos, especially immigrants who don't know U.S history, to understand why it is that criminalization has been promoted within the African American community and" that those same conditions have been used to criminalize Latinos as well.
Data complied by the Washington Post, shows that nationwide since 2015, Latinos have been killed by police at a disproportionate rate, the second-highest demographic behind African Americans. Here in California, Latinos, who make up 39% of the population, account for 46% of those killed by police between 2016 and 2018, according to data from CalMatters. Just last month, 22-year-old Sean Monterrosa was shot and killed by police in Vallejo and 23-yr-old Erik Salgado was shot and killed by CHP officers in Oakland.
Some Latinx people have recognized the connection between Black and Brown oppression and responded in profound ways. At the Mesa Verde Immigration and Customs Enforcement detention facility in Bakersfield, people went on a hunger strike partly in honor of Black Lives Matter and Floyd, Taylor, Oscar Grant and Tony McDade — Black people who were killed by police. The four-day hunger strike was part of ongoing protests against ICE and efforts to align the immigrants' cause with the broader fight for justice and against corrupt justice officials.
In Richmond, a new youth-led organization is trying to end authoritarian systems in the city. Richmond Revolution was formed early in the protests and has already moved to the forefront of the local Black Lives Matter movement. The group's actions helped bring about the removal of officers from WCCUSD campuses. The organization is focused on Black liberation, but according to member LaVonia Bobo, their mission is "fighting for the community" as a whole.
Founding member Samone Anderson echoed this sentiment, saying that Black Lives Matter and Richmond Revolution are ultimately working to help oppressed people of all races.
"Some people are upset because Black lives are being put at the forefront," said Anderson. "But anything that Black people get from this liberation is going to help everybody. We have to stick together."
Our struggles are not the same, but the parallels in our history are real. We haven't been taught about each other's histories because, if we were, it would be a threat to white supremacy. Knowledge in minority groups is a threat to the systems that oppress us all.
We need to be anti-racist in all spaces, even if it means having frustrating conversations with family. We need to vote in all elections, call our representatives, and learn about our legal rights. We non-Black Latinx have to organize and strategically enter into positions of power and leadership to create permanent change. We need to take accountability to unite with our brethren and defeat the oppression that affects us all.