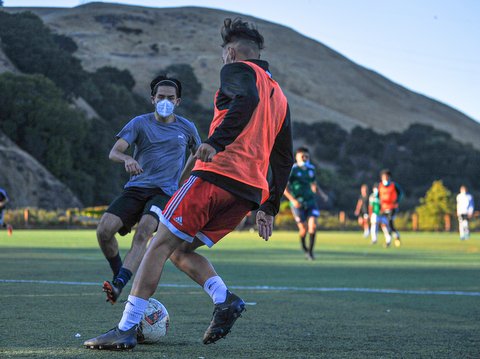 04 Aug

San Pablo Football Club Holds First Tryouts as National Soccer League Start Date Looms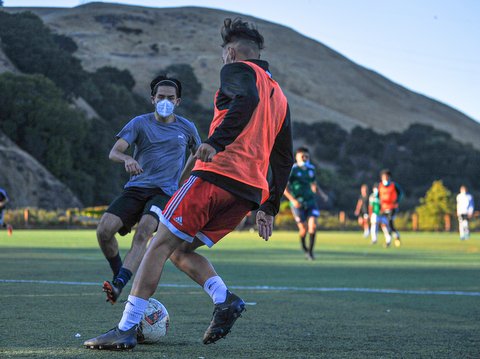 Story and Photos By Denis Perez-Bravo
ORINDA — Around 35 young players equipped with face masks participated in drills and scrimmages during San Pablo Football Club's first tryouts at Wilder Park in Orinda on July 30.
San Pablo FC announced the following day that the coaching staff had narrowed their picks down to a pool of 21 prospects. These players have advanced into a second round of tryouts scheduled for this Friday.
SPFC is a semi-professional team that will compete in the National Soccer League's Pacific Conference.
"We had a lot of talent and we are looking really good," SPFC head coach James Quijano said.
Quijano and the rest of the coaching staff hope to have a list of 18 players up in the coming weeks.
The decision of who plays and who goes home will be a difficult one. And as the clock runs down, Quijano understands his job to identify players is paramount.
From the group that tried out, there were a surplus of goalies and midfielders but potential strikers were lacking, Quijano said. Two players in particular stood out to him as talented offensively. Quijano hopes that with practice and determination, they would become top scorers, but the second tryout will determine more.
Regilson Villatoro, who is heading into his senior year at Richmond High School, was among those who made the second round. At RHS, he played on the varsity team. At the tryout, he saw a higher level of talent, but he said he is ready to stand among former college players and highly skilled amateur players.
"Playing for SPFC would mean a step closer to my goals as a soccer player. I just have to stay positive and give it all I got," Villatoro said.
This is an opportunity he can't let pass him up. If there is a higher-level team he can play for in his own city, then he has to play for them, he said.
"Soccer is my passion," Villatoro said.
And as COVID-19 cases surge in California, being able to play soccer allowed him to have a moment of peace and forget about the worry and uncertainty of the last couple of months.
Indeed, for many, that moment of bliss on the pitch was worth the risk of coming out to play with a large number of people.
To minimize that risk, Quijano and the staff made it mandatory to wear a mask throughout the tryout, though some players' masks did slip down with all the activity. No one sick was allowed to try out and players' temperatures were checked at the gate before they were allowed in. And because soccer is a contact sport, players were advised to use the hand sanitizing station often.
"We took extra steps to not get anyone sick," Quijano said.
The second tryouts, which will be a private session, will follow the same precautions.
SPFC is one of ten founding teams in the NSL Pacific Conference. Also among the teams in the division is the newly formed Richmond Sol Football Club.
Home field for SPFC has not yet been decided, but coaches have their eyes on De Anza and Richmond high schools.
"We hope people come out to the games to see their local boys. It would be great to see them have some fans," Quijano said.
SPFC has not announced the date of its first game, though it is set to be played in late August, according to the NSL Pacific Conference website.