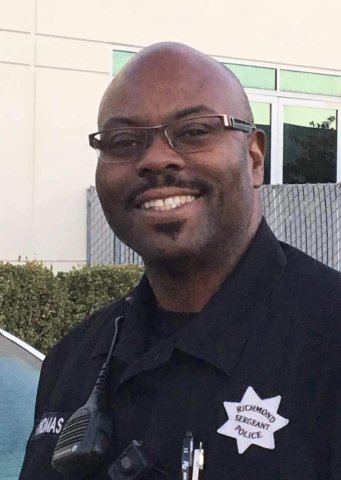 24 Aug

Richmond Police Officer Dies of COVID-19 Complications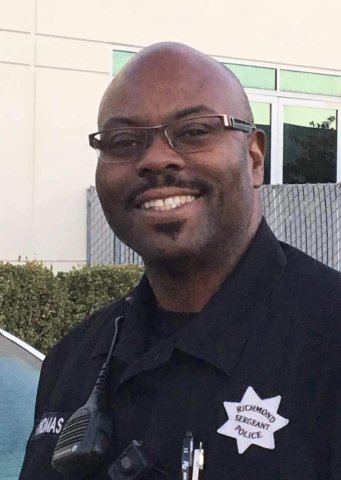 Sgt. Virgil Thomas died Aug. 20. (Courtesy of Richmond Police Department)
RP Staff Report
The Richmond Police Department is mourning the death of a veteran officer who died of complications from COVID-19, which he contracted through work.
"With heavy hearts this morning, we said goodbye to Sergeant Virgil Thomas, who passed from complications due to Covid-19," the Richmond Police Officers Association wrote on its Facebook page Thursday.
The post goes on to say that Thomas had been with RPD for the last 24 years, including working on the Neighborhood Services Team, Training Officer Program, and School Resource Unit at Kennedy High. It also says he coached youth baseball and softball.
Thomas was president of the Guardians of Justice — a charity that focuses on the fair treatment of African American officers — and former president of the Richmond Police Officers Association.
"Sgt. Thomas was loved and will be missed by his Richmond family. We, as a department and community, will carry on his legacy in our work and service.Our hearts are with his wife and four children during this difficult time," RPD concluded in their Facebook post.
"I'm so saddened to hear this and extend my deepest sympathies to his family & RPD," former Richmond Police Chief Chris Magnus, who is now police chief in Tucson, Ariz., wrote on Twitter.
Before Richmond, Thomas had been a police officer in Albany and Novato.
On his own Facebook page, Thomas had been posting that the coronavirus was not a "joke" or a "hoax."
"Seems fake or hoax viruses are real…keep crowding up and enjoy your hair cuts," he posted June 11.
While many will remember Thomas for his service in Richmond, others remember him differently, namely in Vallejo.
Thomas was involved in an off-duty shooting on Nov. 10, 2019, in Vallejo. Video from the scene released by Vallejo police shows Thomas shooting Eric "Cheddaman" Reason, 38, after Reason pulled a gun following a brief argument over a parking space. Reason was running away from Thomas when he shot him in the back of the head, left forearm, and the back of his shoulder.
Photos from the scene that circulated on the internet after the fatal shooting appear to show Thomas using his cell phone to take pictures of Reason as Vallejo officers looked on.
As of the time of Thomas' death, the shooting was still being investigated by the Solano County District Attorney.
In an interview last month, Richmond Police Chief Bisa French told the Pulse, "COVID-19 has really changed the way we do a lot of things."