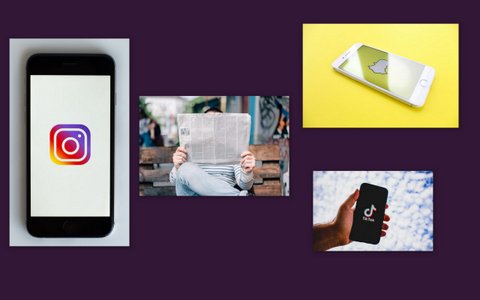 25 Aug

Social Media's Influence on the News: Don't Believe Everything You Read on the Internet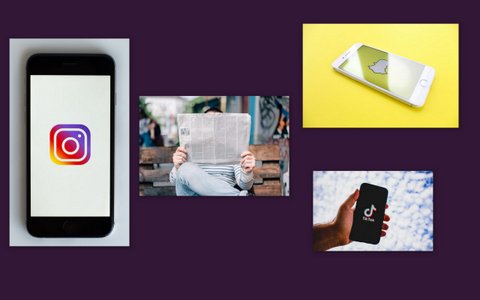 More than a quarter of respondents to a survey aged 18-24 get their news from Instagram, with Snapchat, newspapers and TikTok following, in that order. (Collage by Danielle Parenteau-Decker / Richmond Pulse; images by Unsplash users NeONBRAND, Roman Kraft, Thought Catalog and Kon Karempelas)
By Ronvel Sharper
The news media is a vital instrument for our society, whether you like it or not. It plays a huge role in shaping how we all think. Chances are, the news media is your main source of information.
Now that social media is an ever more popular form of communication, it is no surprise that Millennials and members of Gen-Z alike are getting their news about COVID-19 news from Instagram and other platforms.
The Reuters Institute for the Study of Journalism and the Oxford Internet Institute recently looked at how people in six countries access news and information about COVID-19.
The report showed that in the U.S., more than a quarter of survey respondents ages 18 to 24 used Instagram to find news, while 19% used Snapchat and 6% went to TikTok. Only 17% get their news from newspapers.
The report also found that in all six countries, "people with low levels of formal education are much less likely to say that they rely on news organizations for news and information about coronavirus, and more likely to rely on social media."
I believe social media can help get the news to those who may not be able to access it or simply are just not interested in hearing from traditional outlets. I have not been interested in the news for a while because it seems all anyone talks about these days is COVID-19. Hearing all about how many people are falling ill to the virus can really drown your mood, to say the least.
Instead of media outlets, I look into sites and apps that talk about certain topics, such as Reddit and Instagram. Reddit has communities, called subreddits — such as "Black Twitter," or "Hong Kong" — where users can discuss the state of social reform in the U.S. or the protests in Hong Kong, respectively. On Instagram, I follow a multitude of social justice accounts that inform me about Black, Latin, and Asian history. I only go to mainstream news nowadays for updates about the Ghislaine Maxwell case.
>>>Read: Youth Perspectives: Making Sense of the News and Protests
Other people have their own perspectives on getting their news from social media.
Robin Jimenez, 16, sees that the shift from traditional to social media as a great thing. He believes that news outlets such as CNN and Fox News "be baiting people," and that because everyone is on their phone more often, news is much more accessible via social media.
"On social media, other people can chime in to say facts when the original post is wrong," Jimenez said.
In other words, he believes that because people can interact more with social media posts, you can rely much more on the post, because people can fact-check it and say if it is incorrect.
Some take a more neutral stance on how social media can keep you in the loop.
Billy Miars, 16, said social media can be just as reliable as actual news networks, but it requires a bit of common sense to sort out the facts from the fabrications.
"I get info mainly from my Google homepage and Facebook. Sometimes I'll hear stuff from TV, too," she said.
Miars also said that whether social media can be as reliable as actual news broadcasts really boils down to the facts of the situation.
"If I were to see a tornado warning in my area on Twitter, with a live feed of a funnel cloud near the city, I'd probably believe it just as much as I would if I saw it on my Fox 90 news," she said. "On the other hand, if something were to come up like Ulta holding a bring-your-own-bag sale for Aug. 30, without an actual announcement from the company? Big difference."
If something sounds too good to be true, and there is no evidence supporting whatever the claim may be, it may indeed be just that — too good to be true.
Anthony Jimenez, 20, said people should not look towards influencers but rather use them as a "starting point," then "do their own research." To get his news, Jimenez said he follows "a YouTuber who has this whole website where fans and amateur investigators dump their links and resources so that everybody can do their own independent research."
According to Jimenez, the people who follow that YouTuber help each other out by posting links to court documents, witness testimonies and more.
Jimenez also said social media can be as reliable as broadcast media but only under certain circumstances.
"Well, I do think social media can be trusted, but it really depends," he said. "If it is a random user, then, yeah, you can ignore them, but if it is an organization, you should see who's funding them. Are they funded by governments who are known to spew propaganda like China? Or are they privately owned? It all depends on the background of that person or group telling you news. Also, if they have no sources, then don't trust 'em."
In other words, don't instantaneously believe everything you see on the internet.