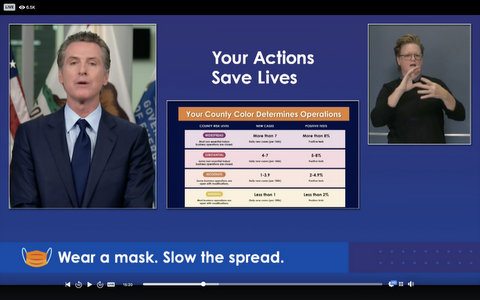 28 Aug

Newsom Announces Framework for Reopening California Counties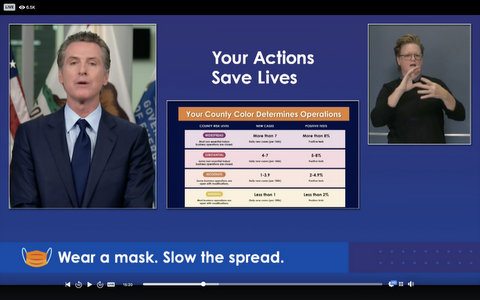 (Screenshot captured by Edward Booth / Richmond Pulse)
By Edward Booth
Gov. Gavin Newsom on Friday announced a new framework that organizes how California counties may reopen.
The framework categorizes counties in four tiers to denote the local severity and risk level of the COVID-19 pandemic, based on case rate and test positivity. The colors, from most severe to least, are purple, red, orange and yellow. The tiers are also labeled: purple means that COVID-19 transmission is "widespread," red means it's "substantial," orange means the transmission is "moderate," and yellow is "minimal" transmission. Newsom said they didn't include a green tier because they didn't want anything to be seen as a green light to go back to pre-pandemic activities.
The tiers correspond to which sectors of the economy are allowed to reopen. Schools, for instance, may begin reopening with some indoor activities two weeks after a country moves from purple to red, said Mark Ghaly, the California secretary of health. Still, indoor schooling will be limited to 20% of normal capacity while in the red tier, with increased capacity each tier up. When a county falls into the yellow tier, there are no capacity limits, but other public health requirements — social distancing, mask wearing, temperature screening — still apply.
A website, Covid19.ca.gov, will offer specific information on which tier each county falls into and which sectors of the economy are open. At the moment, 38 countries fall into the purple tier, nine are in the red tier, eight are in the orange tier, and three are in the yellow. As far as population goes, 87% of state residents reside in a purple county, 12% live in a red county, 1% are in an orange county and 0.1% are in a yellow county.
To advance a tier, counties need to meet metrics for at least two straight weeks. To fall a tier, counties have to fail to meet their current tier's metrics for two weeks. The state also has an "emergency brake" they can use on counties if metrics such as intensive care or general hospital capacity fall to worrying levels. Counties can only move one tier at a time, and county metrics will be assessed weekly and updated every Tuesday, starting Sept. 8. There's also a mandatory 21-day wait time between each movement in tier.
State reopening requirements only take precedence over county requirements if the state guidelines are more stringent, Ghaly said.
"That has always been the way California has worked," Ghaly said. "It's been the way California has worked during this pandemic, and it will be that way moving forward."
Newsom said the framework was prepared to help the state get through the winter and fall flu season, when California residents will be dealing with a "twindemic of sorts," Newsom said. He added that the framework is meant to be dynamic so the state can adapt to swiftly changing circumstances.
"This is a dynamic process. It's an iterative process. We are not stubborn in terms of an ideological thrust," Newsom said.