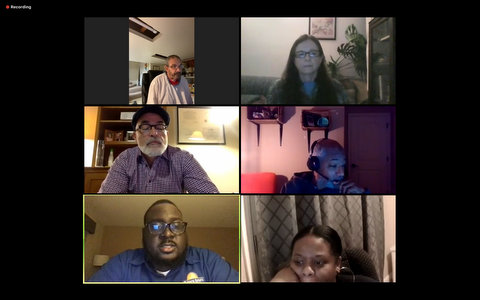 04 Sep

Police Commission to Continue Investigating Police Shooting of Eric Reason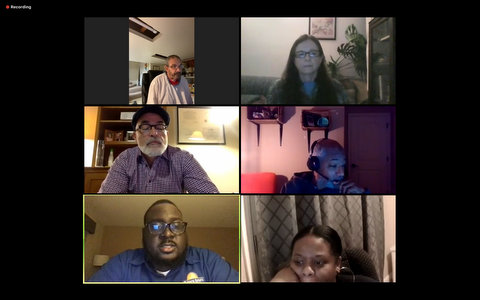 The subject of the investigation, Richmond Police Sgt. Virgil Thomas, died last month from complications of COVID-19. (Screenshot captured by Edward Booth)
By Edward Booth
The Richmond Community Police Review Commission voted Wednesday to continue an investigation into the shooting of Eric Reason by Richmond police Sgt. Virgil Thomas after Thomas died from complications of COVID-19 in August.
Thomas fatally shot Reason in Vallejo in November 2019 after the two men argued over a parking space, according to the Mercury News. The shooting was captured on video, but questions remain whether Thomas, who was off duty, was acting in self-defense because Reason was also carrying a gun.
Some commissioners said they wanted to halt the investigation out of respect for the families on both sides of the shooting. Commissioner Yenny Garcia said because the Reason family hadn't initiated the investigation the commission should drop it.
"There were two lives lost," Garcia said. "I don't think we should continue. I think we should drop it out of respect for both sides. Both people are gone, and if the [Reason] family wasn't the one that initiated this or requested it, then I don't see why we should continue."
Garcia's motion to drop the investigation failed on a 2-4 vote, with commissioner Oscar Garcia also voting to approve. Commission chair David Brown then requested that investigator Jerry Threet conclude his investigation and bring it to the commission within the next two months, if possible.
Most commissioners ultimately disagreed with dropping the investigation. Several commissioners suggested the urgency of it had lessened after Thomas' death.
Commissioner Carol Hegstrom raised the option of putting the investigation on the backburner, and Yenny Garcia initially agreed with that suggestion.
Hegstrom later said she supported continuing the investigation. She said the commission really couldn't make a decision about delaying or ending it until they'd heard what the investigator had come up with. At that point, Hegstrom said, the investigation would be over and the commission would be making a decision of whether or not the shooting was justified.
"I hate to drop it and just say we don't care whether or not it was justified," Hegstrom said. "I think we do care whether it was a justified shooting."
Commissioner Randy Joseph said just because both Reason and Thomas are dead doesn't mean it's an "eye for an eye" situation. He said the commission should do the job they're supposed to do and finish the investigation so the truth comes out.
Joseph added that dropping the investigation wouldn't bring justice or closure to either side, that it would effectively put both Reason and Thomas in limbo.
"We have an investigation," Joseph said. "We started it, we should finish it."