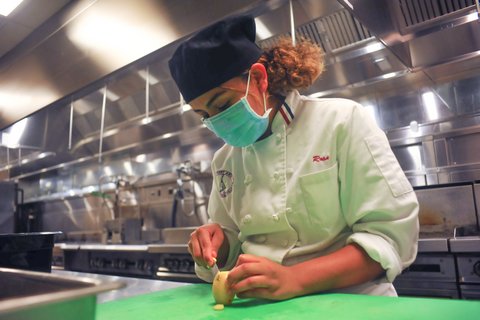 15 Sep

Contra Costa College Gets Cooking in the Classroom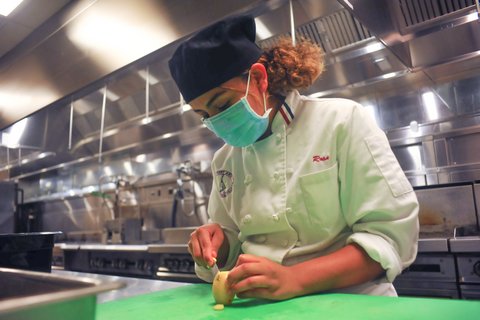 "It was not the same learning. They can teach it, but you can't taste it and you can't smell it," said culinary arts major Rosa Garcia of taking an introductory class over Zoom.
Story and Photos By Denis Perez-Bravo
The Contra Costa College culinary arts department is conducting in-person classes, despite a pandemic, fire-produced orange skies and unhealthy air quality.
Students in the department started hybrid classes Aug. 27 that consist of weekly in-person and online instruction. And the department is set to open its student-run restaurant, Aqua Terra Grill, for takeout and outside dining on the patio by the end of September.
"We are even thinking of delivery," culinary arts department chair Nader Sharkes said. "We have to make it work. We can't just stand on the sideline and sit it out. That is worse. We need to reinvent ourselves and reinvent our methods."
Funding for the department has been stalled with events, including the Chocolate and Champagne and the Empty Bowl Fundraiser, and all catering jobs being canceled, chef and professor Elisabeth Schwarz said.
And the number of classes has been reduced, including the cancellation of the pastry courses this semester.
"Every class is a big piece to the puzzle," Schwarz said.
Sharkes meets with the Introduction to and Advanced Classical and Modern Food Preparation classes Monday through Thursday. Schwarz meets with new students in the Introduction to Fundamentals in Food Service class Tuesday through Friday.
Culinary arts major Rosa Garcia, 19, is a student in the advanced class. Back in the spring, she took the introductory course online where most of the courses were done by video over Zoom, but it was not practical.
"It was not the same learning. They can teach it, but you can't taste it and you can't smell it," Garcia said.
Being in the kitchen with all the equipment and an instructor to answer your questions is essential, she said.
So essential, Garcia walks to school every day whether it rains ashes or the sky is orange.
And in the classroom, she keeps her distance and takes all precautions to ensure her and her family's safety.
"I have younger siblings at home, and feel like I'm putting myself at risk and my family," she said.
Garcia says her mother was scared for her at first, but she hesitantly gave her blessing to return to campus. Although her mother is still scared, Garcia takes extra steps to calm her mom's worries.
Before Garcia can step into her home, she must be "bathed" in Lysol. She then has to hop in the shower immediately after getting home and wash her uniform daily.
"It is hard, but this is what I live for, so it's worth it." Garcia said.