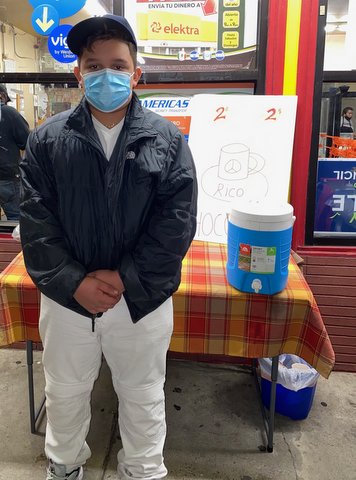 13 Nov

Richmond Turkey Giveaway Will Adapt to the Coronavirus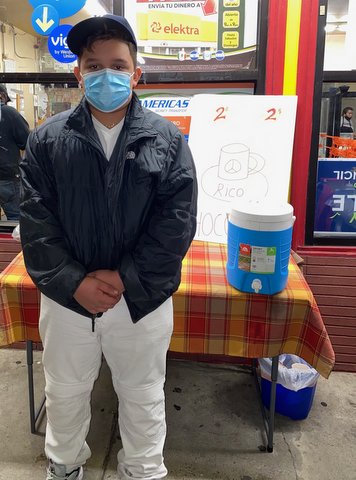 Alex Valencia, 12, is selling hot chocolate to raise money for the Richmond Turkey Giveaway. (Rosa Sanchez)
By Maria Bernal
Wearing a thick winter coat and a mask to cover his face, 12-year-old Alex Valencia stands in 41-degree weather, selling $2 hot chocolate from a thermos to raise funds for the second annual Richmond Turkey Giveaway.
Alex's parents and uncle Josh Goularte, president of the Hottest Out Car Club, came up with the idea for the giveaway sitting at a kitchen table. Alex, 11 at the time, overheard the candid conversation his role models were having about food insecurity in Richmond. He decided the best way he could help out was to sell hot chocolate.
With the help of the Hottest Out Car Club and local businesses, the 2019 Richmond Turkey Giveaway provided 150 hot meals and 300 turkeys.
Alex is selling hot chocolate with his parents' supervision like he did last year, but this time is different because of COVID-19.
Last year, people were dancing, children were playing, hugs were exchanged, and residents stood in a packed line. Volunteers worked closely together and interacted closely with the food and residents.
None of that is safe anymore.
To help protect volunteers and recipients this time, Richmond Turkey Giveaway organizers have instituted a no mask, no service policy.
The organizers are also mindful of social distancing orders and plan to put volunteers in separate groups.
The giveaway will feature a musical appearance from Herencia de La Bahia, but to maintain social distancing, organizers say people will not be able to hang out, and they will push a grab and go system.
Organizers estimate they will pass out 600 hot plates and will need more volunteers. Last year, they had about 25 volunteers and believe they will need twice as many this year.
The 2020 Richmond Turkey Giveaway will be held Nov. 22 at the Phila Burger Station parking lot at 1100 23rd street.
Alex is not hoping to raise a specific dollar amount, but he does say that more donations mean more supplies for the Turkey Giveaway. In 2019, he raised about $500.
Alex will sell hot chocolate at 773 23rd Street on Fridays and Saturdays between 6 and 8:30 pm.