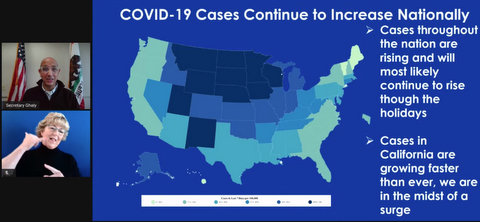 24 Nov

Coronavirus Cases Continue to Surge on Thanksgiving Week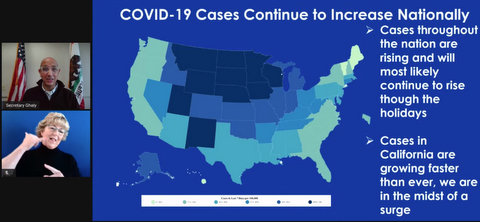 (Screenshot captured by Edward Booth / Richmond Pulse)
By Edward Booth
Coronavirus cases continue to surge across California and the United States as Thanksgiving approaches.
"The truth is that the high case numbers, the level of hospital impact that those Midwest and Western states are beginning to see more and more of, are knocking on California's doorsteps and we need to continue to dig in and do what we can to keep that transmission low," said California Health and Human Services Secretary Mark Ghaly said at a Tuesday press conference.
Ghaly said COVID-19 case numbers for the day stand at 15,329, with a 7-day average of 12,532 cases each day. The state's test positivity rate over 7 days is at 5.9%, compared with a 5.6% 14-day positivity rate.
The 14-day case rate has risen about two percentage points since Nov. 10 — when the rate stood at 3.7% — an increase of 51%.
COVID-19 hospitalizations, likewise, have increased 81.3% over the last 14 days, to 5,844 patients. And intensive care unit admissions have increased by 57.1% over the last 14 days, to 1,397 patients.
"The cases are concerning, in part, because they really foreshadow what the impact is going to be on our hospitals," Ghaly said. We're feeling more and more confident that 12% of today's cases end up hospitalized about two weeks later."
The rise in cases is reflected in the state's color-coded reopening system. Though a larger shift happened last week as most of the state moved to the most restrictive purple tier, no counties moved up a tier this week for the third week in a row. But several counties downgraded — four fell into the purple tier, one fell into the red tier, and two fell to the orange tier.
Contra Costa County remains in the purple tier, which indicates COVID-19 transmission is widespread.
Ghaly said he, like many residents, is disappointed that Thanksgiving will look different this year, particularly because it's his favorite holiday. He suggested people celebrate with members of their own household only, which he'll be doing.
Ghaly said he thinks it's necessary to pause Thanksgiving traditions to really stop the spread of COVID-19 this year. Part of his presentation included strategies of saying "no" and having hard conversations with loved ones. He said it was important to be clear, offer alternatives, be honest and not feel pressured to keep the conversation going.
"We know it's not easy to say no, and it's not easy to say no to loved ones," Ghaly said. "But as we dig deeper into the pandemic and our response, there's never a more important time than now to use this as an opportunity to let your friends and family know you're making a decision to reduce transmission and not gather."