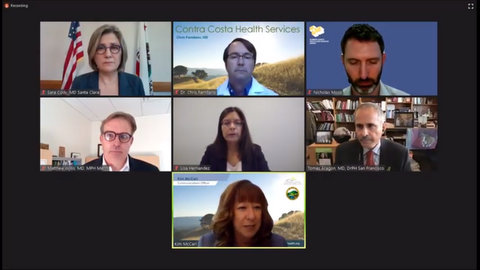 04 Dec

Bay Area to Enact Regional Health Orders Early: 'We Have No Choice'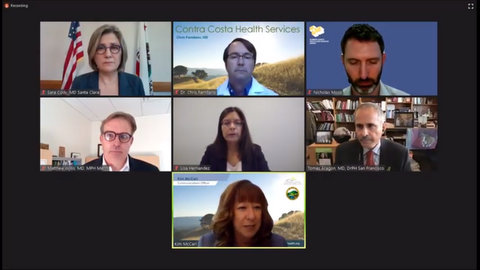 Health officers, from top left, Sara Cody of Santa Clara County; Chris Farnitano of Contra Costa County; Nicholas Moss of Alameda County; Matt Willis of Marin County; Lisa Hernandez of the city of Berkeley; Tomás Aragón of San Francisco County; and Contra Costa Health Services Communications Officer Kim McCarl. (Screenshot captured by Edward Booth / Richmond Pulse)
By Edward Booth
In a scene reminiscent of the March COVID-19 shutdowns, a group of health officers from five Bay Area counties announced Friday that they're issuing stay-at-home orders, which will go into effect in a few days.
"We are entering an especially dangerous period of the COVID-19 epidemic," said Contra Costa County Health Officer Dr. Chris Farnitano. "The dark COVID winter we feared would come has arrived in the Bay Area."
The health orders follow Gov. Gavin Newsom's announcement Thursday of a regional stay-at-home order that's tied to regions falling below 15% of their hospitals' intensive care unit capacity. Newsom estimated the Bay Area would fall under the order at around mid- to late December, while every other region of California is estimated to fall under the order early in the month.
The Bay Area Health Officer order will effectively put the restrictions announced by Newsom into place much sooner. In Contra Costa, the order will go into effect 10:00 p.m. Sunday. All orders will be effective by Tuesday; they apply to all residents in Alameda, Contra Costa, Santa Clara, San Francisco and Marin counties. The orders are set to end on Jan. 4, 2021.
"As much as possible, this order resembles the statewide order by Gov. Newsom," Farnitano said. "We believe that our best chance to save lives and protect the public's health is by acting now."
Indeed, the restrictions announced by Farnitano during the press conference resemble the incoming state restrictions. Businesses must reduce occupancy to 20% and write and enforce plans to ensure occupancy and face covering rules are followed, he said. Personal services such as nail salons and barbershops must close. Wineries and card rooms must close. And restaurants can only serve takeout and delivery, Farnitano said.
"The goal of this temporary order is to reduce the risk to everyone during a time when COVID-19 is spreading rapidly in our communities and to ensure our healthcare system is able to provide every patient with an appropriate amount of care," Farnitano said.
Farnitano said COVID-19 transmission in Contra Costa has more than doubled in a single month and is higher now than it's ever been. The number of patients sick enough to need hospitalization has tripled in a month, he said.
"I and other health officers in the Bay Area don't think we can wait for the state's new restrictions to go into effect later this month," Farnitano said. "We must act swiftly to save as many lives as we can."
San Francisco Health Officer Dr. Tomás Aragón said each COVID-19 positive person in the Bay Area is infecting one and a half other people on average. And for every case detected by the health care system, there are six to 10 others that go undetected. Within weeks, he said, Bay Area hospitals will reach capacity and will be unable to take care of residents. And because COVID-19 is so widespread, there will be no place to transfer people if the Bay Area runs out of beds.
"Coronavirus cases are growing exponentially; transmission is widespread," Aragón said. "This virus is relentless and unforgiving. We have no choice if we want to take care of our communities and our loved ones in our hospitals."