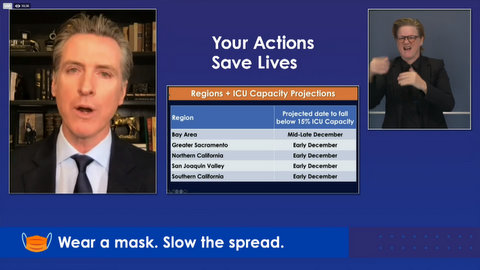 03 Dec

Newsom Announces Regional Stay-at-Home Order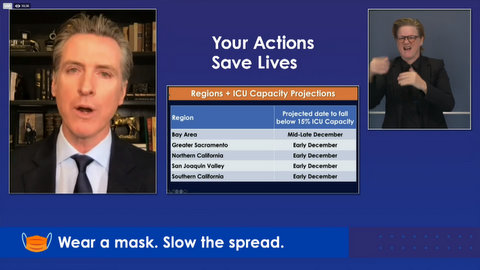 The Bay Area is expected to be subject to a new stay-at-home order later in December. (Screenshot captured by Edward Booth / Richmond Pulse)
By Edward Booth
Gov. Gavin Newsom announced a regional stay-at-home order Thursday, tied to intensive care unit capacity.
"The bottom line is if we don't act now, our hospital system will be overwhelmed," Newsom said.
Newsom said there were 18,591 new cases of COVID-19 reported Wednesday, and the state's seven-day case average is the highest it's ever been, at 15,121. The COVID-19 death rate has also increased significantly, he said. About a month ago, on Nov. 2, there were 14 coronavirus-related deaths reported in the state. In the two days, there have been back to back days with 113 deaths recorded, and the state recorded 971 deaths in the last 14 days, Newsom said.
Newsom also said residents should anticipate a surge of COVID-19 cases on top of the current surge, as the spread caused by people traveling for Thanksgiving will be felt in a few weeks.
>>>Read: Newsom Talks Coronavirus Surge: 'People Are Letting Their Guard Down'
The order anticipates hospital beds and intensive care units in the state being overwhelmed and attempts to mitigate the spread of the virus, Newsom said. It applies to regions where ICU capacity falls below 15%, and it would apply for three weeks. No area currently falls under the order, but it will soon apply to five regions: Northern California, Bay Area, Greater Sacramento, San Joaquin Valley and Southern California.
The Bay Area will fall below 15% capacity in mid-, or maybe late, December, Newsom said. For all the other regions, capacity is expected to fall below 15% within the next few days, or as late as next week.
Similar to the March order, residents will have to stay at home as much as possible. People would be allowed to go outside for essential activities such as grocery shopping, doctor's appointments and exercise.
As a result of the order, bars, wineries, personal services, hair salons, barbershops and related businesses will need to shut their doors. Sectors that may remain open include critical infrastructure, retail — at 20% capacity — and restaurants, but only for take-out and delivery. Schools that have received a reopening waiver will also stay open.
Newsom urged California residents to stay active and connected to help with mental health. He suggested residents stay virtually connected with loved ones and get outdoors for exercise.
And, he said, hope is coming in future months with vaccines.
"There is light at the end of the tunnel," Newsom said. "We are a few months away from seeing true progress with the vaccine. We don't anticipate having to do this once again."