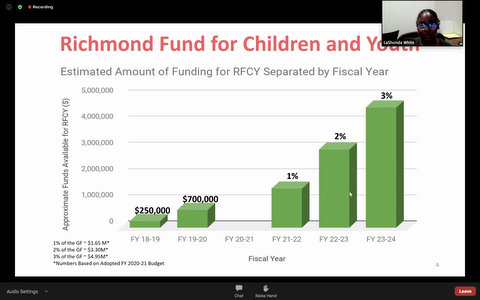 11 Dec

Richmond Fund for Children and Youth Oversight Board Approves Investment Plan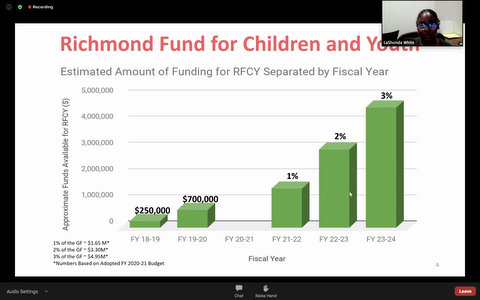 The Richmond Fund for Children and Youth will get a percentage of the city's general fund for the next three fiscal years. (Screenshot captured by Edward Booth / Richmond Pulse)
By Edward Booth
The Richmond Fund for Children and Youth Oversight Board approved a strategic investment plan Thursday that will guide the allocation of funds set aside for the city's Kids First Initiative.
The Kids First Initiative, which included Measures E and K, was approved by Richmond voters in 2018. That resulted in the creation of the Richmond Department for Children and Youth, the Richmond Fund For Children and Youth and the fund's oversight board.
LaShonda White, director of the department, said at the meeting that the department has a variety of youth-centered functions. It's meant to be a funding source for local groups that assist youth, she said, as well as to unite and work with those groups, which include community-based organizations and public entities. White said the department also serves as a thought partner in answering the question: "How can we better support our young people and their families in Richmond?"
The initiative is funded through an allocation of the city's general fund. The department received $250,000 in fiscal year 2018-19 and $700,000 in 2019-20. In the current fiscal year, 2020-21, the department received no funding. It is using funds from the previous two fiscal years to support development, help pay for consulting services to carry out a community needs assessment, and put together the strategic investing plan, White said.
Next fiscal year, funding for the department will be 1% of the city's general fund, estimated at $1.65 million, and it will increase again by 1% in two subsequent years. Funding will cap out at 3% of the general fund in 2023-24, estimated at about $4.95 million.
A community needs assessment was carried out through 2020, beginning in February. Participants were asked where the greatest need for youth is, and what programming would be most effective in filling that need. The assessment identified six priority areas: behavioral health; information, guidance and case management; education and employment training and support; time spent out of school; youth violence prevention; and access to basic needs.
The plan will go before the Richmond City Council on Dec. 15. Out of an estimated $1.5 million in funding, 80% is proposed to go to behavioral health; education and employment training and support; youth violence prevention; and out of school time, with 20%, or about $300,000, going to each category. The remaining 20% is proposed to be split evenly between the remaining two categories: access to basic needs; and information, guidance and case management.
At the meeting, Lorene Allio, a consultant for the city, expanded on the strategic investment plan, which is based on the community needs assessment. She presented both what each of the priority areas cover and what the desired result of investing in each of those areas is. For example, behavioral health includes fostering supportive relationships, diversifying access and supporting healing skills, Allio said. Desired results for behavioral health include decreased stigma about receiving mental health services, and increased access to and awareness of mental and behavioral health services.
"The community needs assessment is really part of a learning effort to provide a basis for a strategic investment plan," Allio said. "We began with planning for the assessment, we collected a great deal of quantitative data, of qualitative data, and all that community engagement comes under those buckets."
The request for proposal process begins Dec. 31, according to the staff presentation. Three informational and technical workshops application workshops will be carried out from Jan. 18 to Feb. 3, and a question submittal and response period will run from Jan. 1 to Feb. 8. The request for proposal deadline is Feb. 19, 2021. The City Council will approve a list of recommendations at some point in April or May 2021, according to the presentation, and grant funding will be dispersed in June 2021.