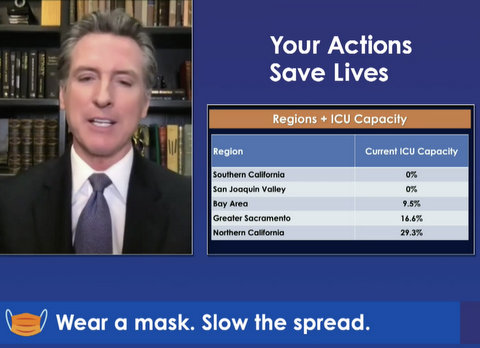 28 Dec

Newsom Says Stay-at-Home Orders Will Likely Be Extended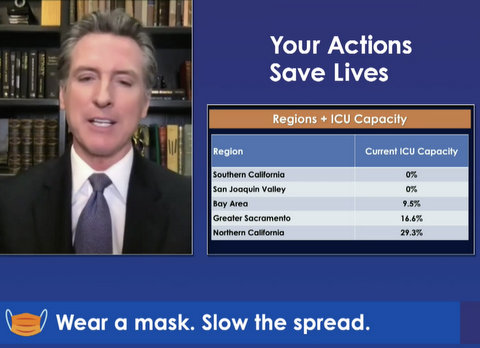 With COVID-19 cases and hospitalizations still on the rise throughout California, regional stay-at-home orders are expected to continue. (Screenshot captured by Edward Booth / Richmond Pulse)
By Edward Booth
Gov. Gavin Newsom announced Monday that the state's stay-at-home orders, which came into effect early in December, will likely be extended as much of the state remains below the 15% threshold for intensive care unit capacity.
COVID-19 cases continue to rise across California. There's been a 38% increase in COVID-19 hospitalizations over the past two weeks, Newsom said, and a 37% increase in ICU patients.
The Southern California and San Joaquin Valley regions effectively have 0% ICU capacity, Newsom said. The Bay Area fares better, at 9.5% capacity. Greater Sacramento is hanging around 16.6% capacity, and Northern California, the only region not to fall under the stay-at-home order, sits at 29.3% capacity.
The stay-at-home orders, once they go into effect, must remain in place for at least three weeks. The orders for Southern California and the San Joaquin Valley were the first to come into effect. Those orders are due to expire, but Newsom said it's likely they'll be extended tomorrow when four-week ICU projections are announced for the two regions.
"It is clear and understandable that it's likely those stay-at-home orders will be extended," Newsom said.
An update on four-week projections for other regions will occur similarly when the order is set to expire in those regions. For the Bay Area, an update will occur Jan. 8, and an update for the Greater Sacramento region will occur Jan. 1, Newsom said.
Hospitals in Southern California have been the state's biggest focus, Newsom said. Los Angeles County has faced an increase of 12,000 to 15,000 COVID-19 cases per day over the last few weeks, he said, which is taking a toll on hospitals. About 96% of Los Angeles County hospitals were on diversion Saturday, meaning that ambulances are rerouted to another part of the hospital system because those hospitals didn't have the capacity to accept the patients they were carrying.
Before the most recent surge of COVID-19 cases, only 33% of Los Angeles County hospitals were on diversion at some point. On average, on Saturday, a hospital in the county spent two-thirds of the day, or 16 hours, on diversion, Newsom said.
"The impact of this virus, this pandemic, is being felt by the entire hospital system and that impact, obviously, could impact each and every one of us," Newsom said.
The governor also announced that California has opted in to the federal COVID-19 Pharmacy Partnership, meaning that CVS and Walgreens will administer the Pfizer vaccine to residents and staff in long-term care facilities at no cost to the state or local governments.
The program involves CVS and Walgreens pharmacy staff going directly to long-term care facilities to give the vaccine. About 499 nursing homes will receive the vaccine from CVS and 357 from Walgreens.
"Vaccinating those most vulnerable among us is critical to fighting this virus," said Newsom in a press release.