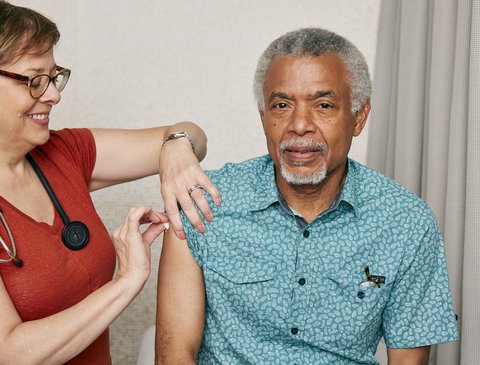 13 Jan

Contra Costa Health Services Expands COVID-19 Vaccine Availability, Again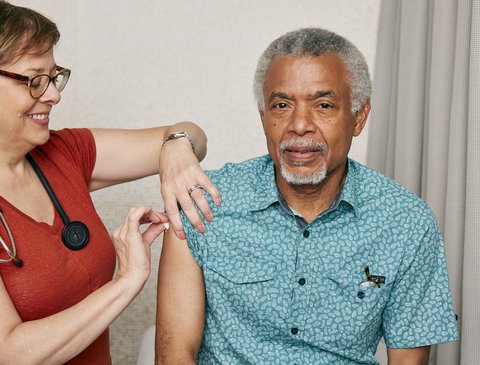 Contra Costa County residents age 65 and older can now request an appointment to receive the COVID-19 vaccine. ("Older man having his upper arm cleaned before a shot" by Heather Hazzan for Self Magazine, licensed under CC BY 2.0)
By Michael J. Fitzgerald
Contra Costa Health Services this week announced it has expanded the pool of people eligible to receive a COVID-19 vaccination to include residents 65 years old and older.
CCHS said it wants all residents to eventually get their vaccines through their specific healthcare provider, such as Kaiser, Sutter Health or John Muir. But until those medical groups are able to ramp up vaccine distribution, CCHS will continue to vaccinate all persons eligible, whether they have insurance or not.
The agency said any resident 65 or older — as well as other eligible people who reside and work in Contra Costa County — can request a vaccination appointment online by filing out a request form. Once the staff has reviewed and approved a vaccination request, instructions on how to actually set an appointment will be sent via the MyChart website.
Demand for the vaccine greatly exceeds supply at the moment, so appointments will be limited.
All appointments currently being handled online. But within a week, a toll-free telephone line is expected to be available and listed on the county website: CCHealth.org/coronavirus.
The county this week initially set its lower age limit at 75 but lowered it to 65 in line with state recommendations.
California lowered its age threshold Wednesday, making all residents aged 65 and up eligible to receive the vaccine. Counties are given "discretion within the guidelines," as CalMatters reported, meaning whom to vaccinate, how and when is guided by state and federal direction but is ultimately up to each county.
County officials believe Contra Costa can meet its immunization goals if all hospital and healthcare providers pitch in. CCHS is coordinating efforts with providers, hospitals, pharmacies and clinics.
The goal is to immunize approximately 725,000 people — about 80% of county residents — which CCHS says is expected to achieve "herd immunity" in the community.
>>>Read: With Line Moving, Some Question Getting COVID-19 Vaccine
Since the vaccine became available three weeks ago, about 30,000 doses have been administered in the county. CCHS projects that nearly 10,000 vaccine shots will be given by the end of this week, jumping to 26,000 next week and 36,000 the week after.
Information and updates about the COVID-19 vaccine (but not appointments) are available at (844) 729-8410 or cchealth.org/coronavirus.
Update: After this story was originally published, Contra Costa County announced it was following state guidelines and lowering the age of eligibility to 65. This story was updated Jan. 14 at 12:56 p.m. to reflect that.