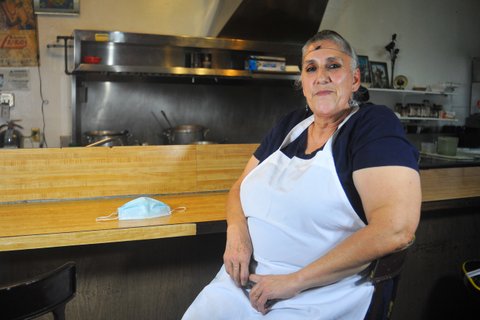 19 Jan

'Sacrifice,' Love and Well-Rolled Burritos Make Taqueria Chavinda a Richmond Staple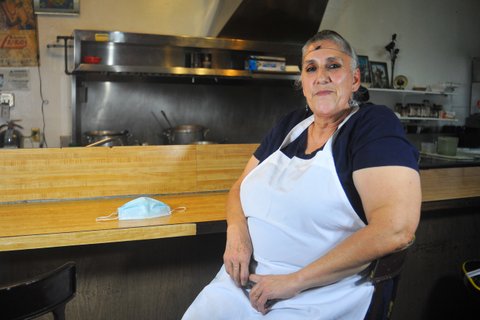 Ana Maria Mora, "Mama" to many customers, has owned Taqueria Chavinda in South Richmond since January 2003. (Denis Perez-Bravo / Richmond Pulse)
By Denis Perez-Bravo
In January 2003, in a year the city was plagued with 37 homicides, Richmond resident Ana Maria Mora, 57, embarked on a journey, setting out to make a living for her nine children as an undocumented business owner.
This month, she celebrates 18 hard-fought years of operating Taqueria Chavinda, a small restaurant furnished with four tables that seat four people each and five high top chairs that line a high counter. The counter faces the open kitchen, giving customers a view of the Mexican dishes being prepared, including burritos filled and toasted on a grill.
"If anyone asks, 'How have you done it?' I say 'sacrifice,' " she said.
With the support of her children and her husband, the 12-hour shifts have not fazed her. She overcame the language barrier of not knowing English long ago. And she learned about business taxes the hard way after getting audited taught her to do things by the book. That made her a better business woman, eager to learn, she said.
One thing she has learned at Taqueria Chavinda is that simplicity works. Mora's menu is straightforward. She sells tacos, quesadillas, nachos and 12-inch burritos. On the weekends, she adds birria and menudo.
Just because something isn't on the menu, that doesn't mean she won't sell it.
"If you ask me if I can make something you want, and I have the ingredients, I'll make it for you," she said.
Off-menu items include plates such as chicken fajitas, enchiladas and chilaquiles, she said. Mora will even add Hot Cheetos to a burrito, upon request.
To the South Richmond residents who visit her regularly, she is known as "Mama," "Mom" or "Mama del taco plate."
Part of her customer base has always been young, tough-skinned, sharp, sometimes rude and in much need of a heart-to-heart talk, she said.
"I love young people and have had a very good relationship with the youth. I give them advice and I scold them," she said.
Many of her returning customers have visited the restaurant for years. She has seen generations of youth grow up and become parents. She finds joy in the fact that she fed them when they were young and now she is feeding their kids, she said.
Unfortunately, not all of the young customers whom she built a relationship with were able to build their lives, however.
As she celebrated the end of her fifth year in business in 2007, a surge in homicides continued. By the end of her first decade in business, Richmond had accumulated 338 homicide victims.
"There were too many shootings, and it was the youth. I knew them," Mora said.
Till this day, Mora aches when she learns of the death of another young person she had scolded, laughed with and given advice to.
That's why, to her, she is not just dishing out food for money; she is serving her family quality food at a decent price and reminding them that their lives matter to her and to Richmond.
"Every time I come to Chavinda, it is like visiting family," Sacramento resident Antonio Hurtado, 37, said.
Hurtado grew up in Richmond and attended Kennedy High School up the street from Taqueria Chavinda. Because of his dark complexion and proficient English, Hurtado appears African American. When Mora found out he was born in Colombia, however, but didn't speak Spanish, the teasing began.
The friendly jests made Hurtado feel at home, he said. They were playful and built a relationship between him and Mora that grew beyond friendly teasing.
"I remember one specific time Mama told me 'How would your dad like that?' " he said.
Hurtado had just gotten into a big fight outside of the taqueria, and Mora had taken notice.
When Hurtado was young, his father was deported to Colombia. Mora knew that. That is why her words meant something to Hurtado.
"She thought I was a good kid and, seeing me fight, I knew I had disappointed her. That moment helped me realize that I should have structure in my life," he said.
On the night of Dec. 14, 2020, many years later after that incident, Hurtado, who makes the hourlong commute to Richmond for work, picked up a carne asada burrito after clocking out of his job at Blue Apron.
To him, the 12-inch burritos at Chavinda are the best because of how they are prepared.
Mora begins making a burrito by putting the flour tortilla on the grill. As the tortilla warms, she places the meat, bean, rice, salsa, cheese and cream on the tortilla. She then mixes all the ingredients together and then wraps the burrito while still on the grill. She lets the outside of the burrito's tortilla toast for a minute. She then wraps it up and cuts it in half.
"The taste of the burrito is consistent every bite. I hate getting a burrito with all the sour cream here and all the cheese there. The way they do it, I've never had it before and to this day I don't see it anywhere else," he said.
Taqueria Chavinda is a cultural landmark in Richmond, and he said he will always find the time to visit it.
As Hurtado said goodbye and went off, Mora finished the last of the day's orders. Closing time is 6 p.m., but often, a few customers arrive a little bit after, and she doesn't turn them away.
>>>Read: Eloteros Keep Working Despite Coronavirus Fears
Amid the coronavirus outbreak, Mora said she feels blessed to have a continuous flow of customers supporting her. She is still turning a profit and thinks about the future of her business. After the coronavirus is under control, she hopes to purchase another location to start another restaurant.
Mora's success in Richmond has prepared her to be successful anywhere. She remembers the restaurant surviving day by day at the beginning, and now it is profitable even during a pandemic, she said.
"To this day, I thank God. I am blessed to have my doors open and that business is doing good," Mora said.