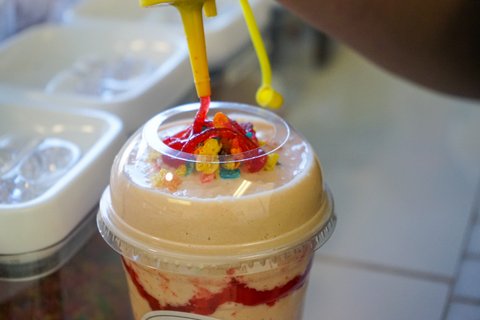 03 Mar

The Daily Fix Nutrition Brings Healthy Treats to Richmond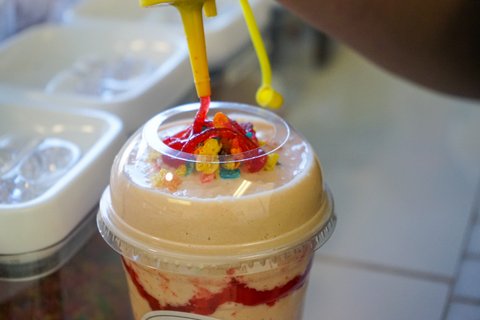 The shakes at Daily Fix Nutrition, like this one made with Fruity Pebbles, provide 24 grams of protein, four grams of fiber and 21 vitamins and minerals. (Denis Perez-Bravo / Richmond Pulse)
By Maria Bernal
The Daily Fix Nutrition has only been open for two months, but it has already garnered more than 1,500 followers on its @thedailyfix_nutrition Instagram page where it posts photos of mouth-watering protein shakes and donuts.
The Richmond health café, located at 4500 Barrett Ave., Suite B, has white walls, green plants and a large window that illuminates the inside with natural light. 
At the bar, one can order protein shakes, teas, iced protein coffee and protein donuts that are baked not fried. Customers can watch their drinks being made through a glass wall and take pictures for Instagram by the ivy plant wall. 
The modern establishment is run by Veronica Ornelas who says she is concerned about the health of Richmond residents. Ornelas co-owns the café with her sister Jennifer Ornelas and Janet Silva.
Daily Fix co-owners, from left, Janet Silva, Veronica Ornelas and Jennifer Ornelas. (Denis Perez-Bravo / Richmond Pulse)
Veronica Ornelas said she says she wants to guide residents through new habits because she sees "so many people" in her position who want to be healthy.
"Everything started because when we started our own journey, it was really hard for us to find the right way of doing nutrition and fitness," said Ornelas. "So now, we just want to share what we have learned throughout the years. And having the Daily Fix Nutrition allows us to welcome people that are interested in starting their own journey."
>>>Read: My Journey to Becoming Vegan
Ornelas started her fitness lifestyle four years ago with Crossfit but said that after a year, she realized nutrition was important to reach her goal of getting healthier. She had to research on her own and now would like to pass on her knowledge to others.
"They want us to start their journey, but they don't know how — and especially me being a Latina, there's not a lot of resources that our women can use," said Ornelas. "So I just wanted to be that resource for them, being able to provide them with information and especially in Spanish."
The cafe's meal replacement shakes come in flavors including banana bread, strawberry cheesecake and birthday cake. Although the shakes can draw in people with a sweet tooth, they are surprisingly low in sugar. A protein coffee, for example, has just two grams of sugar; a donut has four grams. More nutritional information is available on Daily Fix's website.
"Our menu is high in protein, everything super healthy. Everything is, like I said, high protein, low sugar. So we can help [customers] have a great meal, you can say, at a very low carb," said Ornelas. "And we also provide great customer service. We try to have conversations with everyone and make [customers] feel welcomed."
Ornelas said she is grateful for the positive response from the community. Among the café's customers are healthcare workers and City Hall employees.
"And we're also very happy that we have a lot of Richmond police officers that come. Captain America is the most popular one for them. And the Pier 39. They love it," she said. "To be able to provide them with healthy energy and make their job easier — it's a huge accomplishment for us."
The Captain America and Pier 39 are tea drinks that are said to give a boost of natural energy. 
The successful first two months for the café have inspired Ornelas to expand her business to other small towns where she knows people need fitness and nutrition.
The Daily Fix Nutrition is open Monday through Friday 7 a.m. to 4 p.m., and Saturdays 8 a.m. to 4 p.m. Check Instagram for hours on Sundays. You can place an order in advance by texting (510) 224-7477. The menu, prices and other information are available on the café's website and Instagram page.