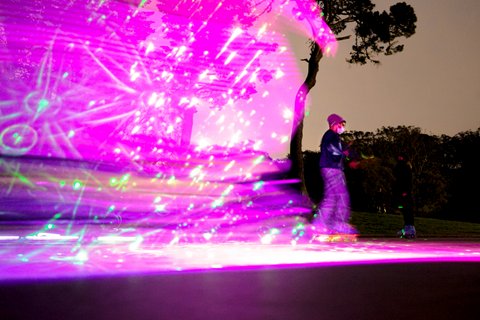 30 Mar

Slushed Sounds for Skating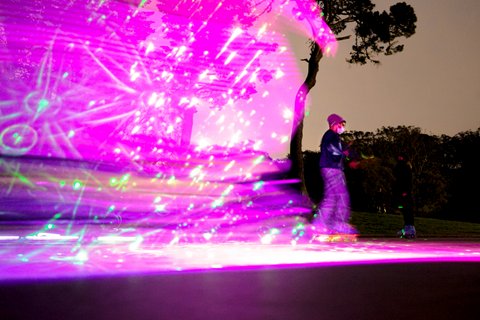 San Francisco resident Deep Sabharwal, 24, skates at Skatin' Place, an outdoor skating rink in Golden Gate Park, on March 2.
Story by Joel Umanzor Jr. | Photos by Denis Perez-Bravo
Roller skaters zipped like lasers around the Lake Merritt Boathouse parking lot in Oakland on a warm Friday evening. The ambiance for "We Skate Lake Merritt" was in full effect with the sounds of Bay Area hip-hop and house music.
For San Pablo native Raul Gutierrez — or DJ Sir SlushAlot — the season of rebirth is a chance for the growth of positivity and dreams in 2021, a stark contrast to the bleakness of the past year of stay-at-home orders and restricted social interaction.
Yet the isolation gave Gutierrez, 27, a renewed sense of purpose. He indulged in music, inspired by those close to him, while DJing more outdoor events. It all started in the midst of the pandemic at his home in San Pablo.
"I had that bug, and I couldn't get rid of it," Gutierrez said about becoming a DJ. "The way I see it, I got on a boat, and I never got off. Still on that same boat just riding the wave. And I love it. It's bringing the best out of me."
Gutierrez uses music as a getaway from the problems and outside noise that life brings.
"Music speaks to me. So whatever I go through, problems and complications in life, this is my go-to, this is my escape," he said. "I'm literally going through a lot at home. My mom is not feeling good, relationship and all that other stuff, but I don't let it affect me."
A Tuesday night at Golden Gate Park brings a light and music show to Skatin' Place with DJ SirSlushAlot.
Gutierrez started by performing for friends at his house. His friend Will Times said the group — the Slush Team — would meet Sundays to socialize and hear Gutierrez play music.
"It really just started like a bunch of friends just hanging out," Times said. "It's kinda like a term we used. Like, 'I'm so slushed.' At first, it was kind of a joke, but then we started taking it seriously and started realizing how diverse our circle was, culturally."
Gutierrez says isolation during the pandemic forced him to perfect his craft with his friends.
"I've really only started coming out for the past few months. [The coronavirus] did affect it, but it also helped me build," Gutierrez said. "It made me stay at home and lock myself in my room. I started creating these slush parties with my four to five friends."
Times said Gutierrez has an uncanny talent in reflecting his friends' diversity through his music selection.
"Of course, we all like the same music, but we all come from different backgrounds. So when it comes down to it, we all like different things in a way," Times added. "That's kind of where SlushAlot comes in. He kind of mixes everything together. It's kind of a style we all can find our one accord."
Gutierrez's inner circle and family motivated him to invest in himself. He bought all the gear he would need to pursue his passion for music. He first spun in public in July. He got his first paid gig in November. He performed at the home of his childhood friend Erick Cordova, a.k.a. Smack, in Vallejo for $150. The next month, Gutierrez bought his first turntables.
"That's what inspired me to keep getting better and better," Gutierrez said. "Eventually, my friends were eyeing me for their birthdays and stuff like that, so that's why I'm getting play. They see what I got, that I have potential. And they're pushing me, they're motivating me. They are my inspiration and why I'm here right now."
Gutierrez was able to master his craft in public while garnering ideas for where to perform. Soon, he got a last-minute invite to DJ at Lake Merritt.
"There were a couple DJs that got involved and we created our own little group chat, and we started doing our own little thing," he said.
Gutierrez credits his recent collaboration with DJ Romii and their like-mindedness in the music they select for their sets. Something naturally grew from that first night at the boathouse.
Gutierrez says DJ Romii's relationship with people at Golden Gate Park gave him opportunities to perform at the skating and rollerblading section near 6th Avenue and John F. Kennedy Drive, as they were the only ones spinning music. But DJ Romii is on military leave till April, leaving DJ Sir SlushAlot mostly to himself on Tuesdays.
Roller skating and rollerblading have seen a resurgence in the Bay Area and beyond during the pandemic. That has given Gutierrez more opportunities to perform.
>>>Read: 'Rolling in Solidarity': Skating With Joy and Social Justice
"It's making a huge comeback," he said. "It's weird. I think with the whole COVID thing, people were tired of being inside and started picking up these old things."
Gutierrez compares it to other nostalgic activities that have made a comeback during the pandemic — including drive-in theaters and spending all day outside — as people were bored being indoors so much.
"This COVID stuff makes you come outside and embrace outdoors. Remember you would leave your house, 2 o'clock after school or whatever, and you wouldn't come home until the street lights came on," he said. "It's almost that same feeling now: We are out here having fun trying to do kid stuff as grown-ups now."
Golden Gate Park skaters used to move to music over Bluetooth speakers, but Riki Panganiban of San Francisco said a live DJ is more dynamic.
"It's a huge difference having someone like him set up and play music out here. It's having someone who is paying attention to the skaters and what they want to listen to," Panganiban said. "That's what a good DJ does: He sees what energy the crowd has and has the ability to transform the crowd based on what music the group responds to."
San Francisco resident Riki Panganiban, 51, combines roller skating and breakdancing at Golden Gate Park."That's what a good DJ does," he said about SirSlushAlot. "He sees what energy the crowd has and has the ability to transform the crowd based on what music the group responds to."
Gutierrez says he reads what songs work — and don't work — for each group.
"Sometimes, if you ever see or hear my hopping out of a song too fast is because I'm reading the crowd and trying to get them jumping," Gutierrez said. "It's a rollercoaster. Not just to me but to them. I want to take them to the highs, the lows and the mids. I've been in the crowd. I've been the person roller skating or at festivals throwing my hands up going crazy. I'm just trying to provide that energy and feel."
Gutierrez continues to perform live sets as DJ Sir SlushAlot on Tuesdays at Golden Gate Park and Wednesdays and Fridays at the Lake Merritt Boat House. He will also DJ at Rich City Rollers events. Gutierrez performed at his first Rollers skate on Sunday. He provides updates on Instagram: @idrops and @sirslushalot.