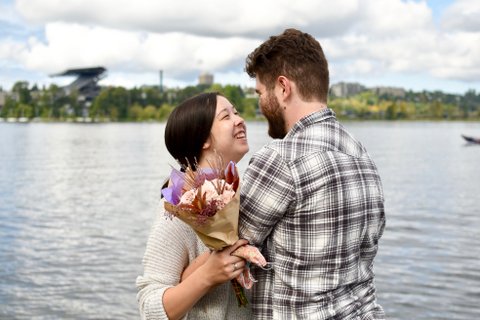 05 Apr

The Pandemic 'Pulled Us Together,' Engaged Couple Says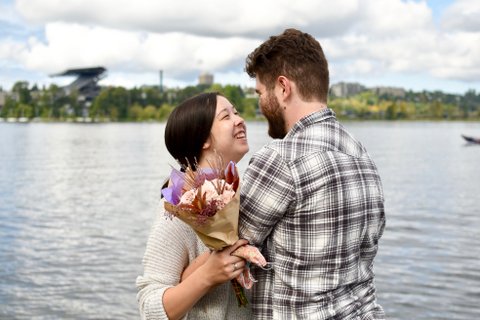 Marisa MacLennan and Adrian Studdiford got engaged during the pandemic, but they plan to wait until next year to get married. (Mindy Weinberg)
By Keisa Reynolds
The COVID-19 pandemic has deterred wedding plans for many couples across the world, but it hasn't stopped others from taking a big step in their relationships and getting engaged. If a couple can handle living in close quarters 24/7, marriage might not be so bad. 
College sweethearts Marisa MacLennan and Adrian Studdiford had planned to get engaged long before the first shutdown in Seattle, where they relocated from their hometowns of Orinda and El Cerrito in 2017. Richmond Pulse chatted with MacLennan and Studdiford, who got engaged in September, about how they've strengthened their relationship and handled uncertainty during the pandemic. 
Can you feel the music?
The Bay Area natives met almost eight years ago in their dorm at UC Davis. Studdiford played in the university's marching band, which he was trying to convince MacLennan's roommate to join. MacLennan and her roommate started to hang out with marching band members, including Studdiford. Introduced during an episode of "The Big Bang Theory," MacLennan and Studdiford gradually spent more and more time together outside of group settings. 
"There was one week, we wound up hanging out every night until really late, bonding over commonalities, like music," MacLennan said. 
"I listened to a lot of Fleet Foxes," Studdiford shared as an example.
"I probably played one Fleet Foxes song, and I just happened to have it on my computer, and it was enough to win Adrian [over]," said MacLennan. "Adrian mentioned he liked the Fleet Foxes, and I was like, 'Oh, I know a few songs.' It was literally just one."
Fleet Foxes' "Mykonos" was enough to spark magic between the pair. Sitting in a common area in their dorm, they pushed the couches together and have been together ever since. 
They returned to their hometowns after college and lived with their parents until MacLennan was accepted into a graduate program at the University of Washington and they relocated to Seattle. Later, the pandemic disrupted her second year of teaching K-3 special education.
Impact of the pandemic on their relationship
Studdiford and MacLennan were used to opposite schedules. He worked late hours at a bike shop. She was an early bird with her teaching responsibilities. They only had one overlapping day off before the pandemic. This was the first time since college they spent a significant amount of time together. 
Initially, they quarantined together. Then, the bike industry took off during the pandemic, increasing Studdiford's hours. His schedule has steadied in recent months. Now, they are able to spend more time cooking dinner together. 
"I feel like people say that the pandemic will either pull you together or drive you apart. I guess you can say it pulled us together more," MacLennan said. 
Studdiford spends most of his time outside of their home. Meanwhile, MacLennan has turned their dining room into a makeshift classroom. 
"The biggest change has been having to distribute the space and find more of a work-life balance when I'm also working from home," MacLennan said.
Studdiford said that with MacLennan's job changing drastically with e-learning and his industry going haywire, they've had to learn how to manage emotions better. 
"Being patient and aware of each other's emotions has been super important," Studdiford said. "We've had a lot of really high and really low emotions — more than we normally do. We developed a lot of emotional awareness."
They've learned each other's cues and how to support each other during difficult times. They name empathy as an important tool in their relationship. 
"Like a slime mold, our empathy has grown and spread," Studdiford joked.
Wedding Bells
Premier wedding site the Knot found that COVID-19 changed the plans for 48% of couples engaged in 2020. That was the case for this couple as well. Studdiford was able to use the pandemic as an excuse to keep the timing a surprise. 
Studdiford and MacLennan knew they were going to get engaged. It was just a matter of when. They designed the engagement ring with a local designer for their seventh anniversary in February 2020, just before Seattle shut down to slow the spread of the coronavirus. The ring was produced within six weeks, but MacLennan didn't see it until September. 
"I told her that COVID-19 delayed the production, and they didn't know when it would be ready. I knew she would be too smart for me, but I got it," Studdiford said.
He hid the ring at the bottom of a supply box near his bike equipment with MacLennan none the wiser. 
"There were a few times when I said maybe I should go search [for] it, but I said no, I'm not going to be that person," MacLennan joked. 
MacLennan wanted her parents to know before Studdiford popped the question so it wasn't a surprise.
"He kept lying to me about that. 'You know, I can never call them because you're always home in the morning now.' He covered it pretty well, because he's not typically good at that." 
He told them in May, five months before the proposal.
"I called them during my lunch break. I was like, 'I want to tell you before this happens,' " Studdiford said. "'I'm proposing to Marisa, and I have the ring."
Studdiford planned the proposal with MacLennan's best friend, who came for a visit while California battled wildfires, sending smoke their way. They struggled with finding the right location: deal with poor air quality outside in a park or increase risk of COVID-19 by going indoors to a museum.
They settled on Washington Park Arboretum and brought along a small crew of friends for a hike as far as MacLennan knew. They took a break at a spot out on Lake Washington while the sun shone at the right angle. At some point, their friend Michael asked MacLennan to hold something and pulled out a bouquet of flowers from his backpack.
"Then I just hear 'Marisa' from behind me, and I was like, 'Awww, this is it,' " MacLennan recalled. 
Their friends slyly packed sparkling wine. One brought her camera to capture the romantic moment.
A dog celebrates the happy occasion as Marisa MacLennan and Adrian Studdiford get engaged. (Mindy Weinberg)
The couple plans to marry in 2022. They want to give guests such as MacLennan's 90-year-old grandmother the best possible chance of attending. They didn't get to celebrate their engagement with family and friends the way they imagined. While It has been a disappointment to not have an in-person celebration with loved ones, an extended timeline for the wedding has worked in their favor.
"I am thankful that we get an extra year. It stretches out the stress of everything. [It] gives us more time to plan a really thoughtful day that is a true representation of us," said MacLennan.
Out of all the lessons they've learned during the pandemic, planning ahead remains at the top of the list. The pandemic has given them more time to discuss major choices such as handling finances, especially saving and deciding how to best use stimulus funds. Now, wedding plans are their biggest topic of discussion. 
MacLennan and Studdiford aren't the only ones who find themselves preparing for a new chapter during the pandemic. The coronavirus has brought many unknowns, but their future together has always been clear.
Correction: An earlier version of this story identified one of the subjects Marisa Crane. Her last name is MacLennan.