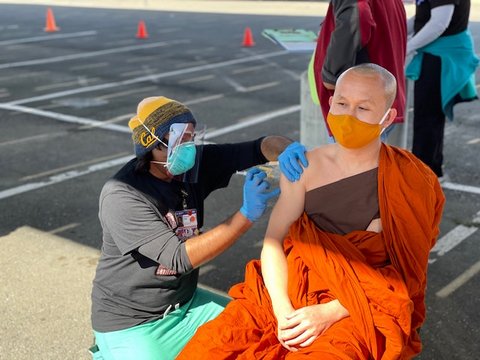 20 Apr

How John Muir Health Got Vaccines Across Laotian Language Divide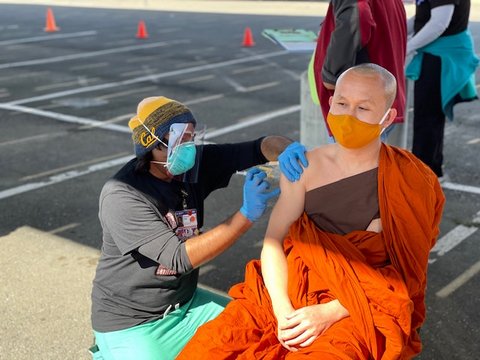 Dr. Kishore Nath administers the COVID-19 vaccine as part of the John Muir Mobile Health Clinic. (Diana Evans-Harris)
Interview, Isabella Bloom
Editor's Note: Contra Costa Health Services and John Muir Health partnered to help the county's most disadvantaged residents get the COVID-19 vaccine. John Muir workers took their mobile vaccination clinic to Richmond, San Pablo and other areas most affected by COVID-19.
Starting Feb. 27, the clinic set time aside specifically for Richmond's Laotian residents. John Muir Health coordinated with local Laotian leaders to make sure it addressed the community's specific needs and had someone present to help with any language issues.
Dr. Kishore Nath, who runs the John Muir Mobile Health Clinic recently spoke with Richmond Pulse about mobile vaccination efforts and the need to reach the Laotian community specifically. (The clinic has since transitioned back to primary care as the state has its own mobile vaccine efforts.) This conversation has been edited for length and clarity.
Q: Why were the mobile vaccination clinics needed, and why did you reach out to the Laotian community specifically?
Two things went into this. In January, the vaccine supply was rather limited, so there were trends across the Bay Area and across the country of people with better access getting vaccinated at a much higher rate. So what we wanted to do is outreach to communities that are traditionally marginalized and help them access the vaccine.
So one aspect is just getting the vaccines and getting staff to vaccinate them. The other is building the trust of the communities. So we approached it in two ways.
The Laotian community center has been there forever. It's been there for decades. A lot of people at John Muir who grew up in the area know about that community center. But many people didn't actually work with them.
We talked to the county supervisor office and said, hey, we want to go out to West Contra Costa County. Are there any groups that you would want us to work with? Then we got connected that way. They're one of many groups we worked with in terms of recruitment for the vaccine.
Q: Where does the mobile clinic go, and how is that determined? 
We traditionally are mostly in central and east county. We usually work in Concord, Pittsburg and Brentwood. But for the vaccine effort, we picked areas that have a low [score on the Healthy Places Index].
It will tell you how wherever you live ranks in terms of health care, access, transportation, racial diversity, economic security, things like that. So we pick locations based on the lowest quartile of our regions. So we ended up in Richmond, San Pablo Antioch, Concord, Pittsburg and Bay Point.
Q: What other communities have you partnered with?
In Richmond, we've worked with two African American churches and another Baptist church down in San Pablo…  the initial stage was to go to the nursing home and then the next step was to go to care facilities… And then there's a series of homes [with] very low-income residents.
The other thing we did is we walked around to fast food and [other] restaurants in the San Pablo area. And started talking, one-on-one. It took a while, but we were able to get people to come in. Then, they started telling their friends. Then, we got a lot of food workers from Costco.
Once four or five come in — they take selfies and post it — then their friends start calling and say, can I come too? 
>>>Read: Laotian Seniors in Richmond Tackle Barriers to Health Care
Q: How quickly do you think the Laotian community was able to spread information through word of mouth?
Initially, we just started via email with Sary [Tatpaporn]. We did a webinar. Then, they started sending us names. I think they put messages out and started calling people, and we gave them the criteria too. So from the first day that we did this, which was at the end of February… the criteria kept changing… So we had to keep updating them and say, hey now we can do food service people. They'd give us phone numbers, and then we'd start scheduling them. So it was kind of neat. It was fun, actually. Very fun collaboration with them.
They were very effective, usually. When I would give them like a criteria change, they would get back to me within two days, three days sometimes. 
So like I said, hey, I can do clergy. Then within two days they'd say, OK, here's some monks, here's their information.
There was a lot of trust building from those leaders [such as Tatpaporn, Torm Nompraseurt and Chandhay Phanhdara]. They would ask questions and then go back to the community and say, well we asked about this; this rumor is not true. 
Q: How did the vaccination partnership with the Laotian community work?
How does someone who doesn't read or speak English do that, [sign up for a vaccine appointment]?
The CDC didn't even have a Spanish consent form. They only had it in English. There were some very limited language translation of the consents and the questionnaires.
So then the question is, how do you reach out to a community when you can't even ask them the questions? [Who speak] languages that are not common? So there's two issues there. We do have interpreter services, but because they [the Laotian community] have languages which are relatively rare, it takes a long time to get an interpreter.
So, for example, if I have someone who speaks Spanish, and I don't speak Spanish, I call interpreter services and they can get someone pretty quickly. I do speak Spanish, but let's say I need someone who speaks Mandarin. I would probably get to them pretty quickly. But when I say I have someone who speaks Hmong or Mien or Khmu, it can take hours. How do you do real-time conversations with patients?
So what we decided is, with Sary and Torm, we said … we're going to run this clinic from 9 to 3. So let's set up all your people, your community members from 11:30 to 1 o'clock. And then, can some of you guys come by and partner with us? That's why they had specific appointment times. We had them sign all the paperwork; they wouldn't divulge patient information. 
Essentially what happened is they would literally stand next to me, and I would ask the questions and they would translate.
So that actually worked out kind of cool… Everyone knew what we were doing which was I think a very neat, like synchronicity between the community organization and our team.