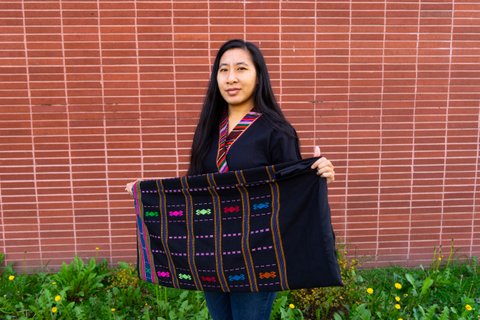 18 Sep

They Lost Their Homes to War. Now, Richmond Laotians Fear Being Pushed Out Again.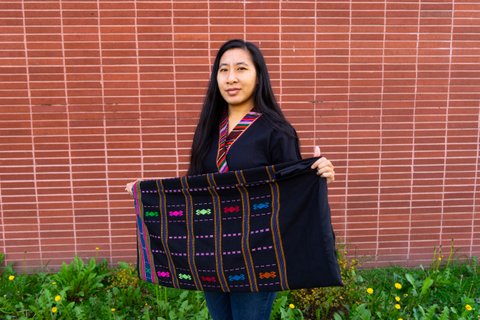 "I interviewed some people who said they would move, but they wouldn't be comfortable because Richmond is home," said Brandy Khansouvong, holding a piece of traditional clothing from Laos. (Evan Bissell)
By Danielle Parenteau-Decker
Decades after war pushed them out of their native country, many Laotians and their families in Richmond are again afraid of having to leave the place they call home.
Thousands fled Laos to escape communist rule, the Vietnam War and related conflicts that extended throughout Southeast Asia. Many stayed in Thailand refugee camps before relocating to other countries. Many ended up living in Richmond where over the years they have found comfort while building homes, businesses and community.
But now the COVID-19 pandemic and the ever-rising cost of living have put it all at risk.
"Richmond became a choice for many of us," said Sary Tatpaporn. Tatpaporn says he came from Laos to the U.S. as a refugee because of the war. "I was in a refugee camp for almost four years," he said.
Then, in November 1979, he, his wife and their 1½-year-old son came to the Bay Area, living first in Berkeley before settling in Richmond.
Sary Tatpaporn, left on couch, and Brandy Khansouvong interviewed local Laotians for "Richmond Is Home." (Evan Bissell)
Tatpaporn said that about 10% of Laotians escaped as he did to camps in Thailand along the border with Cambodia. He said it quickly became clear they were "not going to allow refugees to live in Thailand for long."
Like many others, Laotian people who made such a journey — or have relatives who did — are finding life in the Bay Area increasingly difficult to hold on to, yet hard to let go of.
"I interviewed some people who said they would move, but they wouldn't be comfortable because Richmond is home," said Brandy Khansouvong, echoing the title of a project she worked on with Tatpaporn.
"Richmond Is Home: Preventing a Second Displacement of Laotian Americans" is a zine the two contributed to after speaking with local Laotians about their experiences living in the city as members of the Asian Pacific Environmental Network and Building Power fellows with Richmond LAND (Local Action in Neighborhood Development).
Khansouvong said the people she spoke with want to stay in Richmond in part because of the city's diversity "and the little businesses they have." Those businesses include the Asian markets on 23rd Street and in San Pablo.
Small businesses such as Lao Jaleune Supermarket on 23rd Street are a main reason why many Laotians like living in Richmond, according to Brandy Khansouvong. (Illustration by Evan Bissell)
The project came out of imagining what Richmond would look like 10 years from now," Khansouvong said.
Tatpaporn says rising expenses like rent are pressuring families to a point where many feel they have no choice but to move, despite wanting to continue to stay. As an example of the fiscal problems faced, he said a family paying $2,000 per month for a 2-bedroom apartment, might only earn $2,200 a month in wages, leaving just $200 for food, utilities and everything else.
To help people be able to stay in Richmond, APEN and Richmond LAND are working on alternatives, such as accessory dwelling units, or ADUs, eco-villages and community land trusts.
With ADUs, homeowners with adequate property would be asked to have a small unit placed in their backyards that could then be rented out at an affordable rate. This arrangement is meant to help both renters and "low-wealth or low-income homeowners who are at danger of losing their home," said Evan Bissell, co-coordinator of the Building Power fellowship.
Richmond LAND established itself as the first community land trust in Contra Costa County, according to Bissell. That essentially means that the organization puts the land back into the hands of the people who live there.
Similarly, the tiny home eco-village project seeks to support "stewards" of Richmond and North Richmond, Bissell said, including "those individuals whose work positively benefits this community but who are struggling to afford living here."
The project will try to help public housing land, which "will be maintained permanently affordable in the community land trust through a 99-year ground lease restriction," according to the Richmond LAND website.
Such initiatives are meaningful to many Richmond Laotian people because even the thought of having to move represents the loss of much more than just a place to live.
"For the Laotian community, leaving Richmond or West Contra Costa means leaving the services, connections, family, and community that they've relied on and having to start over yet again somewhere else," said Megan Zapanta, APEN's Richmond organizing director.
"I'm happy because I have family and extended Khmu community here in Richmond," said a woman identified as Mrs. Kham, seen in her North Richmond garden, in the "Richmond Is Home" zine. But "everything here is money, money, money. No money, no food, no home." (Evan Bissell)
As in other communities, the COVID-19 pandemic has exacerbated existing issues and created new problems. With businesses closed and jobs lost or hours reduced, expenses become even more difficult to manage. Those who still have jobs are often faced with a tough decision.
"Many of our community members live in multigenerational households where the working adults must either give up income and not work or put their elderly family members at risk," said Zapanta.
Several people are at heightened risk from the coronavirus because of age and/or preexisting conditions.
"In the Laotian community, there are a lot of people that have health problems," Khansouvong said. "Elderly people have asthma. Some of them are diabetic. They have cancer."
The coronavirus has hit members of the Khmu, a tribe from Laos, especially hard.
Saeng Douangsawang, an older Khmu woman and APEN leader, died July 6 from COVID-19 complications, according to a GoFundMe fundraiser created by her son, Brandon Douangsawang. "More than 15 people in the Khmu community have tested positive in the past month," said Marie Choi, APEN's communications director, in an Aug. 10 email to Richmond Pulse.
To stay safe but connected, Khansouvong said people try to communicate with family members they can't see in person by telephone or video calls, a situation that does not work for everyone. "I have a lot of elderly family members that want to see each other, but they don't have a laptop to Zoom or a phone," she said.
>>>Read: Bay Area Seniors Left Behind by Tech Divide
"A lot of our members, especially elders, feel really isolated right now," Zapanta said. That isolation hurts APEN's work, she added.
"Our strength is being able to [bridge] language, geographic, ethnic and age differences and build community through a lot of events that help our youth and elders — and Oakland and Richmond members — feel like they are working with a common purpose," Zapanta said. "Not being able to bridge those differences and bring people into the same room has been one of our biggest challenges."
So the organization has attempted to bring people together a different way.
Last month, APEN hosted the second annual Rice and Water Festival as a volunteer day. The festival was held last year in San Pablo with food, dance and other features to celebrate Asian cultures. Unable to gather this time around, volunteers went to about 60 older members to deliver care packages including food, hand sanitizer, information about COVID-19 and postcards with handwritten messages from youth members.
"So much of our regular work is about our personal connection to our community, and this period of shelter-in-place has felt really hard. Being able to connect with our community members in any way, however briefly, feels like a joy," Zapanta said.